'How Dare They Try to Play the Race Card': Rift Between Nancy Pelosi, 'The Squad' Boils Over Among Democrats
The squabble between four first-term, progressive House members and Speaker Nancy Pelosi that's escalated in recent weeks appeared to reach its tipping point Thursday, with other Democrats of color lambasting their liberal colleagues for suggesting the party's top Democrat was racially motivated when she privately scolded the caucus over recent tweets.
"How dare they try to play the race card at this point. It shows you the weakness of their argument," said Democrat William Lacy Clay, an African American representative from Missouri, of the small freshmen group. "It's damaging to this party and the internal workings of the Democratic Party."
An intra-party struggle among Democrats that originated late last month over humanitarian aid was highlighted this week when Pelosi admonished representatives against engaging in public disputes with one another, particularly on social media.
"You make me the target, but don't make our Blue Dogs and our New Dems the target in all of this, because we have important fish to fry," Pelosi told Democrats during a closed-door caucus meeting Wednesday, according to a person in the room. "You got a complaint? You come and talk to me about it. But do not tweet about our members and expect us to think that that is just okay."
Representative Alexandria Ocasio-Cortez, a first-term Democrat from New York, then suggested to The Washington Post that Pelosi had been "outright disrespectful" with "the explicit singling out of newly elected women of color."
Ocasio-Cortez, along with fellow first-term Representatives Rashida Tlaib of Michigan, Ilhan Omar of Minnesota and Ayanna Pressley of Massachusetts, make up what has become known as "The Squad," whose more progressive ideology and public Twitter remarks have led to clashes with leadership — and now criticism from some of their Democratic colleagues.
"They just want to score points—for whatever reason—that I find it juvenile now, their tactics," Clay, a Congressional Black Caucus member, elaborated. "I find their ignorance to be beyond belief about American history and about who are really segregationists."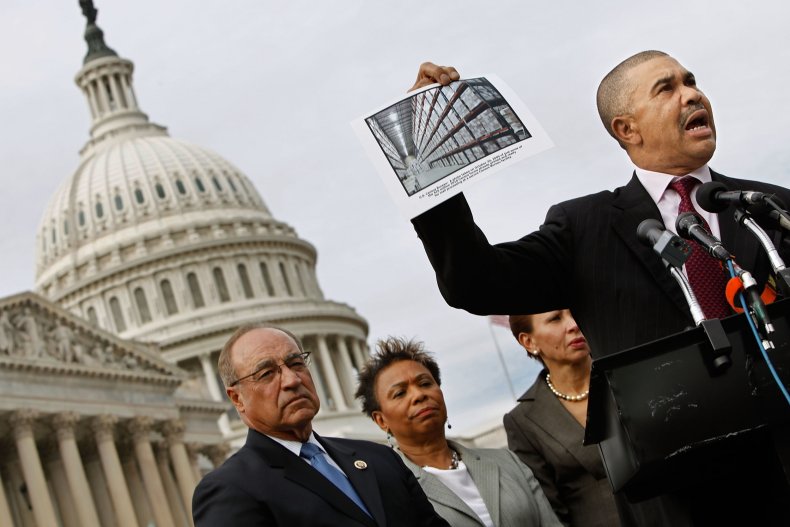 Leading up to the intra-party rift was a move by the House to drop its version of a multibillion-dollar humanitarian aid bill last month, intended to alleviate some of the overcrowding at migrant detention centers, in order to adopt the Republican-controlled Senate's version, which did not have the same accountability measures included in the text passed by the House.
In response, Representative Mark Pocan, co-chair of the Congressional Progressive Caucus, took aim at moderate Democrats by saying on Twitter that they'd "become the Child Abuse Caucus." Ocasio-Cortez's chief of staff, Saikat Chakrabarti, said in a now-deleted series of tweets that the moderate members "certainly seem hell bent to do black and brown people today what the old Southern Democrats did in the 40s."
Those accusations—in addition to Ocasio-Cortez's comments to The Post suggesting Pelosi made racially-charged remarks—did not fair well with some Democrats of color.
Representative Val Demings, an African American woman from Florida, said she's known Pelosi since 2011. Based on her experience working with the Speaker, Demings adamantly opposed the notion of racial underpinnings within Pelosi's scolding of her caucus.
"I have never, in all of my interactions with her, ever thought that anything she has said or done, was racially motivated, other than to look out for people of color and to make sure that people of color that we represent in our communities have the resources just like anybody else, or to make sure that the Congress that we have—which we've all been bragging about—is the most diverse Congress in the history of our nation," Demings said.
"A weak argument": that's how Clay classified Ocasio-Cortez's claim that Pelosi was "singling" her out as some of the "newly elected women of color."
"Because you can't get your way and because you are you getting pushback, you resort to use the race card? Unbelievable. Unbelievable to me," he continued.
Asked whether anyone in leadership should speak with Ocasio-Cortez about her comments, Clay responded: "I could care less. I could really care less. I agree with the speaker: Four people, four votes out of 247. Who cares?"
In a recent New York Times interview, Pelosi questioned the true power of people like "The Squad," who have a broad Twitter following but who failed to amass broader Democratic support when voting against the House version of the humanitarian aid bill. The group opposed the aid because it provided funding to the immigration agencies responsible for the poor detention centers housing migrant adults and children.
Pelosi defended her private scolding of her progressive caucus members to reporters earlier in the day.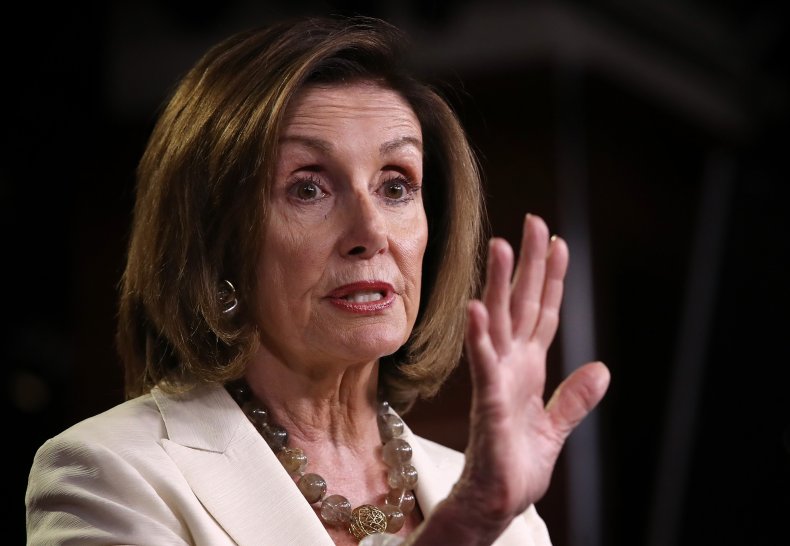 "How they are interpreting and carrying it to another place, is up to them," Pelosi said of "The Squad." "But I'm not going to be discussing it any further."
Omar declined to comment to Newsweek regarding the statements of Pelosi and Ocasio-Cortez while walking down the front steps of the House.
"I hate to see when things aren't working the way some people would hope they are—if we differ on policy, I'm never going to call you a racist or sexist, because we different on policy," said Demings, a Florida Democrat.
Pocan told Newsweek that he and his co-chair, Representative Pramila Jayapal of Washington, planned to meet with Pelosi and House Majority Leader Steny Hoyer some time next week about "a variety of issues."
The most recent disagreements between "The Squad," progressives and leadership will be one of those issues discussed, Pocan said.
"Some things bubbled up a couple weeks ago, and I just want to have a general conversation and remember, you know, who your allies are," he said. "What's the old Saul Alinsky thing — reward your friends and punish your enemies? Let's at least remember the first part."
Pocan disagreed with classifying the recent tensions as "rifts," and he said that his tweet about more moderate factions of the party was not directed at any members in particular.
"I truly don't believe that there are the rifts in the caucus that somehow get portrayed," said Pocan, as Representative Dean Phillips, a member of the New Democrat Coalition Caucus, greeted him while offering a pat on the back. New Democrats describe themselves as moderates who support fiscally responsible policies.
"I think what you just saw was the best possible example of there aren't really the rifts that I think a lot of people think there are," Pocan said.
Correction: Rep. Dean Phillips is a caucus member of the New Democrats and not the Blue Dog Democrats.