Democratic Missouri Representative Cori Bush, a member of the progressive "Squad," on Sunday called America "racist AF," after she backed defunding the St. Louis Metropolitan Police Department.
"Our communities wouldn't have needed to spark a national movement to save Black lives if America weren't racist AF," Bush tweeted Sunday afternoon.
The congresswoman's remarks come two days after she praised a "historic" vote to defund the St. Louis Metropolitan Police Department.
Born in St. Louis, Bush represents Missouri's 1st congressional district that includes all of the city of St. Louis and a large part of northern St. Louis County.
St. Louis is ranked by Neighborhood Scout as one of the country's most dangerous cities. Between 2009 and 2019, at least 179 people were killed by local police or died in custody, according to a report by ArchCity Defenders. The figure represented the highest number of police killings per capita among the largest 100 departments across America.
A proposal by Democratic Mayor Tishaura Jones to reallocate $4 million from the police budget to affordable housing initiatives and defund The Workhouse, a medium security penitentiary, has passed the Board of Estimate and Apportionment in a 2-1 vote.
Next, the plan will go through St. Louis' legislative body, the Board of Aldermen, for debate and amendments, according to Fox News.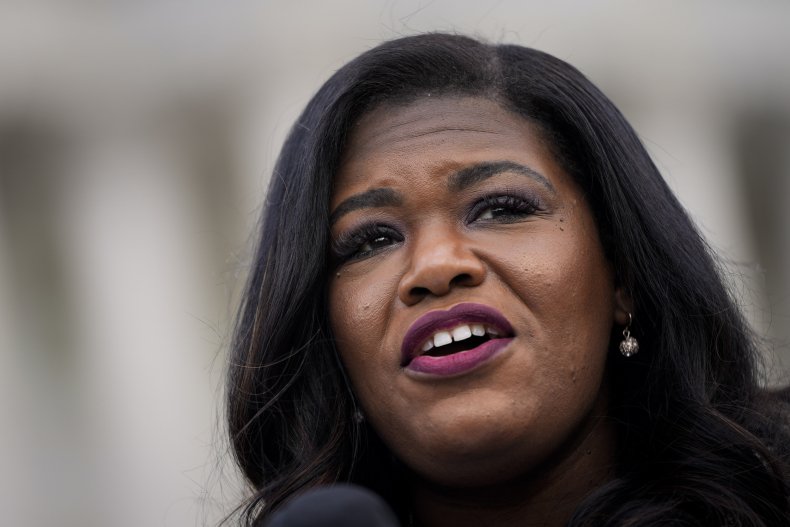 In a statement on Friday, Bush said: "Today's decision to defund the St. Louis Metropolitan Police Department is historic. It marks a new future for our city."
"For decades, our city funneled more and more money into our police department under the guise of public safety, while massively underinvesting in the resources that will truly keep our communities safe," she continued.
Bush added: "But even as more and more money has gone into policing, the St. Louis Metropolitan Police Department continues to be the deadliest police force in the nation, year after year—all while violence in our communities continues to skyrocket."
Newsweek reached out to Bush's office for further comment. This story will be updated with any response.
The St. Louis Metropolitan Police Department has faced several scandals this year.
A spokesperson told Newsweek that officer Rashard C. Lovelace died by "an apparent self-inflicted gunshot wound" on Saturday, after he was charged with physically assaulting a female officer on duty.
Earlier this year, two other St. Louis officers—Lafeal Lawshea and Torey Phelps—were charged with rape. Sgt. Jatonya Clayborn-Muldrow, a third officer, was accused of tampering with a witness in Lawshea's case.