A group of Democratic House representatives known as "the Squad" helped pass President Joe Biden's Build Back Better budget plan Friday, with all members voting "yes" on the bill.
However, one provision within the bill generated controversy among some liberals.
The provision, known as the State and Local Tax (SALT) deduction, is a specialized tax deduction that many opponents, including Senator Bernie Sanders (I-Vermont), have said will only benefit the wealthy.
All six members of the Squad voted to pass Build Back Better, and in turn, the SALT deduction: Alexandria Ocasio-Cortez and Jamaal Bowman of New York; Ilhan Omar of Minnesota; Ayanna Presley of Massachusetts; Cori Bush of Missouri and Rashida Tlaib of Michigan.
This is despite the Squad being considered among the most left-wing and progressive members in all of Congress. Ocasio-Cortez, in particular, has called for significant tax increases on the rich, something the SALT deduction would seemingly go against.
SALT would allow taxpayers to increase their tax deductions from $10,000 to $80,000 through 2026. However, these cuts will only apply to people who pay more than $10,000 in state and local taxes—a demographic mostly made up of the very wealthy.
The Tax Policy Center corroborated these findings, saying that those who would benefit the most from the SALT deduction are individuals who make over $867,000.
Additionally, the center also found that less than 2 percent of households making between $54,000 and $96,000 would benefit from the SALT deduction.
The Squad's backing of SALT was previously derided by Sanders, who is often considered the most progressive senator and has pushed for tax hikes on the wealthy during his two previous presidential campaigns.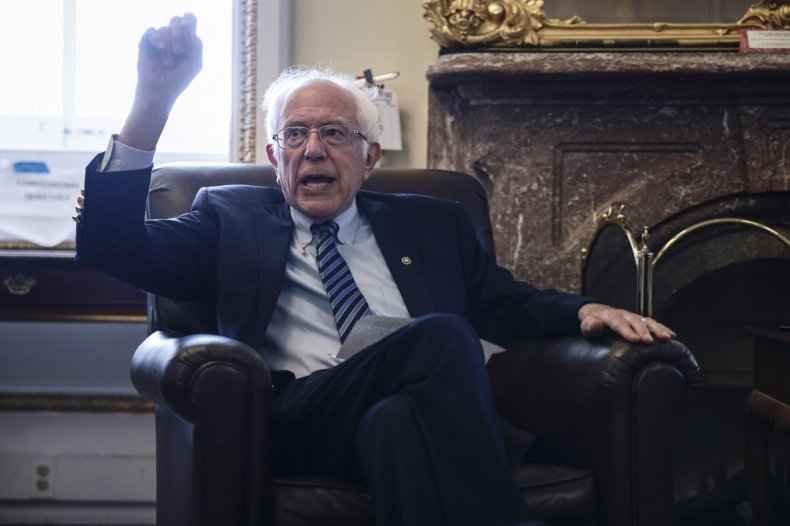 Sanders previously split with Speaker of the House Nancy Pelosi and Senate Majority Leader Chuck Schumer, disagreeing with them after they voiced their support for the SALT provision.
"It sends a terrible, terrible message," Sanders said during an interview with Axios on HBO. "Ultimately, what you have got to do—and in fairness to Schumer and Pelosi, it is hard when you have tiny margins—but you have got to make it clear which side you are on."
"And you can't be on the side of the wealthy and the powerful if you're going to fight for working families," Sanders continued.
Despite Sanders' insistence that the tax not be reinstated, Biden seems to side with Pelosi and Schumer.
The Build Back Better plan was passed with the SALT provision in place and almost no Democrats voting "no," although it is possible that the Senate could try to remove it from the bill during subsequent debates.
Schumer has previously argued that the SALT deduction was needed because it was unfair to double taxes on homeowners.
"Double taxing hardworking homeowners is plainly unfair," Schumer said in a statement in January. "We need to bring our federal dollars back home to cushion the blow this virus—and this harmful SALT cap—has dealt so many homeowners and families locally."
Pelosi put forth a similar sentiment during a previous interview, stating that the SALT deduction would help people recover from the harmful economic effects of the COVID-19 pandemic.
A cap on the SALT measure had previously been installed by former President Donald Trump in 2017 as part of his tax cut, setting the limit on deductions at $10,000.
Democrats, including Schumer and Pelosi, heavily criticized the move at the time.
Newsweek has reached out to Sanders' office for comment.