'Squid Game' Director Denies Accusations Hit Show Is Misogynistic
Squid Game director Hwang Dong-hyuk has spoken out in defense of the hit Netflix show, following accusations of misogyny.
Since its September 17 release on the streaming service, the K-drama series has proved to be an international hit, and even spawned a cookie trend on TikTok.
However, with the ratings have come criticisms, with some detractors accusing the show of reducing women to diminished roles over Season 1's nine episodes.
In the show, 456 people with financial struggles are recruited to compete to win a cash prize of ₩45.6 billion (approximately $38.5 million) by playing a host of traditional Korean children's games on an isolated island.
The show comes with deadly twists, as those who fail to succeed in each of the six games are either shot dead by staffers, or some others reach a grisly end.
But some viewers have taken issue with the direction of one character called Han Min-yeo, played by Kim Joo-ryoung, who is seen using sex with gangster Jang Deok-su (Heo Sung-tae) to advance her position in the series of games.
There have also been criticisms of later episodes in the show, where a selection of masked VIPs, who have traveled to the island to watch and bet on the contestants' progress, are seen sitting in a grand room where naked, painted women and men lie around as decoration.
And in an interview with South Korean newspaper Hankook Ilbo, director Hwang defended those elements of the storyline, insisting they represented far more than some had perceived them to be.
"It was to show the actions of someone that can do anything (to survive) in an extreme situation," he said, per Koreaboo. "I thought that it was an action that a human would do when placed in the worst situation."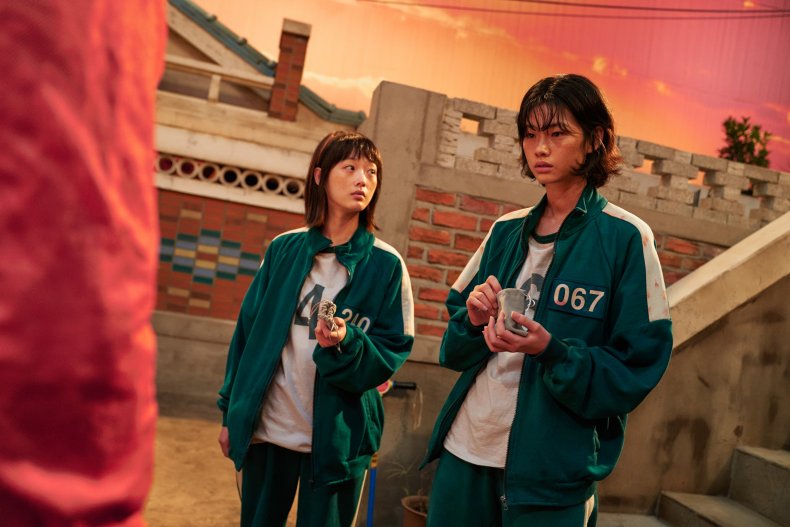 Addressing the issue of the painted women, Hwang went on: "I thought that it was a show of those with power and just how far they would belittle other humans. Not all the painted figures were female.
"Every VIP would have had a female and a male next to them like a figure. It's not accurate to say that it is an objectification of women. I used body painting to show how the VIPs objectify humans."
Ahead of Squid Game's release, Hwang said in a press conference that the show's survival game concept highlights the "irony that the capitalist society we all live in, which was created to allow us all to eat well and live well, rather destroys the essence and humanity of human beings," Hankook Ilbo reported.
He also expressed hopes that the series would push viewers to ask themselves: "Why do we risk our lives to compete with each other? Where did the competition begin and where is it going?," The Dong-a Ilbo reported.