Man Creates 'Squid Game'-Themed Halloween Lights That Play Deadly Game
Squid Game fever shows no sign of slowing down with Halloween around the corner, and legions of fans are planning on dressing up as their favorite character from the Netflix series.
The South Korean show has taken the world by storm, with real-life versions of the games popping up at playgrounds, while some schools in New York have gone as far as to ban Squid Game costumes.
One man has now brought Halloween and Christmas together, creating an epic light show reminiscent of the holidays, but with a creepy twist.
Fan Justin Holt has decked his house out with hundreds of lights, and while you'd expect to see Rudolph and Santa frolicking on the façade, instead the doll from the first episode greets you.
Speaking to Newsweek, he said: "I decided to do Squid Game because it was trending at #1 on Netflix."
He said a 3-minute song can take up to 100 hours of programming, adding: "The electric bill costs about $0.10-$0.12 to run per hour. It's really not that much. Building the show costs the most.
"The neighbors actually really enjoy the show. We've only had one complaint in the 5 years we've been doing it for and that was for traffic reasons, which we've been able to keep to a minimum.
"The lights are up for about 3-4 months before we take them down, usually we don't take them all down though and just leave everything up on the house."
Holt shared a clip to his TikTok page @justinthelightguy, revealing his house, in New Hampshire, challenges people to play "red light green light" in real life.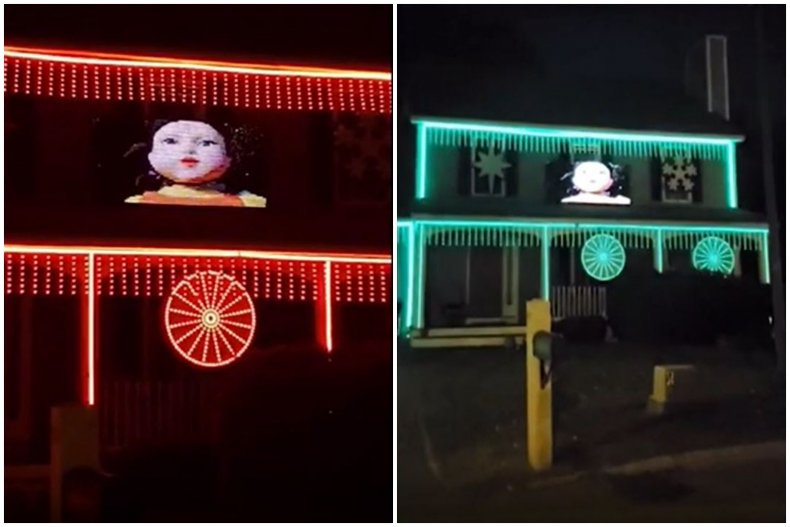 The clip, which can be seen here, starts with a voice uttering: "With that, let the game begin."
The words are broadcast on a giant screen, which gives way to a 5-minute timer. The chilling doll then appears, saying "green light," while all the lights match the color.
As in the series, the doll turns around, only to whip her head back as her voice booms "red light," and the illuminations turn the same shade. And in true Squid Game style, there are a few gunshots.
Holt captioned the clip "who wants to play," and it seems to have gone down a storm, being watched more than 17 million times since its upload last week.
Commenting on the clip, Luisleon897687 wrote: "The neighbors must be scared."
"This sounds like real gunshots," Anupam Tripathi thought.
And responding to a few people pointing out he used the English dubbed track, he wrote: "A Korean version is coming out tonight."
Alex Jerome joked: "Imagine trick-or-treating and that pops up and you get shot."
While Matt-b26 reckoned: "Omg what a way to scare off trick-or-treaters."
On his Instagram page, Justin shared a behind-the-scenes look at how he created the light sequence.
Seemingly showing his computer screen mapping out the light formations, he wrote: "Squid Game Tik Tok coming soon. Gonna have actual people in the yard playing the game."
Squid Game has been crowned Netflix's most successful title launch, with more than 111 million viewers in its first 28 days.
Written and directed by Hwang Dong-hyuk, it tells the story of a group of heavily indebted people trying to win a pot of $38.6 million (45.6bn won) by playing children's games. But if you lose, you die.
Update 28/10/21, 4:30 a.m. ET: This article was updated with pictures and video from Holt. 10:27 a.m. ET: Comments from Holt.