8 'Squid Game' Halloween Costumes That'll Arrive in Time for Spooky Season
Squid Game, the runaway hit Netflix K-drama that's taken the world by storm, has inspired various ideas for Halloween costumes this year.
The show features several "dreamlike, fantasy" settings, as described by cast members, with colorful backdrops, including many of the characters' outfits. These ethereal scenes contrast the series' dark storyline, which sees hundreds fight to the death in a series of survival games.
Here we look at some of the best Squid Game-themed Halloween costume ideas.
1. Player Tracksuits
Users can get green tracksuits nearly identical to the ones worn by the players in the series. Buy the two-piece jacket and trouser on Amazon for player No. 456 (played by Lee Jung-jae) here, and for No. 067 (played by HoYeon Jung) here.
T-shirts
The numbered, baseball shirt-style tops worn by the contestants are also available on Amazon here. They are available for players No. 456, 001, 067, 218 and 240.
Sneakers
Complete your player uniform with a pair of white slip-on sneakers inspired by the ones in the show. Treat yourself to some classic white Vans sneakers here or find other Vans-inspired versions like this one from Lugz here.
2. Guard Uniforms
Sport the hot pink Squid Game staff member jumpsuits this Halloween. Similar jumpsuits are available on Amazon here.
You can also find masks inspired by the guards' masks here (ones with either the circle, square or triangle symbol) as well as a balaclava here, which they wear underneath their masks, both on Amazon.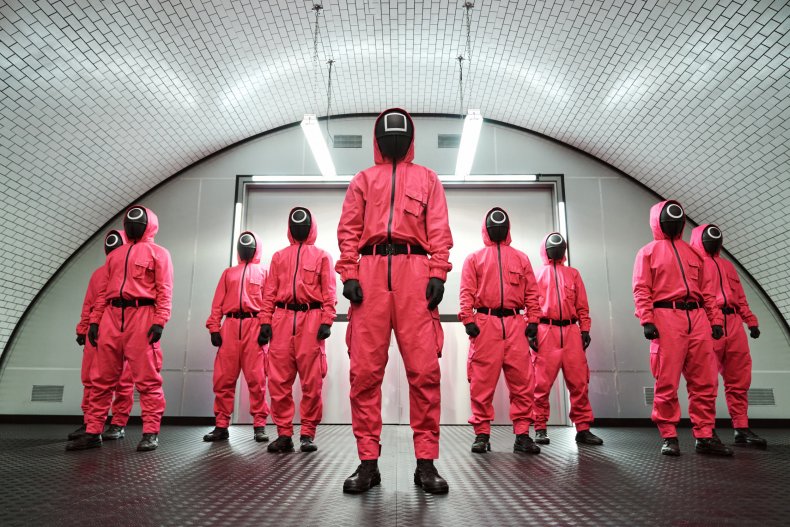 3. The Doll in Red Light, Green Light
Get dressed up as the creepy giant doll seen in the Red Light, Green Light round of the competition in Squid Game.
You can buy an outfit themed around the doll's dress and a mask featuring the doll's face on Amazon here.
4. The Front Man Outfit
Trick-or-treaters can also wear masks inspired by the one worn by the Front Man character (played by Lee Byung-hun) on Amazon here.
The Front Man look can be completed with any plain black parka jacket, such as this one from Uniqlo here.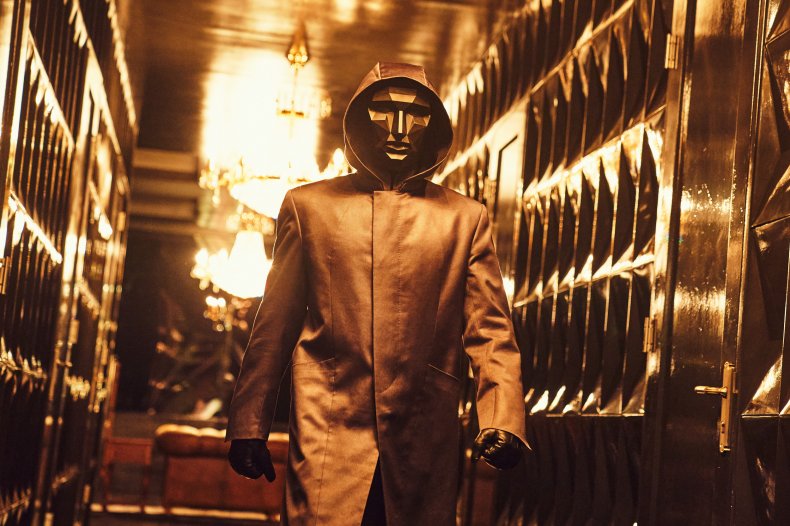 5. VIP Mask
The mysterious VIP characters in the series are seen wearing sparkling gold-colored masks, each shaped like the heads of different animals as they watch the contestants compete from a viewing room.
You can buy one inspired by the VIP tiger mask at Xocostume here.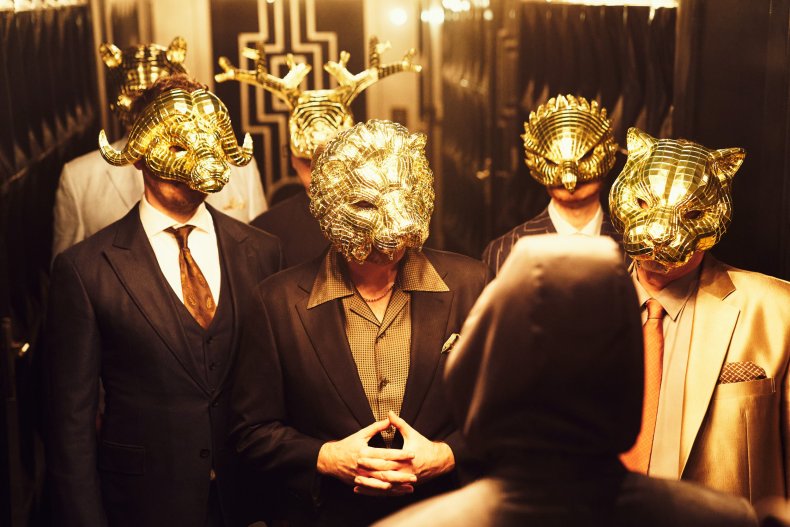 6. 'Squid Game' Finalist Tuxedos
Just before the final round of the competition, the three finalists were each given a black and white tuxedo to wear for a special steak dinner they were served to congratulate them for making it to the final round.
Squid Game fans can don similar suits from The USA Suits here. Buyers can make their orders with their desired number imprinted on the blazer, the company says.
Splash a bit of red, such as this bottle of fake blood on Walmart, on your tuxedo to channel the vibe of player No. 067, who—spoiler alert—ultimately gets stabbed to death in the series.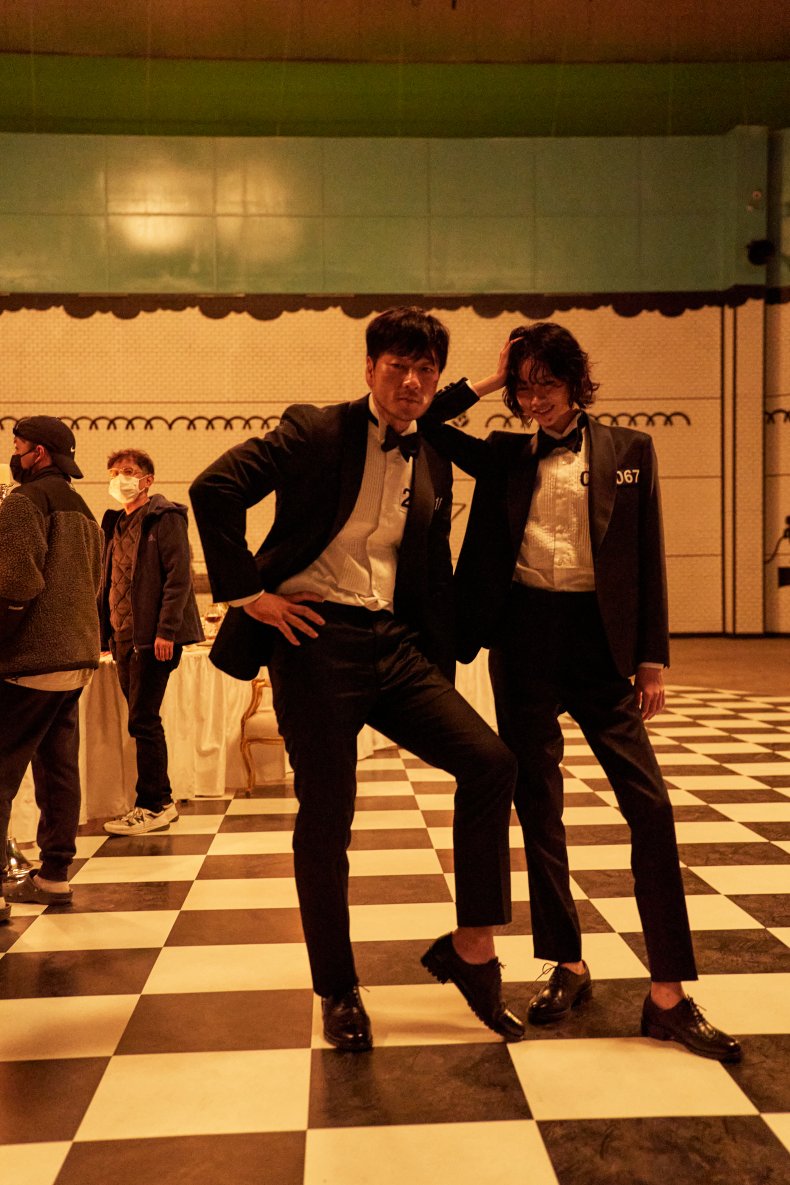 7. Get Some Fake Tattoos
Wear some fake tattoos to sport the look of Deok-su (contestant no. 101, played by Heo Sung-tae), a gangster among the players who is seen with tattoos around his neck and face.
Temporary tattoo stickers are available on Amazon here and from Walmart here.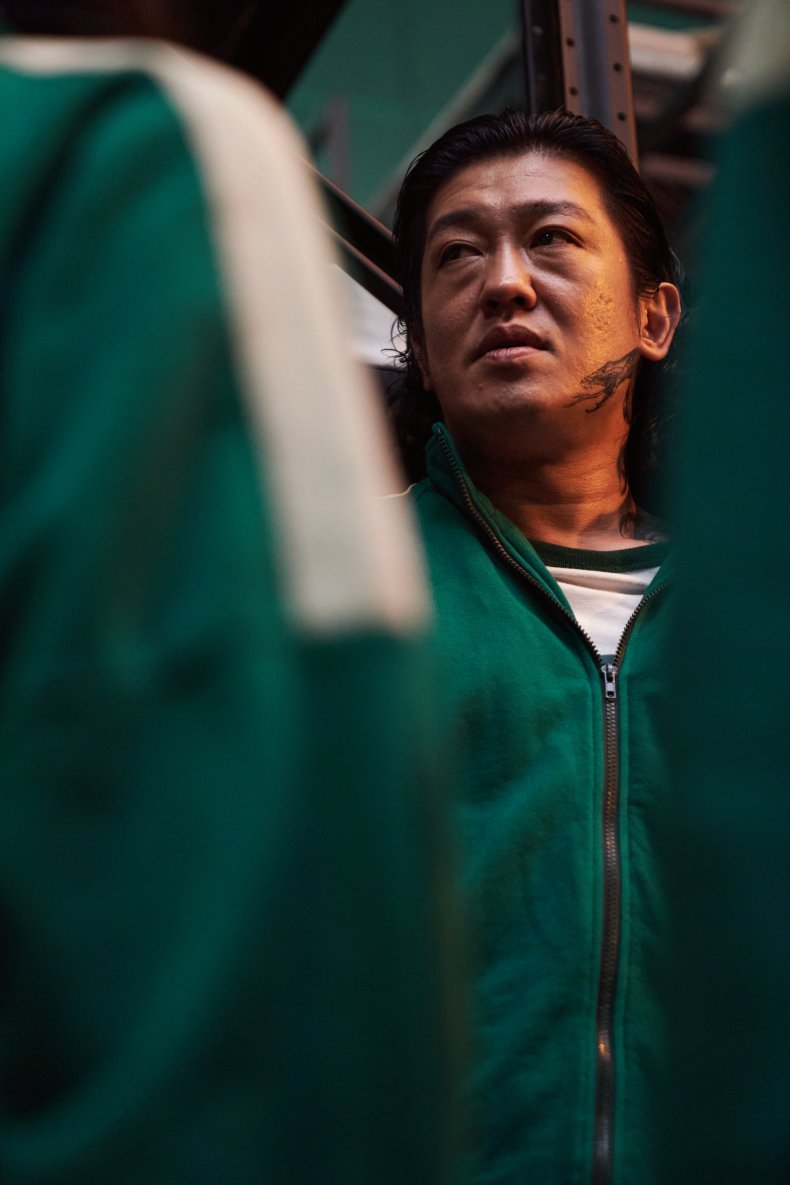 8. Wear a Red Wig
In the final episode of Squid Game, player No. 456 appears with his hair dyed in an arresting bright red hue. Get this look for Halloween by simply wearing a similar wig, such as this one available on Amazon here.
You could also opt to dye your hair red, such as with this temporary hair color spray from Walmart here.
Newsweek may earn a commission from links on this page, but we only recommend products we back. We participate in various affiliate marketing programs, which means we may get paid commissions on editorially chosen products purchased through our links to retailer sites.