Sri Lanka Bombings Death Toll Exaggerated by 100 Because Body Parts Were Counted Twice
Authorities in Sri Lanka have revised the number killed in least weekend's deadly Easter terror attacks, cutting the number of dead to 253 from 359.
The country's Ministry of Health attributed the discrepancy between the number of dead announced on Wednesday and the new numbers released today to the extensive mutilation of the bodies.
The power of the blasts, at a total of six locations, was such that different body parts were wrongly identified and counted more than once, Agence France-Presse reported. "Many of the victims were badly mutilated... There was double counting," the ministry said in a statement.
The director general of the Ministry of Health in the South Asian island nation said forensic experts had struggled with the remains. "In explosions like this, bodies get badly mutilated. It is not always possible to have complete bodies," Anil Jasinghe said. "This is why it was initially difficult to arrive at a precise toll."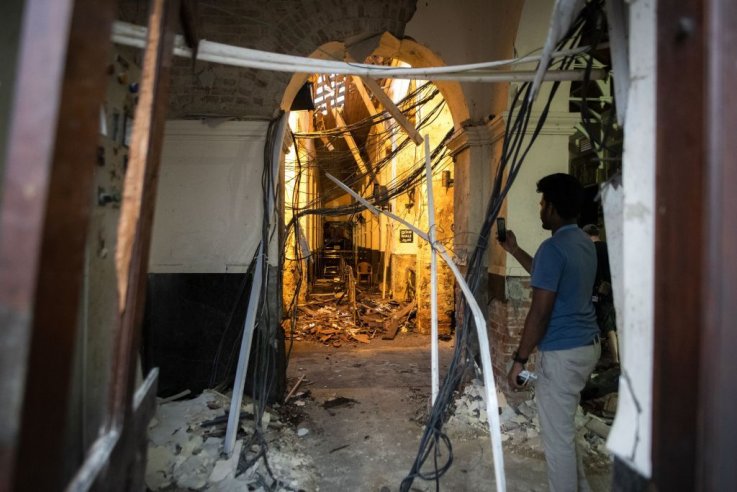 Experts have said the revised death toll signaled a wider paralysis in the system, as Sri Lankan authorities had failed to handle the fallout from the suicide bombings, for which the Islamic State militant group (ISIS) has claimed responsibility.
"It speaks to a dysfunctional system where information is not being shared, not being cross-checked," Greg Barton, a terrorism expert at Deakin University in Australia told The Associated Press. "If you can't count the dead, how can you take care of the living, especially those who pose a threat?" he asked.
Deep questions were being asked at the highest levels of Sri Lanka's political establishment after it emerged that information from India's extensive intelligence network had warned of attacks against Christians and tourists had been overlooked. The result has, despite the revised death toll, been the worst violence in the country in the decade since its civil war.
As of late Friday, President Maithripala Sirisena said he still did not know how the information, supplied two weeks before the deadly attacks, had failed to reach him. Sirisena's security remit is extensive—as president he acts oversees the police and Ministry of Defense.
Despite assurances following the massive intelligence failing, communication mistakes have continued. On Tuesday, the country's state minister of defense said the Sunday bombings had been carried out in retribution for the white supremacist attacks on mosques in Christchurch, New Zealand, in March. New Zealand's Prime Minister Jacinda Ardern subsequently said she was unaware of any such link.
Bombings have provoked reprisal attacks against Sri Lanka's Muslim community, with hundreds being forced from the country's west coast. Meenakshi Ganguly, South Asia director at Human Rights Watch, told Newsweek via email that the government needed to maneuver carefully to avoid further blowback against Muslim communities.
"Sri Lankans are mourning the deaths and injuries as well as an end to a period of relative peace after decades of violence," Ganguly said. "Sri Lankan leaders should take every step to assure people that there will be justice and the perpetrators prosecuted. But they should also ensure that this is done in a rights-respecting manner, and that there is no knee-jerk collective punishment against communities."