St. Jude First U.S. Hospital to Receive Ukrainian Pediatric Cancer Patients
St. Jude Children's Research Hospital in Memphis, Tennessee, on Tuesday became the first U.S. hospital to receive displaced child cancer patients from Ukraine.
The hospital said it safely admitted four children for treatment, along with their families, through the U.S. State Department's assistance. The department helped airlift the families from Krakow, Poland, to the U.S. using a government-operated medical aircraft.
"The patients will be able to safely resume critical cancer therapy disrupted by the Kremlin's aggression. They will receive the specialized care they desperately need, and their family members will be afforded sustenance, security, and support from St. Jude," State Department spokesperson Ned Price said on Tuesday.
The patients range in age from nine months to nine years old, and will receive their ongoing cancer treatments along with trauma-focused therapy "to address psychological, social, emotional and cultural needs," as a result of Ukraine's war with Russia, the hospital said in a statement.
"The work of St. Jude Children's Research Hospital in Ukraine reflects the hospital's ongoing commitment to ensure children with cancer have access to lifesaving care, no matter where they live," St. Jude President and CEO James R. Downing, M.D., said on Tuesday.
Prior to receiving the four patients, St. Jude Global – the hospital's mission for helping pediatric patients around the world – has been working to transport other Ukrainian patients to cancer centers across Europe.
So far, the hospital and its partners have helped over 500 Ukrainian children by translating medical records and providing necessary transportation, St. Jude said in a report last week.
"When the Russian army invaded Ukraine, we did what we usually do with our partners, which is what you usually do with your family — jump in and say: 'How can I help? What can we do?,'" said Dr. Carlos Rodriguez-Galindo, director of St. Jude Global.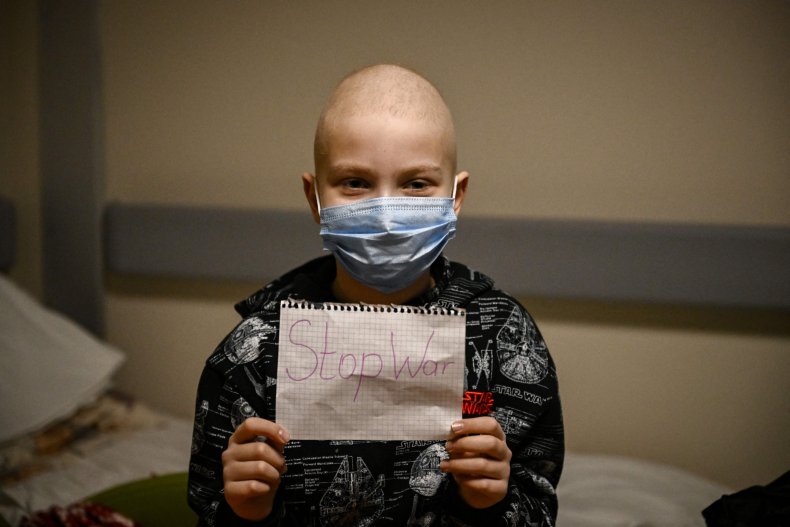 The State Department on Tuesday acknowledged that while the four new patients in the U.S. "represent a small proportion of the thousands of patients whose cancer treatment has been interrupted," it will continue supporting Ukrainian partners to help as many individuals as possible.
Since Russia first began its invasion of Ukraine on February 24, the United Nations has reported that at least 43 hospitals and health facilities have been attacked, including a children's and maternity hospital in Mariupol. Russian troops have increasingly targeted Ukrainian civilians, at times bombing buildings where hundreds of women and children have sheltered in place.
At least 900 Ukrainian civilians have so far been killed, while 1,459 have been wounded. However, the United Nations estimates that the actual death toll is significantly higher.
For the latest updates on the Russia-Ukraine war, visit Newsweek's live blog.