Russia Claims Bombed Children's Hospital Was Base for Radical Fighters
The airstrike on a Mariupol children's and maternity hospital was caused by radical fighters using it as a base, a Russian official claimed on Thursday amid growing backlash over the attack.
Ukrainian authorities said that the Wednesday strike killed three people, including a child, and wounded 17.
Russian Foreign Minister Sergey Lavrov said the statements are "pathetic shrieks" from Russia's enemies and that the hospital was targeted because far-right radicals had taken it over, according to the Associated Press. Lavrov provided no evidence to back up this claim.
Ukrainian, European Union and British officials called the attack a war crime. Photos of the bombed hospital show children and pregnant women injured in the strike, though Russia maintains that civilians were not harmed.
The Mariupol City Council first reported the attack, writing a message on Telegram saying Russian forces had dropped several bombs on the hospital. In a tweet, Ukrainian President Volodymyr Zelensky said that "children are under the wreckage."
The attacks on Mariupol, a port city on the Sea of Azov, have been ongoing for several days. In addition to having a port, controlling Mariupol would be useful to Russia because it would create a land passage from Crimea, a Ukrainian region that Russia annexed in 2014.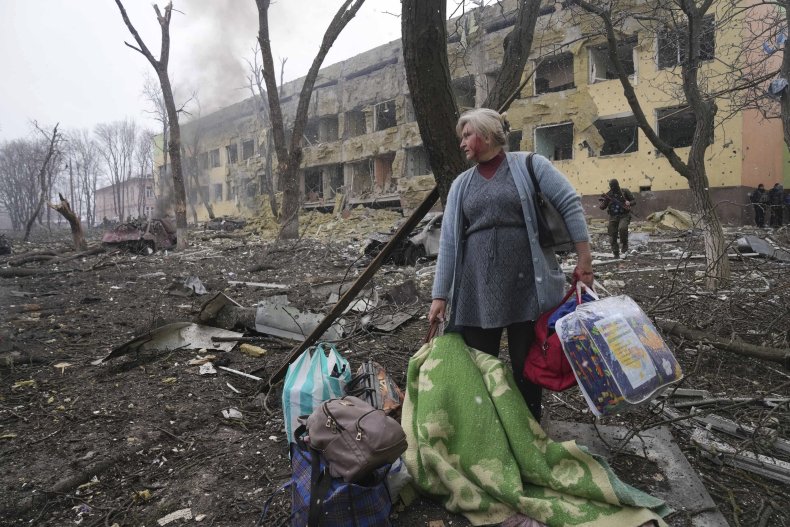 "Petrifying war crime in Mariupol," Dmytro Kuleba, Ukraine's minister for foreign affairs, said in a tweet. "We could stop this barbarism by protecting our skies. For the sake of humanity, provide us with aircraft, now! Lives are being lost while this is being considered over and over again."
Kuleba and Lavrov met in Turkey earlier Wednesday, but in a press conference, Kuleba said no progress had been made as Lavrov was "not in a position to commit" to creating a humanitarian corridor out of Mariupol or to a 24-hour cease-fire. Kuleba added that he would be willing to meet again "if there are prospects for a substantial discussion and for seeking solutions."
Though some attempts have been made to establish humanitarian corridors out of Mariupol, Russian fire has blocked them. Russian-made corridors out of other cities like Kyiv and Kharkiv would take Ukrainians into Russia or Belarus, Russia's ally.
Petro Andrushenko, an adviser to Mariupol Mayor Vadym Boichenko, told Reuters that Russian aircraft were targeting routes humanitarian workers and evacuation buses were trying to use to come into the city.
"They want to absolutely delete our city, delete our people," Andrushenko said. "They want to stop any evacuation."
Update 03/10/22, 11:20 a.m. ET: This story was updated to add more information.