Kansas City Mayor Will Not Issue Quarantine Order for Ozarks Partiers as Health Officials Appeal to 'Compassion for Others'
The mayor of Kansas City, Missouri will not issue a quarantine order for those who flouted social distancing guidelines at a pool party at the Lake of the Ozarks over the weekend.
St. Louis County issued a travel advisory on Monday saying anyone who attended the crowded party or otherwise failed to follow social distancing guidelines over the long weekend must self-quarantine for 14 days or until they test negative for COVID-19, the disease caused by the novel coronavirus.
The Department of Public Health issued the advisory on Monday after videos of the crowded pool party went viral at the weekend.
Footage of the party showing attendees drinking and enjoying the pool without practicing social distancing circulated widely on social media, sparking condemnation by officials.
Anyone who didn't practice social distancing should self-quarantine for 14 days "if they have any compassion for others," Rex Archer, the director of health at the Kansas City Health Department tweeted.
However, Quinton Lucas, the mayor of Kansas City, Missouri stated he has no plans to issue a similar order to St. Louis County as he said the city couldn't enforce it.
"I ask anyone at the lake this weekend to follow social distancing and other guidelines in place upon their return to Kansas City to limit the spread of COVID-19," he said, according to Fox4. "If anyone suspects exposure or illness, please call a health provider immediately."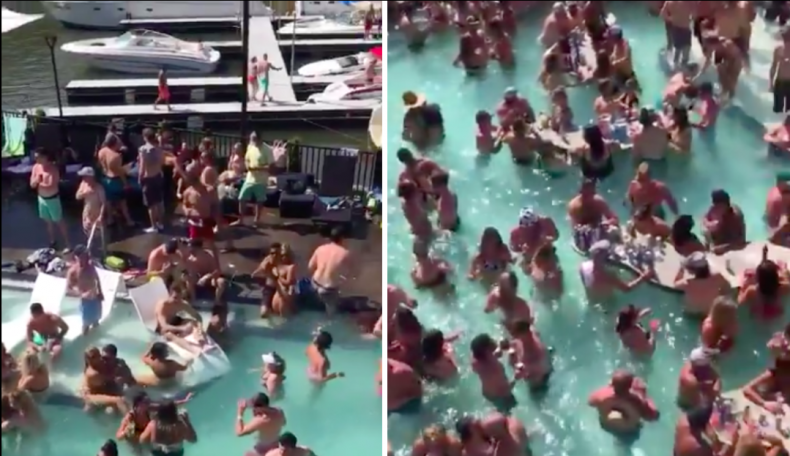 "Recent news reports indicate that many people, including those from the St. Louis region, did not follow any protective practices over the holiday weekend," St. Louis County's travel advisory said.
"Large crowds at Lake of the Ozarks showed no efforts to follow social distancing practices essential to curbing the spread of the virus. As a result, many members of the public and employers have asked St. Louis County how to best proceed in safely opening their businesses when social distancing practices are not being followed."
It also urges employers to ask workers about their recent travels and social distancing behavior.
"This reckless behavior endangers countless people and risks setting us back substantially from the progress we have made in slowing the spread of COVID-19," County Executive Sam Page said in a statement.
"I encourage everyone to follow the Department of Public Health advisory to determine a safe path forward in the workplace."
The White House Coronavirus Task Force has said that public gatherings should not exceed 10 people as states continue to reopen amid the coronavirus pandemic.
Meanwhile, the Centers for Disease Control and Prevention (CDC) advises people to stay 6 feet away from others, avoid crowded places and wear a face covering when outside.
St. Louis County has 4,544 confirmed cases of COVID-19 and 386 deaths—the most of any county in Missouri, according to the latest figures from the state health department. Missouri as a whole has confirmed 12,167 cases and 685 deaths.
This infographic, provided by Statista, shows the spread of COVID-19 in the U.S. as of May 25.