St. Louis Man Who Aimed AR-15 at Protesters Says He Was Victim of Terrorism
The St. Louis man, a video of whom who has gone viral after aiming an AR-15 at protesters in front of his home, said he was a victim of terrorism that day.
"What's the definition of terrorism? To use violence and intimidation to frighten the public," Mark McCloskey said during a segment of CNN's Cuomo Prime Time. "That's what happened to me. That's the damage I suffered."
McCloskey, a personal injury lawyer, appeared on the show Tuesday night with his personal attorney Albert Watkins.
Host Chris Cuomo began the lengthy interview by calling McCloskey the "face of resistance to the Black Lives Matter movement."
McCloskey and his wife Patricia had made headlines Monday after footage appeared on social media of the couple as they stood outside their home, pointing an AR-15 and handgun at protesters.
The protesters had reportedly gone into the private neighborhood in search of St. Louis Mayor Lyda Krewson's home to call for her resignation, but McCloskey insisted that Krewson's house could not be reached by going through his neighborhood.
When McCloskey saw the protesters enter his gate, he and his wife had decided to take action.
"Everything inside that gate is private property," he said in the interview. "Any pretense of protest as opposed to terrorism ended when they broke through that gate."
McCloskey said he had been scared for his life and needed to protect his wife and home.
"I was a victim of a mob that came through the gate," he told Cuomo. "I didn't care what color they were, I didn't care what their motivation was. I was frightened, I was assaulted, and I was in imminent fear that they would run me over, kill me, burn my house."
Victimization is a highly subjective term, Watkins told Newsweek in a phone interview in regard to McCloskey calling himself a victim of terrorism.
While his clients respect the right to peacefully protest, they took issue with the protesters' decision to trespass on their property and move toward the couple in a "threatening and intimidating fashion," Watkins told Newsweek.
A St. Louis prosecutor is working with local police to investigate the couple's actions.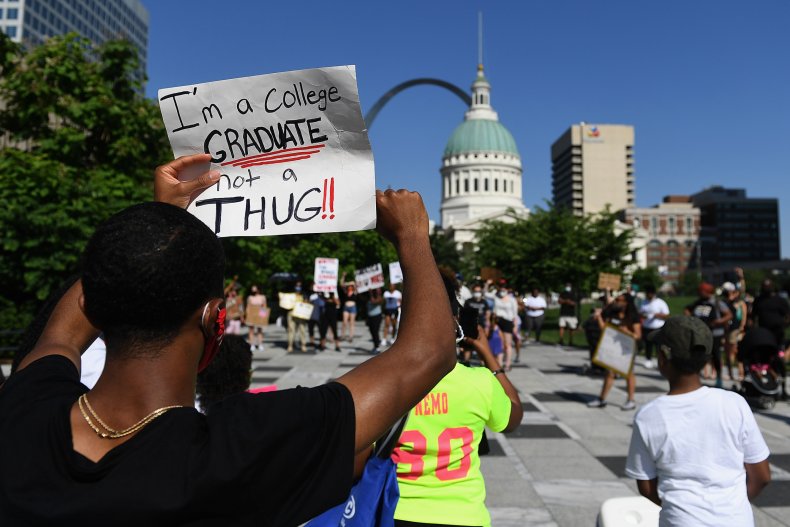 In the CNN segment, Cuomo pushed back at McCloskey's use of the word terrorism, telling McCloskey that the protesters did not go up his steps, enter his house or touch him.
"The reason why they did not get up my steps was that my wife and I were there with weapons to keep them off our steps," McCloskey responded. "They were coming at us until I displayed the weapon, and that stopped them."
Cuomo eventually shifted the conversation back to what he referred to as the broader implications of the McCloskeys' actions, saying that the couple has been "politically weaponized as a face of white resistance to that movement."
President Donald Trump had retweeted the widely circulated video posted by ABC News June 29 of McCloskey and his wife pointing guns at protesters outside their home.
Cuomo claimed that Trump had retweeted the video because "he liked the image of white resistance to this movement."
McCloskey called Cuomo a "mind reader" and had said earlier in the interview that he did not know why Trump had retweeted the video.
Watkins, the couple's attorney, said that McCloskey and his wife were upset that their actions had become politicized.
"He and his wife are both appalled at the prospect of being utilized as a rallying call for people sitting in…loungers with a Confederate flag behind them and a 12-gauge in their hand," Watkins said during the CNN segment.
The attorney insisted that his clients are "completely behind and endorse the message" of the Black Lives Matter movement.
"What they are not capable of doing is embracing the abject utilization of that noble message—that we all need to hear over and over and over again—as a license to rape, rob, pillage, bowl over all of our rights," Watkins said.
The protesters' stated purpose Sunday evening was to hold a demonstration outside the mayor's home to support calls for her resignation.
Krewson has faced criticism after she used a Facebook Live video to reveal the names and addresses of local residents who are in support of defunding the city's police department.
She has since apologized for her actions.