Stacey Abrams vs. Brian Kemp Results Latest: Will There Be a Runoff, Recount in Georgia Governor Election?
What was already one of the most heated midterm campaigns has shown no sign of colling down two days after Republican Brian Kemp declared victory over his Democratic challenger Stacey Abrams in the battle to become the next governor of Georgia.
In order to focus on his anticipated transition to the role of governor, Kemp resigned from his post as Georgia's secretary of state Thursday, a role which saw him overseeing the election in which he was a candidate and caused much controversy during the campaign. But Abrams's campaign has shown no sign of conceding and on Thursday filed a new lawsuit in Dougherty County where there have been complaints of delays in the distribution and processing of absentee ballots.
"During October, a confluence of extraordinary circumstances—first a judicial injunction, then a state holiday, then a natural disaster—prevented Dougherty County from coming even close to meeting its statutory deadline for providing absentee ballots to electors," the complaint, filed Thursday in federal court, read.
Later in the day, Kemp's campaign hit back, accusing Abrams of seeking to invent votes and "steal" the election.
"Stacey Abrams can't accept the fact that Georgians rejected her radical agenda at the ballot box, so she's now desperately trying to steal this election in the courtroom," Ryan Mahoney, the Kemp campaign's communication director, said in a statement. "After realizing that it was mathematically impossible to win the race with votes outstanding, Abrams's team has decided to file frivolous, politically motivated lawsuits that will force elections officials to break the law and add votes that didn't exist on Election Day. Simply put: Abrams campaign is trying to create new votes, because they know it's their only hope."
But Abrams's campaign has argued that the race is far from over and that there are provisional ballots yet to be counted.
"All of the votes in this race have not been counted," Abrams campaign manager Lauren Groh-Wargo said at a press conference on Thursday.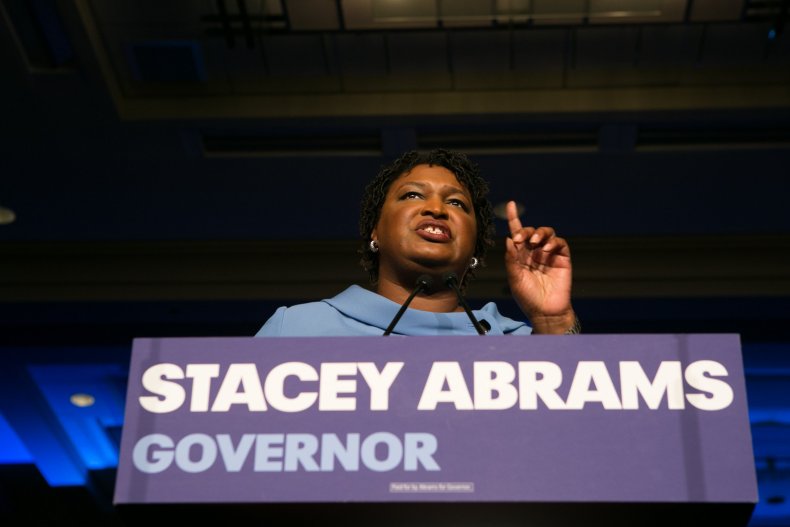 Under Georgia law, if no candidate achieves a majority, then a runoff election will be held. Kemp currently leads with 50.3 percent of the vote. Abrams is also close to the possible threshold to earn a recount in the race, which, following his resignation, Kemp would now not oversee.
"Brian Kemp is 25,622 votes above the threshold for a runoff election. Twenty-five thousand votes of nearly four million cast are at issue in this race," Groh-Wargo said. "By [Kemp's] own admission, there are at least 25,000 outstanding votes, and hundreds if not thousands of more that we are learning about and discovering every day."