Stacey Abrams Says Georgia Gov. Has 'Absolutely No Competency' on COVID-19
Former Georgia gubernatorial candidate Stacey Abrams said Gov. Brian Kemp had shown "absolutely no competency" amid the ongoing coronavirus pandemic as she reacted to his move to block local mandates requiring people to wear face masks.
The widely tipped contender for the Democratic Party's vice presidential nomination told MSNBC that Kemp had "thwarted" attempts to mandate the wearing of masks in Georgia as she rebuked his record on the coronavirus pandemic.
She also accused the governor of fiddling "while Rome burns," referring to the more than 3,000 coronavirus deaths reported in Georgia as of Wednesday night.
Appearing on MSNBC yesterday, Abrams said: "From the beginning of this catastrophe, Brian Kemp has demonstrated he has absolutely no competency in this process. This is the same man who didn't understand weeks after the world knew that asymptomatic people could spread the disease.
"He has thwarted the attempt of the mayor of Savannah, the first mayor to issue this edict recently, saying that if you're going to come to Savannah, you've got to wear a mask."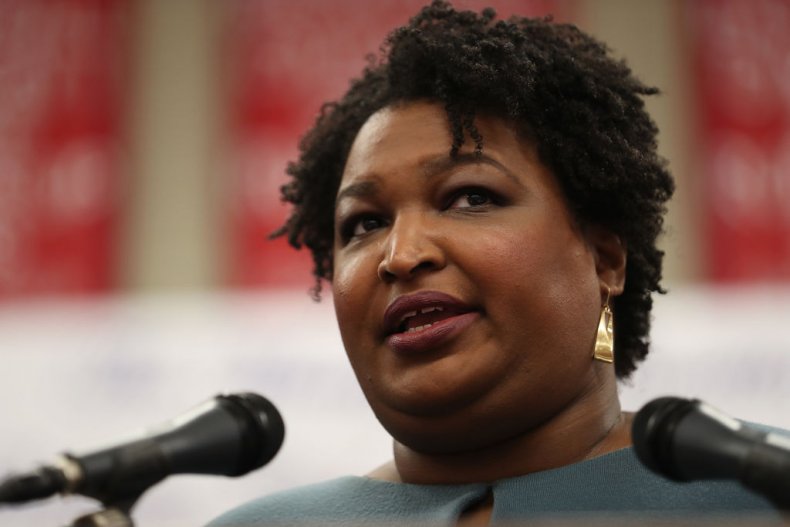 The contender for the Democratic vice presidential nomination went on to accuse the Georgia governor of downplaying the deaths of locals struck by the coronavirus.
"More than 3,000 Georgians have perished, disproportionately Black and Brown Georgians, and he continues to fiddle while Rome burns," Abrams said. "This is not a man who's capable of leadership."
Newsweek has contacted the office of Gov. Kemp for comment and will update this article with any response.
The Georgia governor filed an executive order on Wednesday barring local officials from requiring the use of face masks in public spaces within the state, despite a continued spike in new cases.
The order, which also barred the mandating of face shields and other coverings, brought several existing local orders in at least 15 Georgian cities and other localities to an end.
At the time of writing, Georgia has recorded more than 127,000 confirmed COVID-19 cases and a total of 3,091 related deaths, according to Georgia Department of Public Health data.
The New York Times coronavirus database reports that the state has been recording thousands of new COVID-19 cases every week since mid-June, with the 7-day average standing at 3,087 fresh cases per day on Wednesday.
More than 3,800 new cases of the disease were reported yesterday alone, along with 37 deaths.