Stacey Abrams Defends Georgia 'Worst' Remarks, Admits 'Inelegant Delivery'
Gubernatorial candidate Stacey Abrams defended her controversial remarks that Georgia is the "worst state in the country to live" but conceded that the way she delivered the message was "inelegant."
Abrams was speaking to reporters Tuesday and was asked about Republican outcry regarding her comments, which she made Saturday at a fundraising dinner.
"I had an inelegant delivery of a statement that I will keep making, and that is that Brian Kemp is a failed governor who doesn't care about the people," Abrams said, referencing Georgia's Republican governor.
Abrams, a Democrat, and Kemp were both on the ballot Tuesday as Georgia voters flocked to the polls for primary elections. Kemp came out on top when he initially faced off with Abrams for the governor's office in 2018, and the two are poised to potentially see a rematch if they both secure the nominations from their parties.
Abrams is expected to win the Democratic nomination, and Kemp was leading fellow Republican candidate David Perdue, who has been endorsed by former President Donald Trump, by a wide margin in a Fox News poll released last week.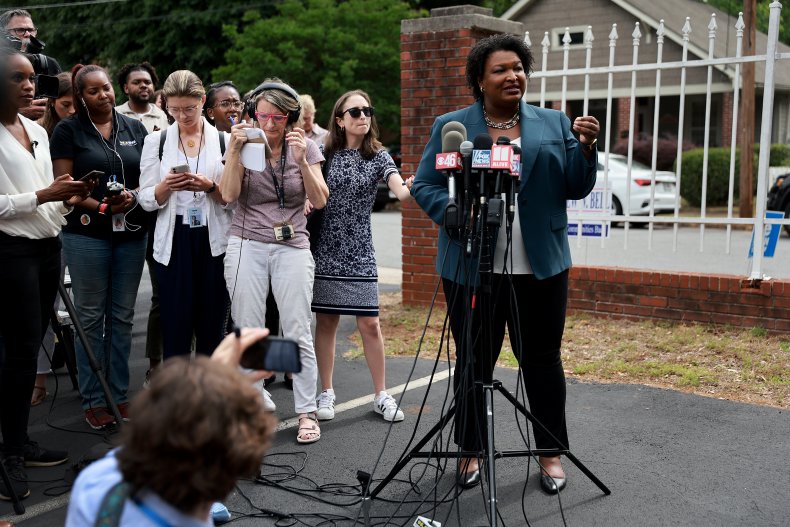 Abrams was also targeting Kemp and other Republicans when she initially made her controversial Georgia comments. She said that while the state's business receives praise from Republicans, it is not as praiseworthy when it comes to issues like workers' wages and mental health care.
"I am tired of hearing about being the best state in the country to do business when we are the worst state in the country to live," Abrams said Saturday.
The remarks drew backlash from Kemp, Perdue and several other GOP figures.
"Stacey Abrams may think differently, but I believe Georgia is the best state to live, work, and raise a family," Kemp tweeted Saturday night.
"And Marty, the girls, and I will work hard every day from now until November to keep it that way for four more years!" he added, referring to his wife, Marty Kemp.
Perdue tweeted Monday that Abrams "doesn't care about Georgia" and alleged that she "wants to live in the White House."
"It's up to us to make sure that NEVER happens," he added.
While defending the comments in front of reporters Tuesday, Abrams took aim at several of Kemp's other policies and actions as governor. She mentioned Kemp's signing of legislation that loosened gun restrictions and his decision to cut millions of dollars from the state budget that would have expanded access to Medicaid for residents with HIV, according to WXIA-TV.
Newsweek reached out to Abrams for further comment.