David Perdue Doubles Down on 'Racist' Stacey Abrams Remarks in TV Interview
Georgia GOP gubernatorial primary candidate David Perdue has targeted Stacey Abrams with what critics branded as "racist" attacks, telling the Black Democratic challenger she should "go back" to where she came from.
Perdue, who is endorsed by Donald Trump but trailing to Gov. Brian Kemp in the polls, used the remarks on two separate occasions to criticize the presumptive Democratic nominee for what she had said previously, including her highlighting of issues in the state where she has lived for decades.
Speaking during a recording of The John Frederick show in front of a live audience on Monday, Perdue asked the crowd in Dunwoody, Georgia, if they had seen "what Stacey said this weekend."
"She said Georgia is the worst place in the country to live. Hey, she ain't from here, let her go back where she came from, she doesn't like it here," Perdue said.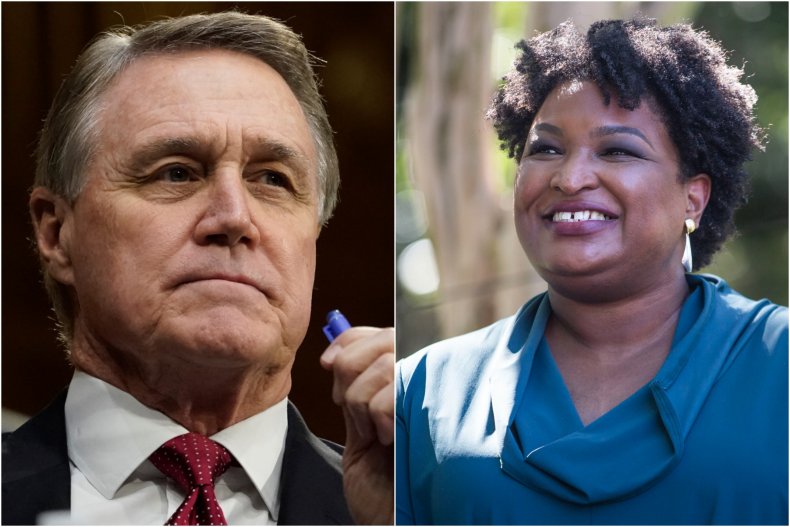 Critics said it was clear Perdue was not just using what is a well-known racist epithet to suggest Abrams should return to Wisconsin, where she was born. From there, she had moved to Mississippi before attending high school and college in Georgia.
SiriusXM radio host and columnist Dean Obeidallah said while sharing a John Frederick Show clip: "David Perdue wants Stacy Abrams to go back to where she came from? Does it get more racist?!"
The U.S. Equal Employment Opportunity Commission specifically cites "Go back to where you came from" as an example of a slur that amounts to potentially unlawful conduct in a workplace.
Perdue did not immediately respond to a request for comment on the accusations of racism.
Perdue had been referring on The John Frederick show to comments Abrams recently made at a fundraising dinner for Democrats in Gwinnett County, just outside Atlanta. She had said Georgia is the "worst state in the country to live" in terms of maternal mortality, incarceration rates, and treatment for mental health.
The former Georgia Senator also accused Abrams, aiming to be the first Black female governor of an American state, of "demeaning her own race" in an apparent reference to her 2018 remarks in which she said she wanted to "create a lot of different jobs" because people shouldn't have to "go into agriculture or hospitality" to make a living in Georgia.
Despite the fact she had not referenced race, Perdue said Abrams was telling "Black Farmers you don't need to be on the farm" with her remarks.
"She should never be considered material for a governor of any state, much less our state where she hates to live," Perdue said.
Perdue used similar rhetoric to attack Abrams during an interview later that evening with former White House press secretary Sean Spicer on his Newsmax show, Spicer and Co.
When asked if he would still support Kemp if he loses the upcoming primary, Perdue said he would be willing to back anyone in order to "make sure that we beat" Abrams.
"Abrams is more liberal than the people in the Biden administration right now who are failing us," Perdue said. "She has lied to people and Georgia, she said just this weekend it's the worst state in the country in which to live.
"She's not from here, my inclination to say, well, if you don't like it, go back to where you came from."
MSNBC host Mehdi Hasan was another of those who branded Perdue's comments as racist.
"Racism, pure and simple. Disgusting and unforgivable," Hasan tweeted while sharing a clip of Perdue's Spicer and Co appearance.
Speaking to MSNBC's Joy Reid on Monday, Abrams did not directly respond to the "go back" remarks from Perdue and criticized both the two main gubernatorial candidates as she has "yet to hear them articulate a plan for the future of Georgia."
"I have yet to hear them talk about why they will not expand Medicaid and provide coverage to half a million Georgians," Abrams said. "Just across the street at the Capitol, they passed a mental health parity law that will create parity in health insurance to get you mental help.
"The problem is 1.5 million Georgians don't have health insurance. We are number two in the nation for the uninsured, which means the poorest among us who are in the most desperate need of help are still being told by this governor and this Republican Party 'We will not help you. You don't deserve our support.'
"I can apologize all day for my phrasing but I will never apologize for my meaning," Abrams added. "And that is that we need to serve the people of Georgia and we need to make Georgia better for everyone and I want to lift everyone up."
Article updated on 05/24/2022 at 7.10 a.m. ET with additional material