Stacey Abrams at Risk of Losing to Brian Kemp Amid Problems With Key Voters
Four years ago, Democrat Stacey Abrams came with one-and-a-half points of becoming the first member of her party elected to the governor's mansion since the official collapse of the old Democratic coalition in the 2003 election of Republican Sonny Perdue.
After building a party infrastructure that helped elect two Democrats to the U.S. Senate just two years ago, however, the New York Times and others are questioning whether Abrams risks falling flat in a second matchup against Brian Kemp in a race many observers believed winnable for Democrats.
Where incumbent U.S. Senator Raphael Warnock remains a slight favorite in his race against former University of Georgia football star Herschel Walker, Abrams remains several points behind Kemp in the polls after his resounding defeat of Donald Trump-endorsed David Perdue in the GOP primary.
Meanwhile Abrams—a national symbol of the progressive left—has relied on a strategy of electrifying Democratic activists within the base against an established political rival, while Warnock, a relative moderate, faces a political novice prone to baffling public statements and unforced errors on the campaign trail.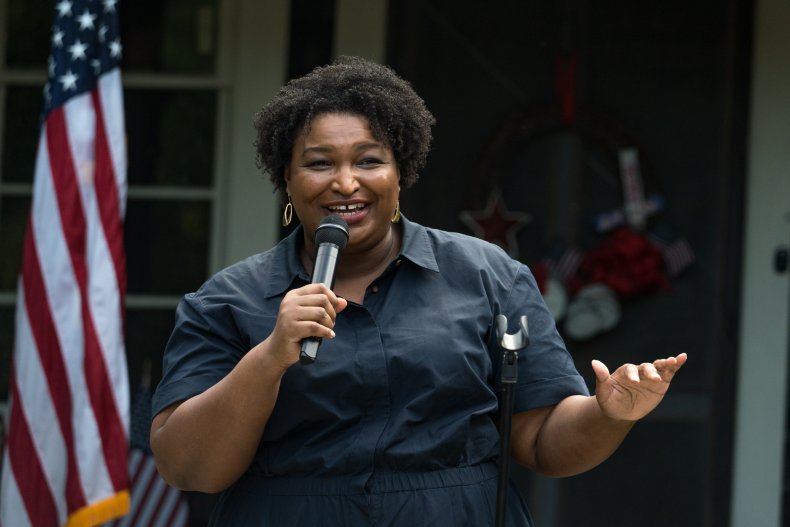 Issues like the overturning of Roe v. Wade, which resulted in a significant bump for Democrats in the generic ballot nationwide, have failed to move the needle in the polls.
Where Warnock trailed Walker at summer's start, polling averages from FiveThirtyEight show Abrams' support statewide has barely budged in the race against Kemp, who became a known entity nationally after demonstrating pushback against Trump's efforts to overturn his loss in Georgia in the 2020 presidential election.
Though the Abrams campaign cited numerous factors behind the disparity between the two candidates, the Times cited polling from the Atlanta Journal-Constitution this year showing Abrams performing surprisingly low among Black voters, which constitute the majority of the southern Democratic coalition. Warnock, meanwhile, performed five points higher in that category, and ranked several points higher among Democrats overall.
Kemp celebrated the Times' report on Fox News on Wednesday, painting Abrams as being propped up by national interests. While Abrams has outraised Kemp by more than $18 million this cycle, the majority of her fundraising has come from out-of-state sources, campaign finance reports show, while conservative news outlets have heavily scrutinized outside donations she has received.
"Stacey Abrams' campaign isn't connecting with Georgia voters, and people across the country and here in Georgia know it," a spokesperson for Kemp's campaign told the site. "After raising millions hand over fist from out-of-state billionaires, her campaign—and Georgia Democrats—are now mired in internal squabbling. Governor Kemp will continue to run on his record of putting Georgians first and his vision for a safer, stronger Georgia."
Groups like the Democratic Governor's Association have sought to challenge the perception of Kemp as a moderate, including a recent campaign highlighting his opposition to same-sex marriage.
Abrams, meanwhile, has sought to leverage voter concerns about abortion and the recent closure of an Atlanta-area hospital into animus against Kemp, particularly targeting the state's inaction on fully expanding Medicaid and its connection to the closure of more than a dozen hospitals statewide in the last decade.
On Friday, she held a press conference outside the hospital, highlighting Kemp's rejection of an estimated $4 billion in federal money as a direct link to the closure of those health facilities and the jobs that left with them.
"Nearly half of them will have occurred under one governor, under one person, and that is Brian Kemp," Abrams said.
Kemp's team defended his record, highlighting the state's gradual approach and Abrams' comments as a misleading interpretation of the administration's accomplishments.
"Under Governor Kemp's leadership, Republicans have passed over fifty healthcare bills to lower costs and expand access, including waivers to increase options for affordable care throughout the state. While Abrams' desperate campaign misrepresents the truth on every issue, it's clear Georgians aren't buying her radical agenda. Governor Kemp will continue to run on his record of putting Georgians first and his vision for a safer, stronger Georgia," Tate Mitchell, a Kemp campaign spokesman, said in a statement.
Update 9/7/2022, 5:20 p.m. ET: This article was updated with a statement from the Kemp campaign.