Stacey Abrams Says Reason Republicans Are 'So Mad' About Election Is That Their Voter Suppression Efforts Were Blocked
Voting rights advocate and former Georgia gubernatorial candidate Stacey Abrams said the reason Republicans are "so mad" about the presidential election results is that their voter suppression efforts were blocked.
"It's important that we understand that voter suppression being stopped is why they are so mad," Abrams told The Cut's Rebecca Traister. "Republicans had a plan for stopping voters from getting to the polls. We beat them in multiple states and flipped the outcome. The margins are small because the outcome can be undone very quickly."
Abrams said Republicans "have fought tirelessly to silence the voices of voters who do not support them" long before this election, but she is not deterred by President Donald Trump's numerous legal battles and efforts to delegitimize the presidential race.
"So while I am disappointed by the reckless actions of Donald Trump, Lindsey Graham, and others, I am not surprised," she said. "None of the GOP's voter-suppression tactics will change the results of the election."
Abrams has been largely credited with flipping Georgia blue for the first time in nearly three decades. The last time the state voted for a Democratic presidential candidate was when Bill Clinton ran in 1992.
Abrams previously served as the Democratic leader in the Georgia House of Representatives and launched the Georgia-based national voting rights organization Fair Fight.
In her interview with Traister, Abrams emphasized that while Georgia and its 16 Electoral College votes played a significant role in President-elect Joe Biden's victory, the Democrats' win could not have happened without advocating for voters' rights nationwide.
"We mitigated voter suppression across the country," Abrams said. "Voter suppression existed in '16; it existed in '18. But we had a voter-protection apparatus that covered the country through these battleground states: Wisconsin, Michigan, Pennsylvania, Arizona, Nevada, Minnesota. The work done through Fair Fight to mitigate voter suppression got people to the polls. It's not the only thing, but it is a huge thing."
This year's record voter turnout has been viewed as a historic step toward ending voter suppression across the country. With ballots still being counted, more than 159 million Americans cast their votes in the general election, according to the U.S. Elections Project.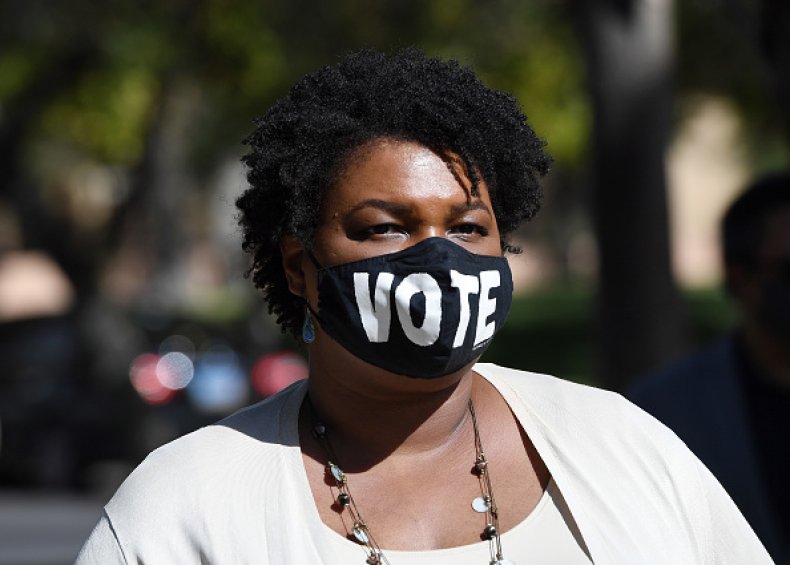 In the interview, Abrams agreed with other prominent Democrats who have urged the party to invest in specific states and the needs of their communities, as opposed to a single candidate.
"I understand Georgia, but I only understand Georgia because I worked with Georgians who were here before I got here and who will be here after I'm dead. There is absolutely a necessity to build in place," she said.
"We cannot think there's one voice that can speak to all of those communities. So make certain you're not just building in place but you're building in all the places where the numbers, when aggregated, can get you to victory," she added.
Progressive Democrats like Representative Alexandria Ocasio-Cortez of New York and Representative Rashida Tlaib of Michigan have recently emphasized these structural issues in the party, which have caused a divide among like-minded congressional Democrats and their more centrist colleagues.
Abrams also said that in order to get voters enthused, political campaigns need to invest in the communities that elected officials are supposed to represent.
"I appreciate the Black woman narrative, but if you're in Arizona you need to make certain that there is a Native American who is getting invested in to help organize the Navajo community and respond, not just to voter suppression but to the aggressive dismissal of that community's needs," she said.
Abrams said these practices will be necessary for the Democrats to win Georgia's two runoff elections in January and subsequently take control of the Senate—two campaigns she has made her next focus.
After launching its own fundraising effort for the runoffs, Fair Fight confirmed to Newsweek that it raised $9.8 million in the first four days of its fundraiser.
"What we did in Georgia is not something people thought could happen. People are more willing to invest in a winner than they are in a theory. Now that we've shown it can work, we're going to have to show it can work again," Abrams said.
Newsweek reached out to the Republican National Committee for comment but did not hear back before publication.