Stacey Abrams Says She Could Help Joe Biden By Turning Out More Black Voters in 2020 Election
Former Georgia Democratic gubernatorial candidate Stacey Abrams reiterated her interest in serving as presumptive Democratic presidential nominee Joe Biden's running mate, saying she would be valuable in ensuring people of color turnout to vote in the November election.
Abrams, who previously served as the minority leader in the Georgia state House of Representatives, has repeatedly voiced her interest in running as the Democratic party's vice-presidential candidate. The politician from Georgia reasserted that desire and explained why she'd make a good partner for Biden during an interview with CNN's David Axelrod on the Thursday episode of his podcast The Axe Files.
"I have the deepest respect for every woman who is being talked about and who should be considered for this post," Abrams told Axelrod. "But I know that for communities of color, particularly for the black community, there has got to be a recognition that their needs are met. And we have to have candidates who are able to not only speak to them, but turn them out."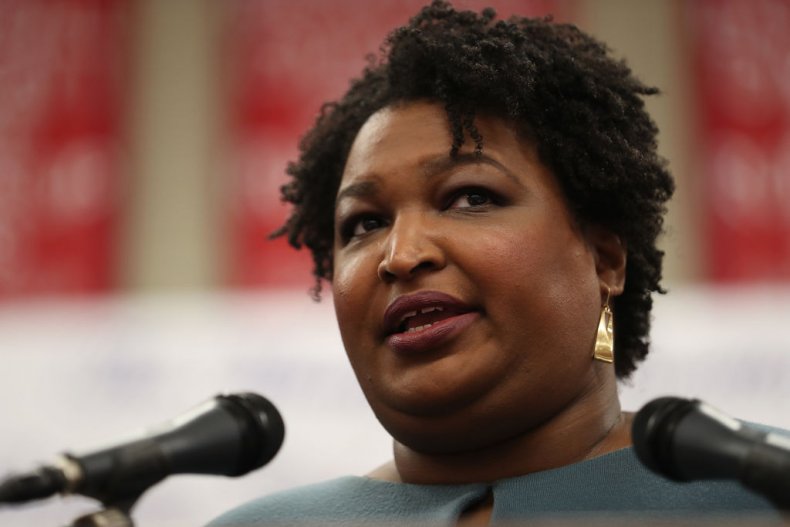 "There has to be an intentionality to turning them out. A lot of folks can do that. I'm one of those people," she said. "And I have proven it by turning out more people of color in an election than anyone in 2018 did. Not by race, but by raw number."
Newsweek has reached out to press representatives for Biden's presidential campaign for comment on Abram's remarks. The Biden campaign has not yet announced a running mate, but Abrams is believed to be on the short-list of potential candidates. The former vice president has already committed to choosing a woman to join the 2020 ticket.
Earlier this month, Abrams told Elle magazine that she would be "an excellent running mate" for Biden.
"I have the capacity to attract voters by motivating typically ignored communities," she said. "I have a strong history of executive and management experience in the private, public, and nonprofit sectors. I've spent 25 years in independent study of foreign policy."
Other names floated as possible contenders to join Biden's ticket are former Democratic presidential candidates Senators Elizabeth Warren of Massachusetts, Kamala Harris of California and Amy Klobuchar of Minnesota. Michigan's Governor Gretchen Whitmer has also been suggested as a possible option.
But Abrams has been the most vocal in expressing her desire to join the 2020 Democratic ticket. Even before Biden was the presumptive nominee, the former Georgia lawmaker asserted that she'd make a good vice presidential pick for whichever Democratic candidate secured the party's nomination.
"Of course I would be honored to run as vice president with the nominee," Abrams said during a mid-February appearance on ABC's The View. "Of course I want it. Of course, I want to serve America, of course, I want to be a patriot."