Stacey Abrams vs. Donald Trump: Former Georgia Governor Candidate to Give State of the Union Response Amid Reports of 2020 Run
Stacey Abrams, the Democratic gubernatorial candidate in Georgia who narrowly lost her election to Republican opponent Brian Kemp, has agreed to deliver the official Democratic response to President Donald Trump's State of the Union address next week, according to Senate Minority Leader Chuck Schumer.
"Three weeks ago, I called Stacey Abrams and asked her to deliver the response to the State of the Union," Schumer said Tuesday. "I was very delighted when she agreed."
Trump will deliver his address to Congress on February 5, postponed from its original date of January 29, after House Speaker Nancy Pelosi, in a series of tit-for-tats with the president regarding the government shutdown, said she refused to host him.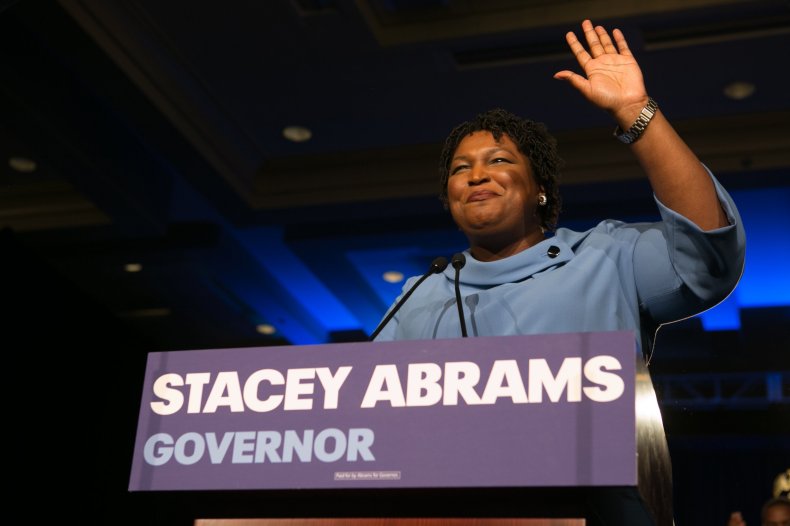 Abrams's race garnered national attention as she sought to become the country's first black female governor and after she refused to concede due to allegations of voter suppression against Kemp. She has been rumored to be considering bids for the Senate or even presidency in 2020, in addition to another possible run for governor in 2024. Republican Senator David Purdue of Georgia will be up for re-election in 2020.
"She has led the charge for voting rights, which is at the root of just about everything else," Schumer said of Abrams, who is also the former Democratic leader in the Georgia House of Representatives. The news that she was expected to deliver the State of the Union response was first reported by MSNBC's Chris Hayes prior to Schumer's confirmation.
In a statement provided by Pelosi's office, Abrams said: "At a moment when our nation needs to hear from leaders who can unite for a common purpose, I am honored to be delivering the Democratic State of the Union response. I plan to deliver a vision for prosperity and equality, where everyone in our nation has a voice and where each of those voices is heard."
Following her eventual concession to her GOP opponent last year, Abrams said in December she was "open to all options, and it's too soon after the election to know exactly what I'm going to do." Abrams lost to Kemp by roughly 55,000 votes and missed forcing a runoff election by a little more than 17,000.
"She is just a great spokesperson. She is an incredible leader," Schumer added. "And if you look at her background, she knows what working people, middle-class people go through."
Pelosi's office said California Attorney General Xavier Becerra will deliver the Spanish response to Trump's speech.
This story has been updated to include a statement from Stacey Abrams.