Stacey Dash Cries on TikTok After Finding Out DMX Died a Year Ago
Although the rapper DMX has been dead for over a year, nobody told actress Stacey Dash who shared her reaction to the news in a teary TikTok video.
He died of a cocaine-induced heart attack in April 2021, which led Dash to share details of her own sobriety. While Dash posted her raw, heartfelt reaction in the video, social media has reacted with everything ranging from sympathy to mockery. Many online used the same "Clueless" pun to discuss Dash's lack of awareness.
"Okay y'all. I'm ashamed I didn't know. I didn't know DMX died, I didn't know, from a cocaine overdose," Dash said through tears in her video uploaded to TikTok on Wednesday evening.
"I am today six years and one month clean." Dash recorded the message, filming herself seemingly from bed. "It breaks my heart. Breaks my heart that he lost to it. He lost. He lost to that demon of addiction. Please, please don't lose."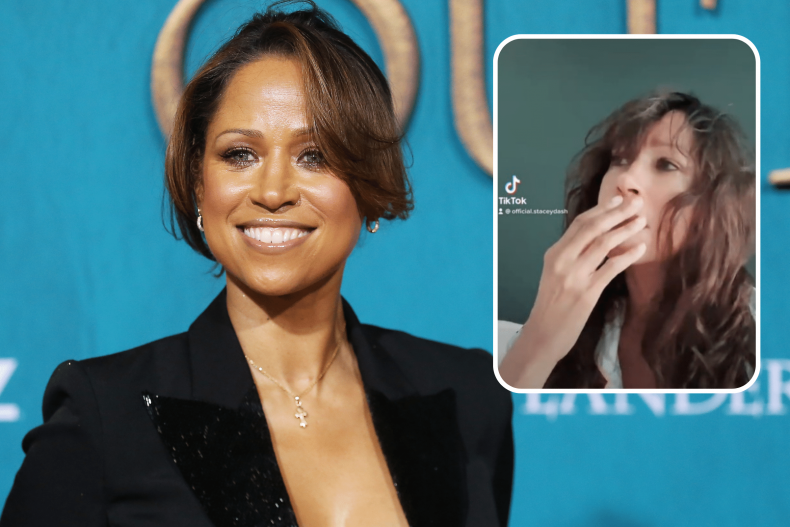 In the caption for the video, Dash explained that she was strolling through TikTok when she saw a DMX song that had "saved" her many times. " Suddenly it says #RIP i know I am late, i did not know he passed away, he #OD I am heartbroken - he was such a great guy." She included the hashtags "Devastated" (though spelled incorrectly), "StaceyDash," "fyp" and "sober."
The TikTok account the video of Dash is uploaded to, @official.staceydash is unverified, but the video does appear to be of the actress known for her roles in Clueless, Moving, and Kanye West's music video for "All Falls Down."
The account seemingly belonging to Dash clapped back at a few negative comments. "Yes he been passed away" one TikTok user wrote to which Dash replied, "Question. Yo! How can so many people not have ears to hear????"
Dash has previously opened up about her substance abuse issues, stating she was addicted to cocaine in her teens and 20s. DMX, real name Earl Simmons, had his own addiction issues, entering drug rehabilitation on a number of occasions in 2002, 2017 and 2019.
Dash's video was posted on International Overdose Awareness Day, though she didn't bring that up during the video.
The video gained decent traction on TikTok but it was viewed well over 1.1 million times when it was reshared on Twitter. The actress, who has made headlines over the years for a number of controversial political statements, was a trending topic online.
"Stacey Dash is one of those rare individuals who are never, ever trending for anything good," journalist Philip Lewis said. BBC broadcaster Richie Brave commented, "Stacey Dash finding out DMX died over a whole year later just shows how disconnected she is." Many others on Twitter, including comedian Rod Morrow commented on how "disconnected" she was from the Black community.
"Somebody saying wait until Stacey Dash finds out about Tupac is unbelievable," songwriter Kenyon Dixon joked. Journalist Imani Gandy used a similar joke, "Nobody tell Stacey Dash about Jimi Hendrix."
While verified Twitter users all piled in on Dash for her lack of awareness, thousands of others across social media mocked the actress for a variety of reasons ranging from her music choice in the video, to her tears, to her appearance.
Newsweek has reached out to Stacey Dash for further comment.