Staff Abused for Supposedly Canceling Capitol Rioter Party: Restaurant
A Florida restaurant claims that its staff has been subject to harassment and abuse due to rumors of a party planned for a Capitol riot convict.
The "going to prison" themed party was advertised on Facebook for Adam Johnson, the convicted January 6 rioter, who gained nationwide notoriety after being photographed carrying House Speaker Nancy Pelosi's lectern out of the Capitol building. In November, he pleaded guilty to charges associated with his involvement in the insurrection and was later sentenced to 75 days in prison last month.
The Facebook page claimed that the party would be held at Caddy's, a popular seaside restaurant in Bradenton, Florida, just south of Tampa. On Friday, however, local station WFLA reported that the event had been canceled, with the eatery's statement on the matter seeming to evolve over time.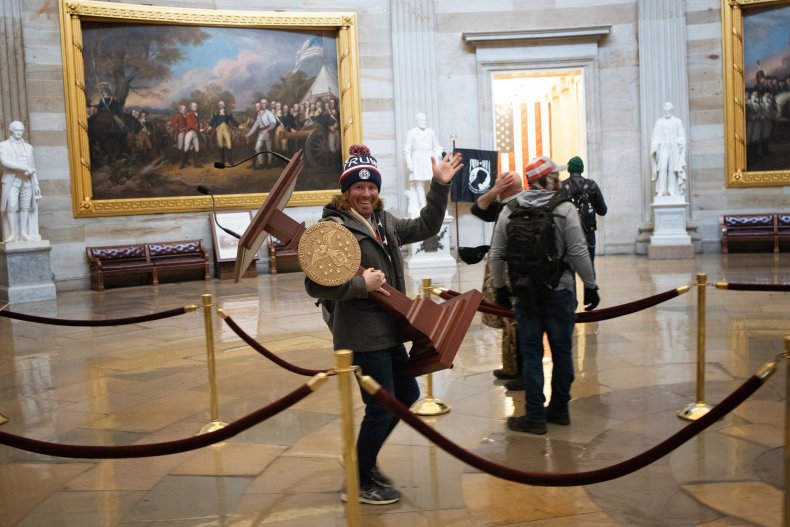 A manager at the location reportedly told WFLA that the event had been booked. However, they claimed, it was later canceled due to the attention it received.
Later, the restaurant told the station that the event had never been planned with them and called reports about it false.
"Caddy's Bradenton is a family-friendly waterfront restaurant that had no knowledge of a 'going to prison' event being planned at its location," the restaurant said in a statement to WFLA. "This event was never discussed or planned with anyone associated with the Caddy's brand."
The business said that the initial comments came from "first time managers" that had heard about the party in the news. The extent of the restaurant's affiliation with Johnson's party was being listed as the venue on Facebook, which it said had no control over. As a result of the publicity generated by association with the controversial figure, Caddy's said that some of its staff have been subjected to harassment and abuse.
"It has been reported falsely that Caddy's has canceled this event," Caddy's statement continued. "This event did not exist to cancel...These false reports have led to multiple staff being abused, receiving threatening emails and negative social media comments."
Johnson himself later claimed on the conservative social media site Gab that the "party" was always meant to be a joke. This was highlighted by the fact that it was listed as taking place on April Fool's Day.
"I was hoping to keep this bit going a little longer," he said. "It's both sad and hilarious that the news covered this and the internet warriors got triggered about me seeing my family and my loved ones before I leave. There is no party. Well at least not a public one."