Stampede at Israel's Mt. Meron Leaves 40 Dead During Religious Festival
At least 40 people were reportedly killed, with over 100 injured, in a stampede at a religious festival in Northern Israel.
The disaster happened near Mount Meron while a large group of mostly ultra-Orthodox Jews were celebrating Lag BaOmer in the early morning hours of Friday local time, according to The Associated Press. Social media videos of the event showed crowds of attendees tightly packed together. Local reports of the disaster included photographs of bodies lined up in rows.
"Masses of people were pushed into the same corner and a vortex was created," a 24-year-old witness identified as "Dvir" reportedly told the Army Radio station. "I felt like I was about to die."
The celebrations began on Thursday night and included up to 100,000 participants who had ignored warnings against gathering in large numbers due to COVID-19, according to The Times of Israel. Although the event was discouraged, Israel had recently lifted restrictions against large gatherings amid a successful vaccination campaign.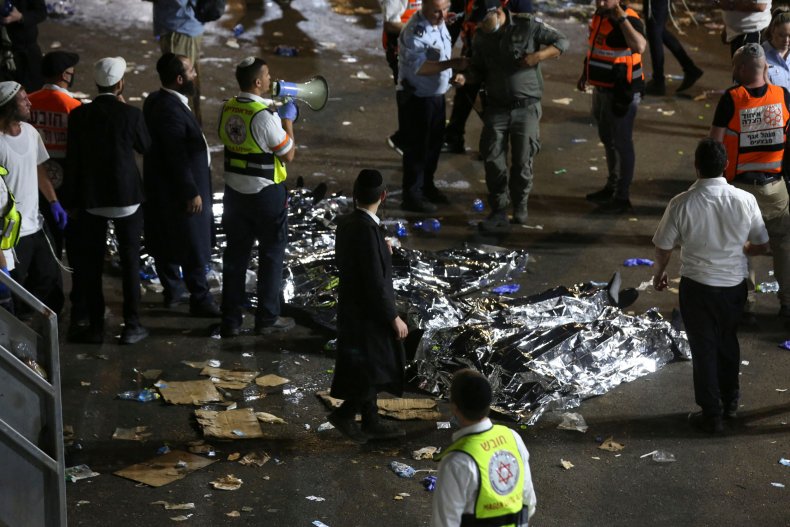 The Lag BaOmer holiday celebrates the second century mystic Rabbi Shimon Bar Yochai. The crowd had gathered to near Shimon's tomb for all-night festivities that included prayers, dancing and bonfires.
Prime Minister Benjamin Netanyahu described the incident as "a serious disaster" and said he was "praying for the recovery of the injured," according to The Jerusalem Post. The paper also reported that a field hospital had been assembled at the scene of the event.
Israel Police are investigating the cause of the disaster. Many of those who were at the event but not involved in the stampede were unaware that a tragedy had taken place until an organizer urged them to leave the area over a loudspeaker.
"We thought maybe there was a (bomb) alert over a suspicious package. No one imagined that this could happen here. Rejoicing became mourning, a great light became a deep darkness," a witness named "Yitzhak" reportedly told Channel 12 TV.
"Rabbi Shimon used to say that he could absolve the world," Yitzhak added. "If he didn't manage to cancel this edict on the very day of his exaltation, then we need to do real soul-searching."
Magen David Adom, Israel's emergency services, tweeted that it was "fighting for the lives of dozens wounded, and will not give up until the last victim is evacuated" shortly after the stampede took place.
Initial reports of the incident erroneously claimed that a grandstand had collapsed, but officials confirmed that the deaths and injuries occurred "as a result of a stampede" instead.
"On this terrible day, my heart goes out to all the families and loved ones of those who perished and were injured in the tragedy at Mt. Meron," Israeli Ambassador to the United States and United Nations Gilad Erdan said in a statement obtained by Newsweek. "I am deeply moved by the outpouring of support from our friends in the United States and around the world.
"From President Biden, who extended an offer of help, to the multiple ambassadors based in the United States and the United Nations, who sent their condolences," he continued. "Your support for the State of Israel is truly heartwarming and we thank you for standing by our side during this difficult time."
Update 4/30, 4:09 p.m.: This article has been updated to include a statement from Gilad Erdan, Israel's Ambassador to the United States and United Nations.