Legendary comic book writer Stan Lee has died at the age of 95, leaving a decadeslong legacy that includes co-creating classic characters such as Spider-Man, the X-Men and the Incredible Hulk.
Born Stan Lieber to Romanian Jewish immigrants living in New York City, Lee became a central figure in the comic book industry, heading Marvel Comics and creating some of its most famous series alongside fellow artists such as Jack Kirby and Steve Ditko. Lee was beloved by his fans for his inspirational talks and cameo appearances in feature films that have given his works new life in recent years.
A natural storyteller, Lee often discussed concepts of faith, morality and what it meant to be a hero in real life. Newsweek has gathered some of Lee's best quotes through the years.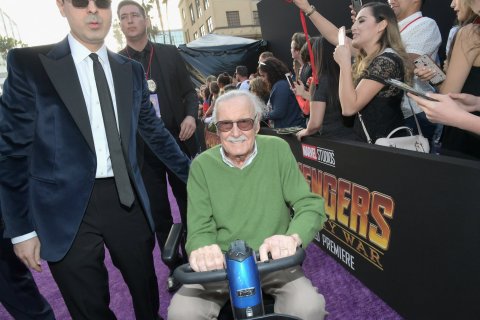 "With great power there must also come—great responsibility!" Lee famously wrote in his debut Spider-Man comic, Amazing Fantasy #15, in August 1962.
"I think I've had a very conservative life. Someone wants to do a movie of my life now and he's writing a script, and I said to him, 'What the hell could you do? I've never been arrested, I haven't taken drugs, I've had the same wife for 54 years; where's anything of interest to people?'" Lee said in an April 30, 2002 interview with IGN.
"To me, you can wrap all of Judaism up in one sentence, and that is, 'Do not do unto others...' All I tried to do in my stories was show that there's some innate goodness in the human condition. And there's always going to be evil; we should always be fighting evil," Lee was quoted as saying in a 2003 magazine article called "How the Jews Created the Comic Book Industry Part I: The Golden Age (1933-1955)."
"As comics writers, we had to have villains in our stories. And once World War II started, the Nazis gave us the greatest villains in the world to fight against. It was a slam dunk," Lee later said in the same piece.
"It's not that when you're powerful you have to have vulnerability. It's that if you're writing about a character, if he's a powerful character, unless you give him vulnerability I don't think he'll be as interesting to the reader," Lee said in a March 13, 2006 interview with PR.com. "Achilles, without his heel, you wouldn't even know his name today."
"I used to be embarrassed because I was just a comic-book writer while other people were building bridges or going on to medical careers. And then I began to realize: Entertainment is one of the most important things in people's lives. Without it they might go off the deep end. I feel that if you're able to entertain people, you're doing a good thing. When you're seeing how happy the fans are—as they [see up close] the people who tell the stories, who illustrated them, the TV personalities—I realize: It's a great thing to entertain people," Lee told The Washington Post in a June 23, 2010 interview.
"'Comic book' should be written as one word. So from now on, I want you to remember that. I never want to see the word 'comicbook' written as two words. They are not funny books. They are not comic books, they are comicbooks! Remember that or incur my wrath," Lee told viewers in a Stan's Rants YouTube video published November 13, 2012.
"I thought it would be great to do superheroes that have the same kind of life problems that any reader—that anybody—could have. ... Just because you have superpowers, that doesn't mean your love life would be perfect. I don't think superpowers automatically means there won't be any personality problems, family problems or even money problems. I just tried to write characters who are human beings who also have superpowers," Lee told USA Today in an interview published May 17, 2013.
"Just keep busy. I think the most important thing is to be busy, because if you have work occupying you, you don't have time to worry about the other serious problems in life," Lee told the Toronto Sun on April 17, 2015.
"When I write something, if I'm enjoying the story, I'm happy with it. I'm not so unique, I don't think. If I like it, other people probably will too. You can't tell a great story if you're writing for them; you don't know them. You can only know yourself, so be true to that. Please yourself. Apparently there are enough people on this planet as plain as me. I'm not so extraordinary after all. Or maybe we all are," Lee said during an interview published June 20, 2017, by Biography.com.
"Marvel has always been, and always will be, a reflection of the world right outside our window. That world may change and evolve, but the one thing that will never change is the way we tell our stories of heroism. Those stories have room for everyone, regardless of their race, gender, religion or color of their skin. The only things we don't have room for are hatred, intolerance and bigotry. That man next to you is your brother. That woman over there, she's your sister. And that kid walking by, hey, who knows, he may have the proportionate strength of a spider. We're all part of one big family, the human family, and we all come together in the body of Marvel. You're part of the Marvel Universe that moves ever upward and onward to greater glory. In other words: Excelsior!" Lee said in a video message posted in October 2017.
"Those in this world of ours who are not the heroes, and who in fact may be the villains, are the ones who always follow the easy path," Lee said in an undated interview published by the website Cyberspacers. "They are the ones who do not care about others."
Lee continued, "Another definition of a hero is someone who is concerned about other people's well-being and will go out of his or her way to help them, even if there is no chance of a reward. That person who helps others simply because it should or must be done, and because it is the right thing to do, is indeed without a doubt a real superhero."