Stanley Tucci Mixes John Krasinski a 'Quarantini' in Latest 'Some Good News' Clip
Stanley Tucci has come up with another cocktail for you to try during your Zoom happy hour. During the recent "Potluck Edition" of John Krasinski's Some Good News, Tucci made a special appearance to mix what one fan dubbed "a quarantini."
Krasinski previously asked viewers for their best family recipes, and hosted four lucky fans on the special installment of his YouTube show. Tucci joined via webcam—along with David Chang, Martha Stewart and Guy Fieri—to surprise fans with videos of them recreating their recipes.
Nana, one viewer, shared her "quarantini" recipe with Krasinski. The host then asked the Hunger Games actor to tackle the cocktail, which calls for two shots of vanilla vodka and two shots of orange vodka. Tucci, who recently broke the internet making a Negroni, took on the powerful drink. "I won't be walking after this," Tucci quipped, around the 10:30 mark, while mixing the delicious concoction.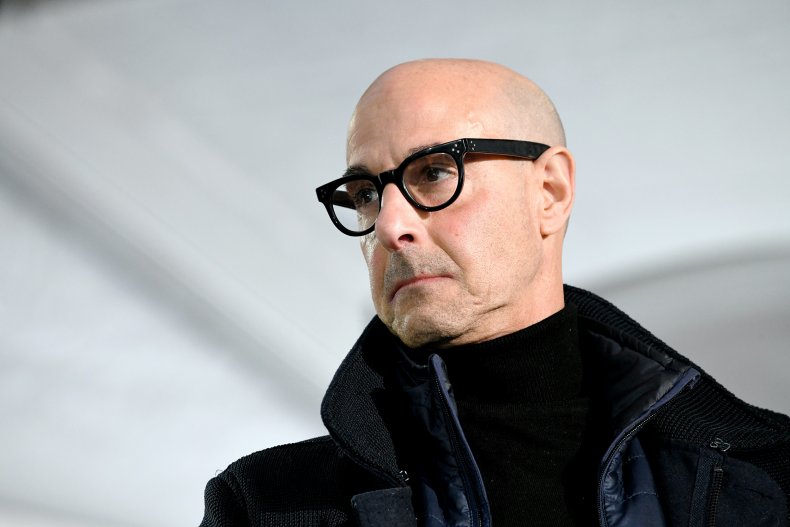 Meanwhile, the celebrity chefs shared videos of them recreating the other fans' recipes. Fieri made a mouth-watering sloppy joe, Stewart whipped up some pierogies and Chang put together a "worldly recipe" that includes three-quarters of a glass of wine for the dish and one glass of wine for the chef, because it's all about balance. "More recipes need to have that," Chang said. The chefs also offered some bits of culinary wisdom while they brought the recipes to life.
Krasinski also praised restaurants as "some of the places where you can find the biggest heroes."
"From the inspiring stories of selfless camaraderie, to the heart-wrenching stories of simply doing what's right, these are the people who once defined your neighborhood and are now defining humanity," he added. "But the beautiful thing about food and all this is you don't have to be a big-time chef to make a huge difference."
The Office alum and Jack Ryan star then spotlighted several heroes: a family who turned their lawn into a food pantry, a bar owner who gave the dollar bills taped to their walls and ceilings to his employees, and members of the National Guard that packed meals for food banks in Washington state. He also pointed out a chef who set up kitchens in stadiums and churches to feed "as many people as possible," along with a landlord who gave free rent to a New York pizzeria that feeds doctors and nurses.
"It's heartwarming to point out that every single person in that segment, that was making food to make a difference—they were doing it all without charging a dollar, because that is just what heroes do," Krasinki said at the end of the segment.
The Some Good News host also surprised the Diners, Drive Ins & Dives star with the news that PepsiCo is donating $3 million to the chef's relief fund for restaurant workers. Fieri was grateful for the contributions.