William Shatner Blames 50-year-old Grudge for George Takei Space Trip Insult
William Shatner has boldly gone and hit back at criticism of his space trip by fellow Star Trek cast member, George Takei.
As Captain James T. Kirk, Shatner was only ever on a studio set when he summoned warp speed to propel the fictional USS Enterprise through space.
But on Wednesday, he got a genuine cosmic experience aboard the Blue Origin New Shepard 18 rocket ship.
Aged 90, Shatner's passage on the mission which took off from Texas made him the oldest person to go to space.
After his return to terra firma, the nonagenarian was positively childlike in his enthusiasm in thanking Amazon founder Jeff Bezos, whose space company managed the launch.
"It's just extraordinary. I hope I never recover from this," Shatner said, "I hope that I can maintain what I feel now. I don't want to lose it."
But Takei, who once shared the helm with Kirk as the character Hikaru Sulu, was a tad dismissive of this particular enterprise.
He said Shatner was simply going "where other people have gone before" and described him as a "guinea pig," before suggesting he was out of shape.
"Although he's not the fittest specimen of 90 years old, so he'll be a specimen that's unfit," Takei said.
But it was phasers at dawn when Shatner tweeted a response suggesting that Takei had a long-standing beef with him over screen time half a century ago.
"Don't hate George. The only time he gets press is when he talks bad about me," Shatner wrote.
"He claims 50+ years ago I took away a camera angle that denied him 30 more seconds of prime time TV.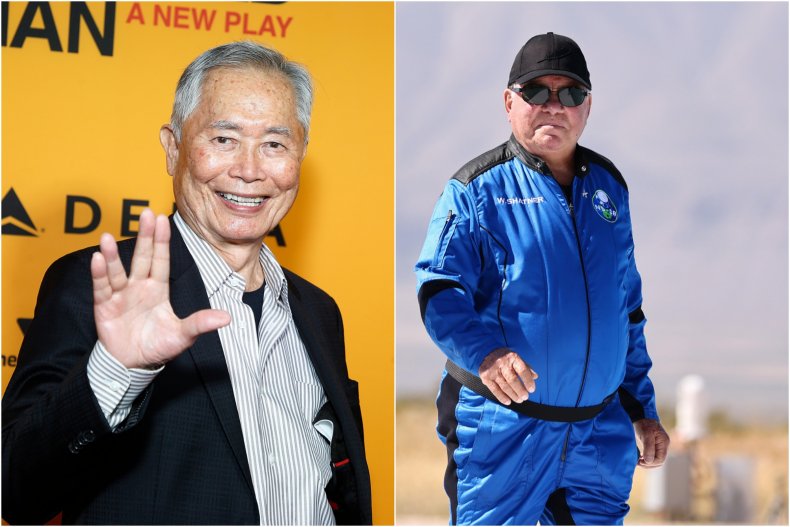 "I'm giving it back to him now by letting him spew his hatred for the world to see!" he said, adding a pig emoji which suggested he had not taken personally the dig about his alleged corpulence.
Following his historic flight that lasted 10 minutes and saw his capsule get to 347,539 feet above the ground, Shatner also responded to the criticism of space tourism made by Prince William.
The Duke of Cambridge told the BBC that humans should be "trying to repair this planet, not trying to find the next place to go and live."
But Shatner said the prince had the "wrong idea" and expressed how technological leaps involving space travel would in fact help humans of earth, to live long and prosper.
"This is a baby step into the idea of getting the industry up there," Shatner told Entertainment Tonight, "so that all those polluting industries, especially, for example, the industries that make electricity... off of Earth."