'Star Wars: The Rise of Skywalker' Leaked Images Spoil Rey & Kylo Ren Surprise
While the final trailer for The Rise of Skywalker confirms that Rey and Kylo Ren will both fight and team up in the final entry of the Star Wars saga, newly leaked images, allegedly from the movie, reveal just how deep that team up goes, with Rey and the former Dark Side master going into battle with matching lightsabers.
The Rise of Skywalker final trailer depicts Rey (Daisy Ridley) and Kylo Ren (Adam Driver) lightsaber dueling atop the ruins of the second Death Star, but one shot from the trailer suggests they won't be at odds for the movie's entire runtime. In that shot, Rey and Kylo Ren smash apart an effigy of Darth Vader, likely symbolizing Kylo's rejection of the Dark Side of the Force.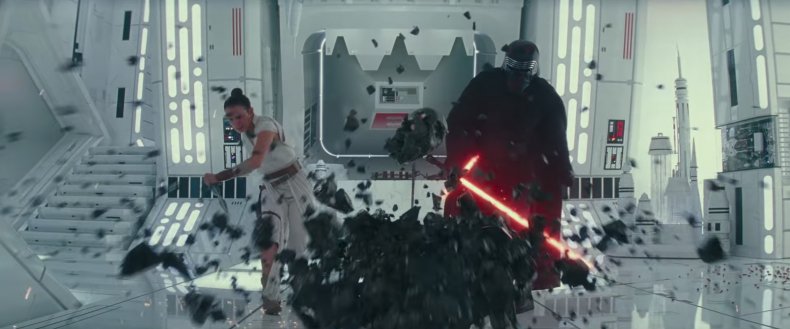 However, Kylo Ren still wields his red, Sith-like lightsaber and keeps on his mask, suggesting he hasn't fully turned away from his old ways. In newly leaked images, allegedly depicting a moment from late in Star Wars: The Rise of Skywalker, Kyo Ren is seen with his mask off wielding a new lightsaber, in a color typically associated with the Jedi. Could this be proof he's finally rejected the Dark Side and becomes Ben Solo — son of Han Solo (Harrison Ford) and General Leia (Carrie Fisher) — once more?
According to Reddit user Josh_Den_of_Nerds, the original source for the leaked photos (who claims confirmation by Jason Ward, of leaks site, Making Star Wars), Kylo Ren, now Ben Solo, is wielding Anakin Skywalker's lightsaber, while Rey is armed with General Leia's previously unrevealed lightsaber. Could this capture them in the moments before confronting a resurrected Emperor Palpatine (Ian McDiarmid)?
Another leaked image, since taken down but claiming to show moments from Star Wars: The Rise of Skywalker, revealed more of the Emperor, who makes a brief appearance in silhouette in the final trailer.
Leaks from Star Wars: The Rise of Skywalker have been rampant in recent weeks, with spoilers revealing many of the images and revelations from the final trailer in advance of its Monday premiere. Other leaks have alluded to new Force abilities, the state of Emperor Palpatine and the nature of C-3PO's reprogramming .
All will finally be revealed when Star Wars: The Rise of Skywalker, directed by J.J. Abrams,comes out in theaters on December 20. Tickets are available now.