What's Next for 'Star Wars' After 'The Book of Boba Fett'?
The final chapter in The Book of Boba Fett landed on Disney+ on Wednesday, February 9, bringing the bounty hunter's story to a close (for now).
But just because Boba Fett's solo venture has come to an end, it doesn't mean that there isn't more to come. In fact there's plenty that Star Wars fans can look forward to on both the small and big screen.
Here's everything you need to know about what's set to be released in the franchise and what's going to follow up The Book of Boba Fett.
What Is Next for the 'Star Wars' Franchise on Disney+?
When Disney+ first launched, Lucasfilm confirmed that the Star Wars universe would feature both live-action and animated shows to expand the universe originally created by George Lucas.
Obi-Wan Kenobi
Directed by Deborah Chow, Obi-Wan Kenobi will see Ewan McGregor return as Luke Skywalker's mentor once more.
The show is set 10 years after the events of Revenge of the Sith, and will follow Obi-Wan in his life on Tatooine as he continues to grapple with the downfall of Anakin Skywalker, now Darth Vader.
Hayden Christensen has also been confirmed to be reprising his role from the Star Wars prequel movies, and Lucasfilm President Kathleen Kennedy called it "the rematch of the century."
On Wednesday, February 9, Lucasfilm confirmed that the show was going to be released on Disney+ on Wednesday, May 25.
Sharing an announcement on Twitter, Lucasfilm also posted a first look at McGregor's Obi-Wan with a new poster.
Andor
Rogue One: A Star Wars Story's Cassian Andor (Diego Luna) is getting his own Disney+ spin-off that is set before the events of the movie, for obvious reasons.
Tony Gilroy is on hand as showrunner for the program, which is described as a tense spy thriller and follows Andor during his early days with the Rebellion.
Luna will be joined by Stellan Skarsgård, Adria Arjona, Fiona Shaw, Denise Gough, Kyle Soller and Genevieve O'Reilly as Mon Mothma.
Skarsgård is said to have revealed the show has already been renewed for Season 2, telling Swedish-language site Dagens Nyheter that filming would begin in the Autum, per Game Rant.
Lucasfilm have not officially confirmed the release date for Andor Season 1, nor has it commented on the possibility of there being a second season.
The Mandalorian Season 3
The Mandalorian will also be getting a third season, which was teased in Episode 5 and 6 of The Book of Boba Fett.
Pedro Pascal will once again portray the bounty hunter, and the show is expected to be released sometime in 2022, but no release date has been confirmed.
Ahsoka
Ahsoka Tano, the fan-favorite character from Star Wars: The Clone Wars who has been brought to life in live-action by Rosario Dawson will also get her own show.
The character has appeared in The Mandalorian Season 2 and The Book of Boba Fett, and the show will be helmed by Jon Favreau and Dave Filoni.
While very little has been revealed with regards to the plot, The Hollywood Reporter confirmed in October 2021 that Christensen would also be playing Anakin Skywalker, or Darth Vader, in the show.
The Bad Batch Season 2
Animated series The Bad Batch was renewed for a second season shortly before the first had finished airing on Disney+ in 2021.
The show will return in 2022 but an official release date has yet to be confirmed.
The Acolyte
Russian Doll co-creator Leslye Headland is currently working on a series for Disney+ titled The Acolyte.
In an interview with Fantastic Frankey on Let's Be Frank, Headland said of the show: "It's in a pocket of the universe and a pocket of the timeline that we don't know much about."
Lando
In December 2020 Lucasfilm confirmed that a series following Lando Calrissian was in the works for Disney+.
Justin Simien will serve as showrunner, but it has yet to be revealed when the show would be released and what it will be about.
Rangers of the New Republic
Helmed by Jon Favreau and Dave Filoni, Rangers of the New Republic is a TV series that is set within The Mandalorian timeline.
While little has been revealed about the project, Lucasfilm said the show "will intersect with future stories and culminate into a climactic story event."
What Is Next for 'Star Wars' at the Cinema?
Rogue Squadron
Patty Jenkins is directing a film in the Star Wars universe that is currently set to be released on December 22, 2023.
The director previously announced the film will "introduce a new generation of starfighter pilots as they earn their wings and risk their lives in a boundary-pushing, high-speed thrill-ride, and move the saga into the future era of the galaxy."
Untilted Taika Waititi film
Taika Waititi has been tapped to direct his own Star Wars movie that Kennedy has described as "fresh, unexpected, and...unique".
Waititi previously directed the Season 1 finale for The Mandalorian, and he is co-writing the film alongside 1917 co-writer Krysty Wilson-Cairns.
Rian Johnson's Star Wars trilogy
The Last Jedi director Rian Johnson is making a trilogy for the Star Wars franchise, which was first announced by Lucasfilm back in 2017.
In 2019, Johnson confirmed he was still working on the project and he responded to rumors he was no longer making the film on Twitter.
He wrote: "I'm still working on the trilogy. With all due respect to the movie bros, who I'm sure are lovely kind bros with good fraternal intentions."
Johnson's trilogy may not have had any updates recently, but that is because he has been busy filming Knives Out and Knives Out 2 since 2017.
Kevin Feige's Stars Wars film
In 2019 it was confirmed that Marvel Studios chief Kevin Feige was developing his own Star Wars film, per The Hollywood Reporter.
Neither a release date nor any information about a potential plot has been given for the film, as yet.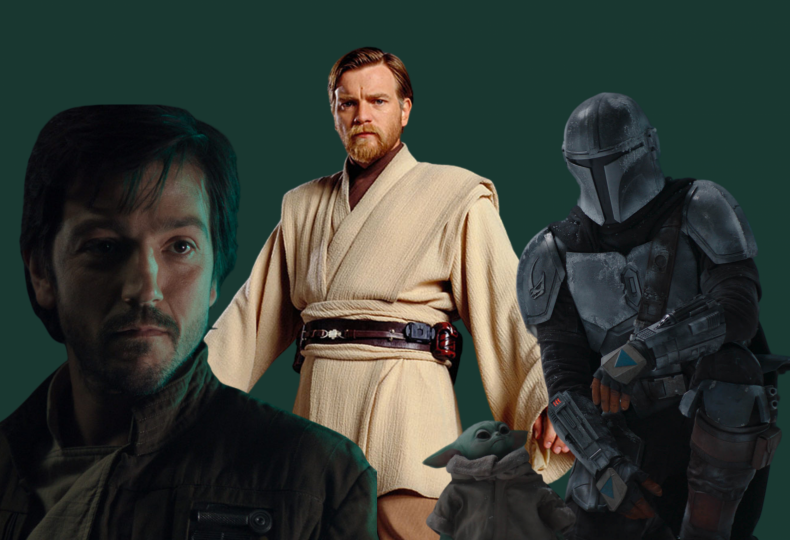 Update 02/10/2022 at 3:10 a.m. ET: This article was updated to include the official release date for Obi-Wan Kenobi.