What Is Starbucks' New Fall Drink the Apple Crisp Macchiato?
Starbucks' Pumpkin Spice Latte has been a seasonal favorite since its debut in 2003, but the chain's new drink hopes to be a source of 'comfort.'
As well as regulars such as the PSL and Pumpkin Cream Cold Brew - which actually outsold the Pumpkin Spice Latte last year - the Seattle-based coffee chain has added a new flavors to the autumnal offering this year.
Here's everything you need to know about the all-new Apple Crisp Macchiato.
What Is the Apple Crisp Macchiato?
For the first time, coffee lovers will be able to get their hands on the brand new Apple Crisp Macchiato.
Starbucks said its aim when creating this new drink was to evoke a sense of comfort.
"Fall at Starbucks brings customers back to the nostalgic flavors of the season and our team used that inspiration to create a new flavor that celebrates those feelings of comfort and familiarity," Raegan Powell, senior manager on the Starbucks research and development team, said in a statement.
The inspiration for the flavor came from other autumnal comfort foods like apple pie, and in the development of the Apple Crisp Macchiato in spring 2020, the team began sampling other apple-flavored goodies - including apple maple syrup, apple cider donuts, and a variety of apple pies, cakes, and crisps.
The base of the drink begins with Starbucks macchiato, consisting of steamed milk and espresso poured on top.
It has apple and brown sugar flavoring and is topped with caramelized-spiced-apple drizzle which is made with apple juice, apple puree, cinnamon and nutmeg.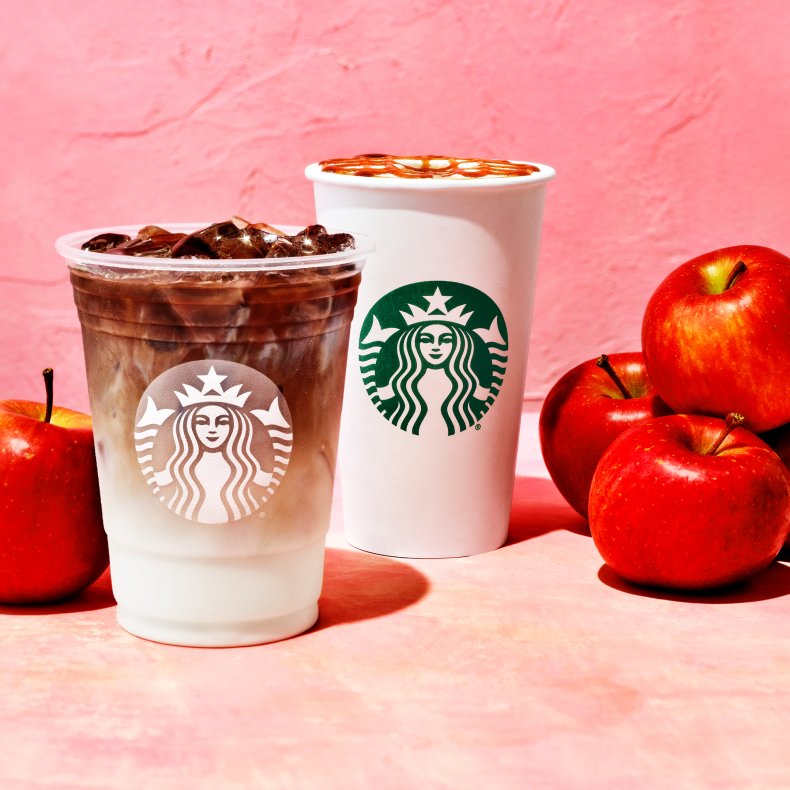 The Apple Crisp Macchiato is available as both a hot and iced coffee.
"Creating an ingredient with a spicy baked apple flavor was crucial to be able to bridge an autumn red apple to espresso," Powell continued.
"Consider how well a delicious slice of warm apple pie pairs with a cup of coffee or how well the combination of Starbucks roasty signature espresso pairs with warm spices such as cinnamon and nutmeg.
"The number-one thing we heard when developing the ingredients was customers wanted more apple."
The Apple Crisp Macchiato is available in stores across the U.S. and Canada.
What Are Starbucks' 2021 Fall Drinks?
The new addition to the menu joins the firm fall favorite, Pumpkin Spice Latte, which has returned for its 18th year on the seasonal menu in 2021.
Customers can enjoy their Pumpkin Spice Latte hot or cold.
The Pumpkin Cream Cold Brew is also back for the third time. It's one of the most popular season beverages and approximately 90million have been sold since its debut.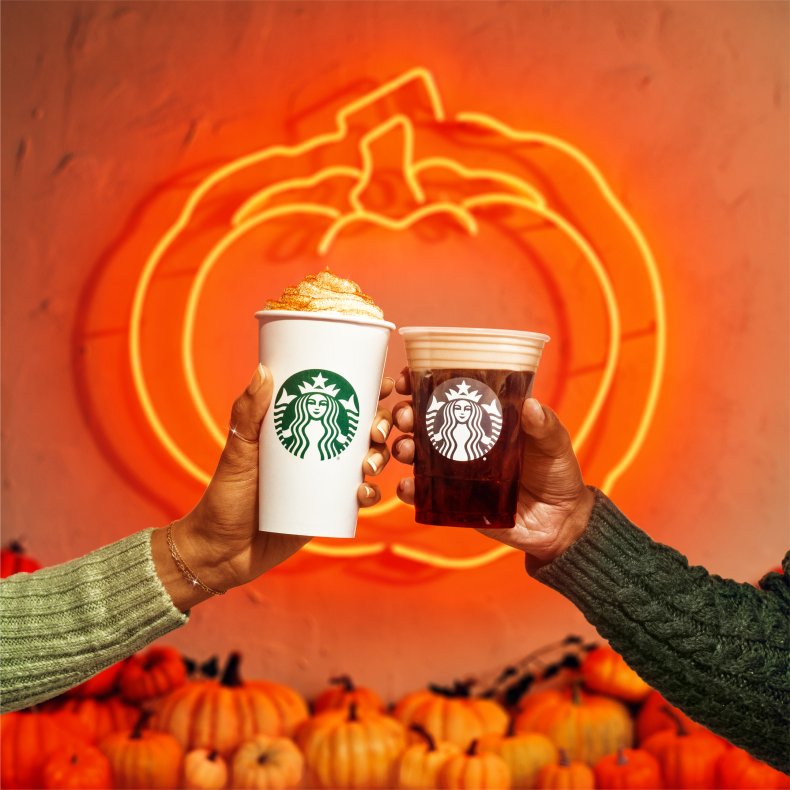 If you want to get your caffeine fix at home, Starbucks announced that pumpkin spice products will be returning to grocery stores and its online store in August.
These will include seasonal blends of their home coffee grounds and pods, a Pumpkin Spice Flavored Creamer, and new products Pumpkin Spice Flavored Non-Dairy Creamer, and Pumpkin Spice Cold Brew Concentrate.
For sweet treats, there are a number of bakery products available for a limited time including the Pumpkin Scone and Pumpkin Cream Cheese Muffin.