Starbucks Closure of Unionized Cafe 'Blatant Act of War,' Says Union Leader
Starbucks is accused of permanently closing an upstate New York location in retaliation for its unionization efforts.
On Friday, the Workers United union filed a complaint against the coffee giant with the U.S. National Labor Relations Board. In it, they alleged that the company illegally closed a location in Ithaca, New York, in response to workers there engaging in unionization efforts, Bloomberg reported.
The allegation comes as a gradually increasing number of Starbucks locations across the country are successfully unionizing, leading to perceived hostilities between unions and the company. Interim CEO Howard Schultz in April said that Starbucks is "assaulted in many ways by the threat of unionization." A spokesperson previously told Newsweek that the company's preference is to work directly with workers "as partners, without a union between us."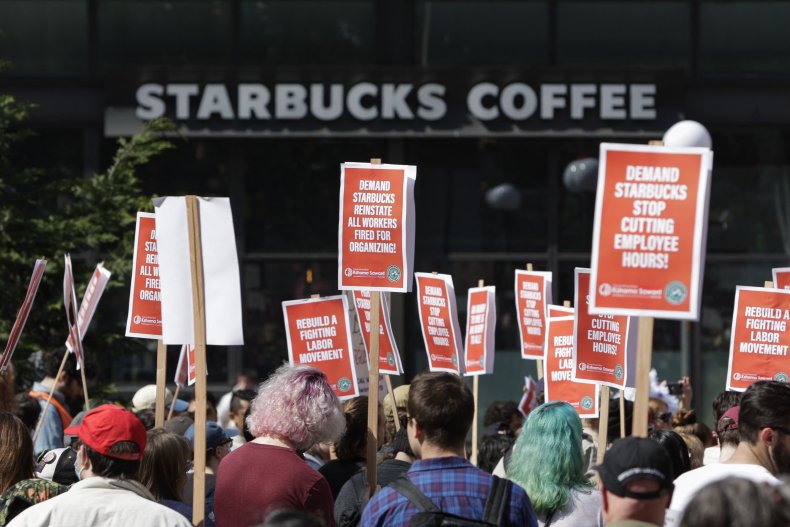 The Ithaca location, situated near the Ivy League Cornell University, successfully voted to unionize in April. Gary Bonadonna Jr., a regional leader for Workers United, called Starbucks' decision to close the location "a blatant act of war." The union called for the Labor Relations Board to pursue a federal court injunction that might halt or reverse the closure.
"We have their backs," Bonadonna told Bloomberg.
"Starbucks won't get away with retaliating against us like this," Evan Sunshine, one of the store's employees, said in a statement sent to Bloomberg by the union. "Whatever it takes, however long it may take, we will persevere."
In response to the complaint sent to Newsweek, Starbucks denied that the closure was related to union activity. Instead, they claimed that it was a result of issues relating to attendance, staff, and the facilities. A spokesperson also asserted to Newsweek that shutting the location down was a regular practice for the company.
"We open and close stores as a regular part of our operations," the response from Starbucks read. "Our local, regional, and national leaders have been working with humility, deep care, and urgency to create the kind of store environment that partners and customers expect of Starbucks. Our goal is to ensure that every partner is supported in their individual situation, and we have immediate opportunities available in the market."
Following their unionization, workers at the Ithaca store mounted a one-day strike, alleging unsafe working conditions. A grease trap had reportedly overflowed and covered parts of the floor with wastewater and oil. An attorney for Starbucks referenced this issue in an email to the union discussing the impact of the closure of the store on employees.
"As you know, there have been many issues with regard to the condition of the store (e.g., the grease trap) and it does not make sense to further operate the store," attorney Alan Model wrote.
Updated, 1:45 p.m., 6/4/2022: This article was updated to reflect a response from Starbucks.