Starbucks First U.K. Coffee Chain to Trial Fully Recyclable Cup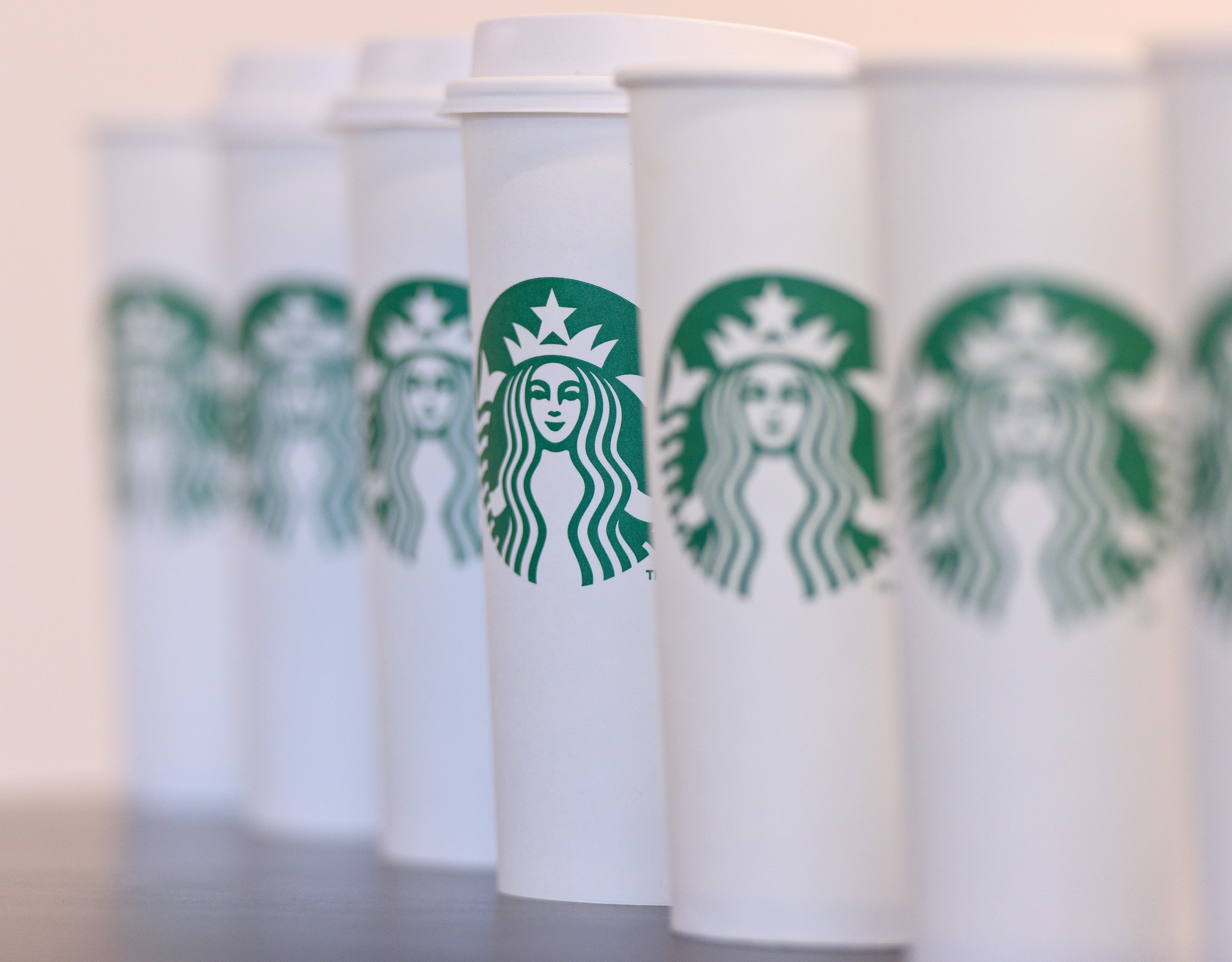 On Thursday, Starbucks will become the first coffee chain in the U.K. to trial a fully recyclable coffee cup, in an effort to reduce environmentally harmful waste. The Frugalpac cup has a thin film liner designed to separate easily from the paper, ensuring that can be more easily recycled.
Martin Myerscough, the creator, claims it to be the world's first fully recyclable cup.
Currently, conventional takeaway paper cups are laminated with plastic, making them difficult to recycle, because the plastic does not always separate easily from the paper and recycling plants send them to landfill. The Frugalpac website says: "Our cups are made by initially forming the paper and then applying the liner to the inside…Because the liner is so lightly glued in place, when the cup goes to the standard paper mills it separates from the paper in the recycling process."
Coffee chains across the country came under fire when figures released in March revealed that only one in 400 cups was recycled and the rest were sent to landfill or incineration. About 7 million paper coffee cups are used in Britain each day, amounting to 2.5 billion a year. Fifty-eight billion are used annually worldwide according to sustainability campaign Betacup.
Starbucks, which has over 700 stores across the U.K., said they hoped that the new cup will reduce waste. "We are very interested in finding out more about the Frugalpac cup and we will be testing it to see if it meets our standards for safety and quality, with a view to trialling its recyclability," a spokesman said.
Despite criticism from anti-waste campaigners, the government reduced its statutory plastic packaging recycling target from 52 percent to 49 percent for 2016 in March. The Department for Environment, Food and Rural Affairs (Defra) said that the new target was an attempt to reduce the burden on the U.K. food and drink industry. "These changes are in line with our program of reforms that will lead to smarter, more proportionate and effective regulation for the industry," a Defra spokesman said at the time. "This will allow businesses to focus on growing productivity while making it easier for regulators to crackdown on those who flout the law."
Friends of the Earth, an international network of environmental organizations in 74 countries, is disappointed that the government has not done more to prevent the environmental damage caused by the failure to recycle.
"Consumers don't want targets for four years' time, they want something done now. While it may be difficult to recycle, it shouldn't prove impossible," said Mike Childs, Friends of the Earth campaigner in a statement issued to Newsweek . "The government can and should use its influence to make both recycling and reuse of coffee cups happen now. Otherwise, an estimated further 12.5 billion cups will go to landfill by 2020—that can't be acceptable."
The Frugalpac cups will be part of an investigation by Hugh Fearnley-Whittingstall, the celebrity chef and environmental campaigner, airing on television in the U.K. July 28. The new series of his War on Waste BBC documentary, first broadcast in November 2015, aims to reveal the amount of waste generated by food producers, retailers and consumers across the country.
"Hugh's team approached us back in January to find out more about the cup, which was still in prototype form. We think Frugalpac will make a huge contribution to the solution and we're looking forward to working with the industry to make this happen," Myerscough said. "We've spent the last two years developing our cup and we hope now that coffee chains and cup producers will see Frugalpac as an answer to this issue."