Starbucks Racial Bias Training: What Will Coffee Chain Teach Its Baristas?
Following uproar over the arrest of two black men who were waiting for a friend in a Philadelphia Starbucks, the company announced that it will close more than 8,000 of its company-owned stores in the U.S. for several hours on May 29 to hold "racial bias" training for nearly 175,000 baristas and other employees.
But what will the employees be taught to help avoid a repeat of last week's incident, in which a store manager reported the men to police as trespassers and a video of their arrest went viral?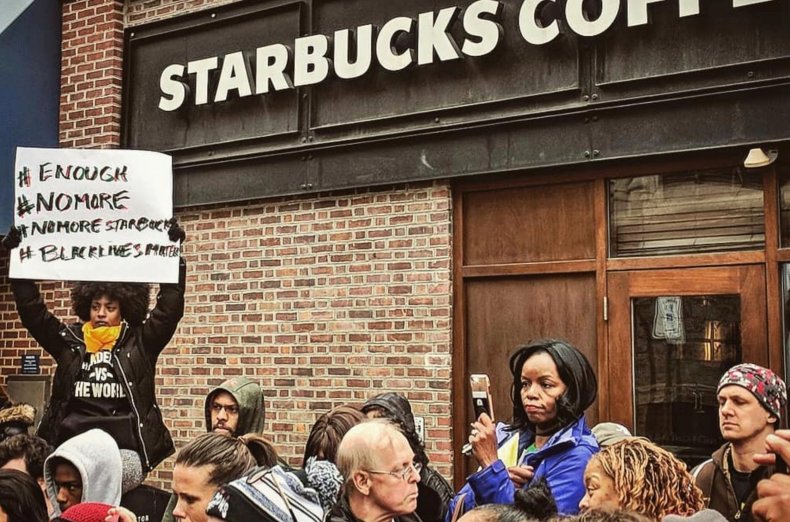 In a message Monday, company executives said staff would be provided with "unconscious bias" training. The company told the Washington Post that such training had previously been offered to corporate employees but not cafe floor workers.
The original unconscious bias test was created by scientists from the University of Washington, University of Virginia and Harvard in 1998.
The program will be developed in consultation with Sherrilyn Ifill, the president of the NAACP Legal Defense and Education Fund, and Jonathan Greenblatt, CEO of the Anti-Defamation League. They will be joined by executives from progressive think tank Equal Justice Initiative and Demos, as well as former U.S. attorney general Eric Holder.
Combatting workplace racism and other forms of prejudice has become a major issue in recent years, as several studies have shown that pervasive biases among employees can impact a company's bottom line. Some of the world's biggest corporations rolled out initiatives to help employees identify their unconscious biases.
Tech giants such as Google and Facebook were some of the first to offer unconscious bias training programs in 2015 in the wake of the riots in Ferguson, Missouri, which erupted after an unarmed black man was shot dead by a white police officer.
Corporations including Coca Cola and organizations such as the CIA have followed suit.
According to UK charity The Employers Network for Equality and Inclusion, the training usually involves an Implicit Association test "matching words and pictures to "positive" and "negative" categories" to expose potential biases."
This can paired with discussion of how such biases might emerge in the workplace, people's experience of bias, and how they might change.
Questions remain over the effectiveness of the programs. A recent study about unconscious bias training from Queen Mary University of London concluded that the programs are "pointless."
"Knowing about bias does not automatically result in changes in behaviour [sic] by managers and employees," noted the author.
Other critics point to the fact that companies often conduct the training with no attempt to asses its effectiveness.
A 2015 study in the Journal of Applied Psychology found that unconscious bias training can help to validate and perpetuate negative prejudices.
Experts consulted by Starbucks will help measure the training's effectiveness, potentially advancing how such programs are carried out in the future.
Diversity and recruitment expert Alexandra Kalev told Fortune in 2015 that unconscious bias training is usually most effective when paired with measures including mentorship programs, collaborative work groups (in which employees from different levels parts of an organization work together on a specific problem) and a more involved and targeted recruitment process.