Starbucks to Shut Unionized Store Days Before Christmas: 'Cartoon Villains'
Mandie Cantrell, a Starbucks barista in Maine, was "devastated" to learn the conglomerate will shutter her store—less than a month after it voted for a union.
"It was just the worst day of my life, honestly," Cantrell told Newsweek. Her cafe in Portland, Maine, is the state's first Starbucks, standing on Middle and Exchange Streets since 1995.
"It does hurt a lot of us because we all love our store so much," she said. "We have so many memories there and we know that the community has so many memories there."
Starbucks Workers United Maine has alleged that Starbucks was retaliating against the Portland workers, who voted to unionize on October 17.
"I'm heartbroken," the union tweeted on Tuesday. "We just got word today that corporate @Starbucks is closing the Portland location on Middle and Exchange St that just voted in favor of unionization. They have given the partners 1 month to find new jobs. This is blatant union busting."
The store will close permanently on December 23, just before the Christmas holiday. Cantrell said the timing was "ruthless."
"It really shows how soulless and heartless Starbucks really is, that they would do this—and to put us all out literally on the 23rd of December," she said. "They are absolutely cruel. They're like cartoon villains."
A Starbucks spokesperson told Newsweek the chain routinely reviews "the partner and customer experience" in all its locations, which resulted in the Portland store's closure. Starbucks did not confirm exactly why the store fell short of expectations.
"We will bargain with the union in good faith to discuss the impact of this decision on the partners including the opportunities for transfers to other stores," said the spokesperson.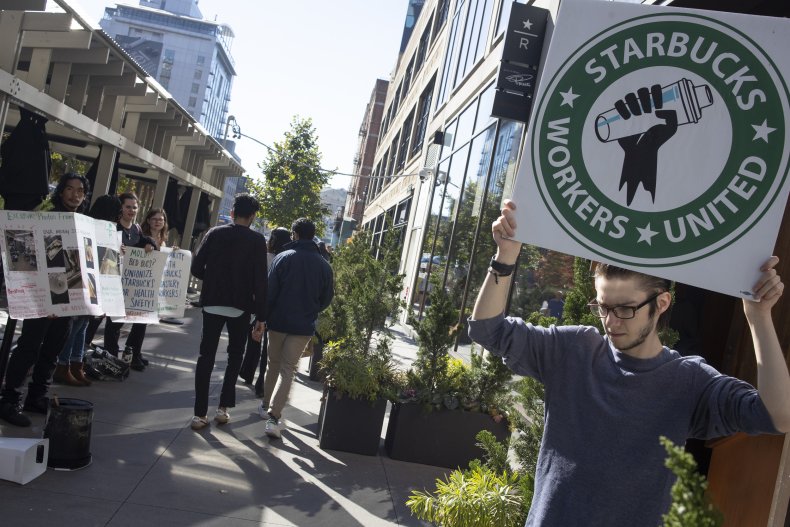 According to Cantrell, the rationale given to employees had flip-flopped. First, corporate management said the store was underperforming—then they backtracked and cited issues with the building lease, she said.
"It is kind of strange that they seem to be going back on a lot of what they were saying to us before," said Cantrell. "So it does seem very odd, and it doesn't really make a lot of sense. It feels like they gave us excuses, they didn't really give us reasons."
The Portland workers aren't the first to accuse Starbucks of retaliating against union organizers by closing their store. In October, a Chicago store was closed four days after its employees were scheduled to start bargaining for their first union contract—although Starbucks said the decision was based on "safety concerns," according to Block Club Chicago.
In August, the closure of two stores in Seattle, Washington, and Kansas City, Missouri, also raised alarm among union leaders who said that Starbucks was attempting to silence organizing efforts, reported CNBC.
And in June, Starbucks Workers United filed a complaint against the coffee giant with the National Labor Relations Board (NLRB), alleging that the company illegally closed a store in Ithaca, New York, in response to workers there seeking to unionize.
A wave of unionization spread across the nation this year, with over 250 Starbucks stores voting for a union since the first location unionized in Buffalo, New York, last December. On Thursday, Starbucks workers at over 100 stores went on strike during the company's annual "Red Cup Day." Workers walked out not only for better working conditions but also to protest against alleged union-busting and retaliation, said union leaders.