State Bill May Allow Lawyers to Carry Guns in Courtroom
A bill passed in the Kentucky Legislature that would allow all licensed attorneys to conceal-carry firearms in courtrooms statewide is being met with some opposition.
The amendment added to House Bill 690 on March 25 by Republican State Senator Johnnie Turner would extend not only to all licensed attorneys, but also the attorney general.
The bill passed unanimously in the State House and by a 33-1 margin, with the lone "no" vote coming from Senate Minority Leader Morgan McGarvey. He called the bill "insane."
"On a very innocuous bill, House Bill 690, they put a senate floor amendment on it," McGarvey told Newsweek. "The discussion on the floor was incredibly vague. I honestly don't think many legislators on both sides knew what was in the bill."
He said numerous bills were debated last Tuesday and Wednesday and he attempted to signal to his caucus in real time.
"This is an insane law. I am a practicing attorney," he said. "This allows any licensed attorney to carry a gun anywhere they want to in a courthouse. It's so broad that judges cannot prohibit weapons from being in their courtroom."
If the amendment becomes law, McGarvey questioned what would happen if an individual who is also an attorney is going through divorce proceedings and is armed during them. Victims of domestic violence could remain fearful in courtrooms, he added.
Turner said on the Senate floor that his amendment aims to "just clear up some things that add the Attorney General and Attorney General employees along with other licensed judicial people."
He added that the amendment was filed March 25 and voted on March 29, providing four days for Democrats and other interested parties to review the bill's contents.
His office released a statement, according to WHAS 11.
"Licensed attorneys in good standing with the Kentucky State Bar Association should be awarded the same rights and protections as other officers of the court," the statement read.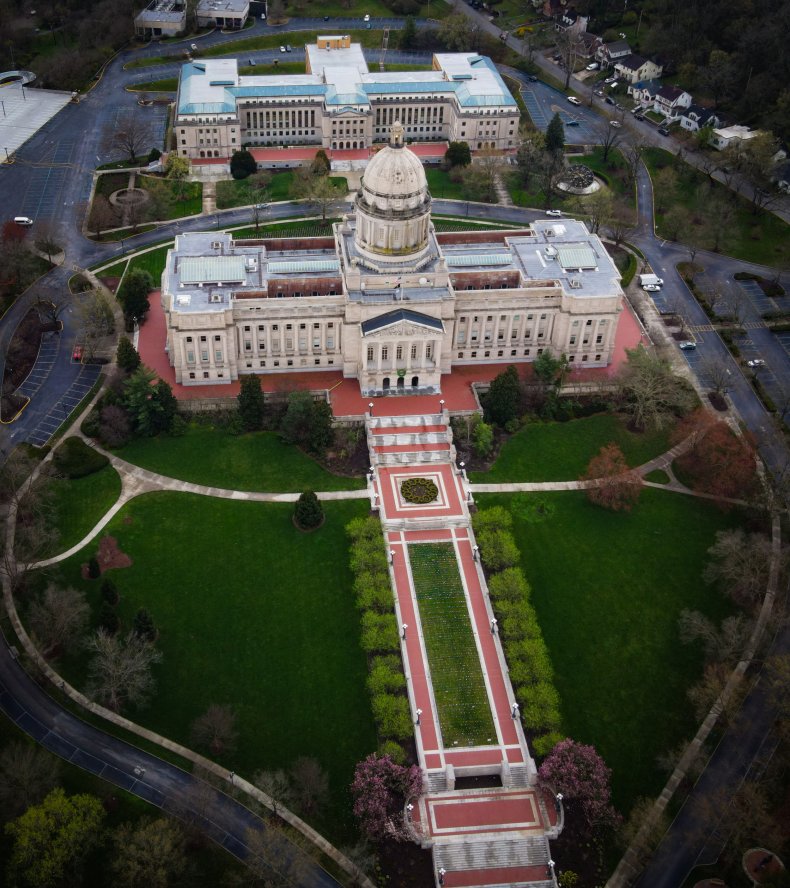 In 2019 the American Bar Association released a statement urging that federal, state, and local courts and legislatures "develop policies and protocols...that allow only those persons necessary to ensure security."
"Courtroom proceedings may sometimes become contentious and emotional, creating concerns for the safety of the litigants, as well as judges, lawyers, support staff, and law enforcement," the statement continued. "Increasingly, there have been occurrences where violence has erupted and firearms are used inside and outside of the courtroom. When the litigants and the court personnel believe their courthouses and court facilities are not safe, integrity of the entire judicial process is compromised and undermined."
Turner's amendment mentions how peace officers, certified court security officers and mail carriers "when necessary for their protection in the discharge of their official duties" may conceal-carry weapons. He also alluded to the Department of Fish and Wildlife Resources director, conservation officers and police officers being able to carry concealed deadly weapons on or about their person at all times within the Commonwealth of Kentucky.
Existing statutes allow current or retired attorneys and assistant Commonwealth attorneys, county attorneys, assistant attorneys, and judges to "carry a firearm or other concealed deadly weapon on or about their persons at all times and at all locations within the Commonwealth of Kentucky, without any limitation."
Newsweek reached out to Turner for comment.
On Monday those not in favor of Turner's amendment made themselves heard.
"I've served as a prosecutor, as a criminal defense attorney, and in neither of those roles could I ever see the need to have carried a weapon into the courtroom," Circuit Court judge Jessica Green said according to WHAS 11. "There are trained staff that is there to deal with these issues."
David Boles, a district court judge and former 20-year member of the police force, said courtrooms are emotional and that adding guns to the equation could lead to a worst-case scenario.
"Imagine a responsible criminal defense lawyer who is armed sitting next to his client in court," Boles said. "Now imagine the client overpowering his lawyer, taking his firearm and creating a deadly encounter inside the courtroom. Imagine that for a moment...it's not unbelievable and it's not impossible that that would happen."
Elizabeth Kuhn, a spokesperson for Kentucky Attorney General Daniel Cameron, told WDRB in a statement that Cameron's office requested "early in the legislative session" for the existing law to be modified to include prosecutors from his office.
"The scope of our request was limited to attorneys who serve in a prosecutorial role in our office," Kuhn said.
Newsweek reached out to Cameron's office for comment.
While Kentucky Governor Andy Beshear could veto the bill, that veto could be overruled due to a Republican majority. He has 10 days, excluding Sundays, to take action on a bill he receives. The day after a bill is delivered to the governor is counted as the first day.
"The governor almost always waits until a final version of a bill is passed, delivered to the office and reviewed before commenting on any final action," Beshear's spokesperson, Scottie Ellis, told Newsweek.
McGarvey said he hadn't personally had contact with Beshear regarding this bill, though he remains confident that enough of his colleagues will override the veto as the necessary simple majority. Some colleagues he has already spoken with have alluded to it.
"I think when you see the people who work in a courthouse every day so uniformly coming out against this...courthouses are where we go to resolve disputes we cant resolve amongst ourselves," McGarvey said.
Updated 04/05/2022, 4:48 p.m. ET: This story has been updated with comments from Kentucky Senate Minority Leader Morgan McGarvey.