U.S. Defense and State Department Split Over Blaming Iran for Saudi Attacks Amid Talks of 'War'
The Defense and State Departments have offered seemingly contradictory accounts as to whether the United States was officially blaming Iran for recent attacks against oil sites in Saudi Arabia, with both sides warning of a potential conflict.
Strikes against the Abqaiq oil-processing facility and Khurais oil field were claimed by Yemen's Zaidi Shiite Muslim movement known as Ansar Allah or the Houthis, but Washington and Riyadh have hinted that Tehran itself may have launched the attacks. Pentagon spokesperson Jonathan Rath Hoffman said it was his department's job to "provide the president with options," but "those decisions haven't been made" as "we need to make an assessment, we need to make a determination, we need to attribute the results, the responsible party for these acts, that hasn't taken place yet."
"I will acknowledge that, as of this time, all indications we have are that Iran is in some way responsible for the attack on the Saudi refineries," Hoffman stated, though he argued he was "not going to get ahead of the Saudi investigation in their assessment of this."
Secretary of State Mike Pompeo has blamed Iran from nearly the very beginning. The top diplomat said Wednesday the strikes were "an act of war" from Iran and told reporters Thursday that "it's abundantly clear and there is an enormous consensus in the region that we know precisely who conducted these attacks—it was Iran."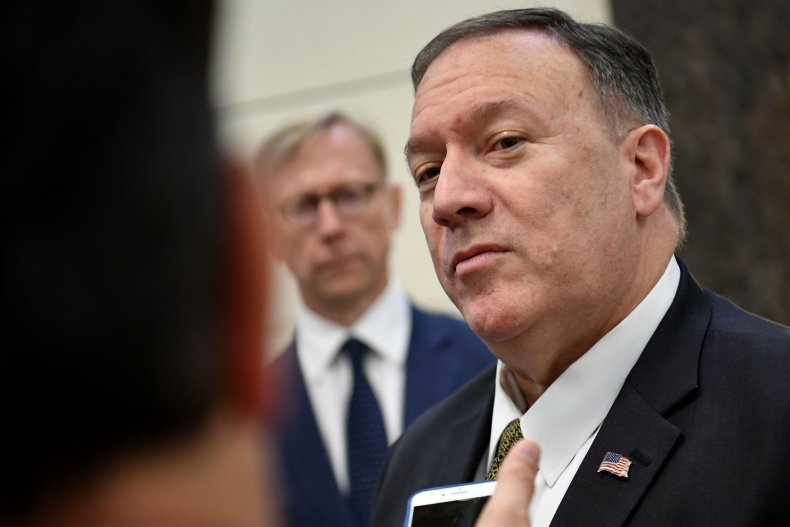 At a press conference Wednesday, the Saudi Defense Ministry laid out what it said were 18 drones and seven land-attack cruise missiles developed by Iran and used in Saturday's attacks, which disrupted the global oil market. A spokesperson for the Saudi-led coalition against the Houthis dismissed the group's claims as part of an Iran-directed narrative, arguing "the direction of the attack came from north to the south" and demonstrated "advanced capability."
Still, he said Saudi Arabia was "working to know exactly the launch point." The U.S. has yet to provide any further evidence of Iran's alleged involvement, though The New York Times reported Thursday that President Donald Trump has ordered a gathering of his national security team to provide potential options, just as Hoffman alluded to at the Pentagon press conference.
Tehran has long dismissed claims it directly supported the Houthis and has denied any hand in the recent attacks on its regional rival. Speaking to CNN on Thursday, Iranian Foreign Minister Mohammad Javad Zarif said Iran's response to even a limited strike from the U.S. and/or Saudi Arabia would be "an all-out war."
"I make a very serious statement about defending our country. I am making a very serious statement that we don't want war, we don't want to engage in a military confrontation, we believe that a military confrontation based on deception is awful, we'll have a lot of casualties, but we won't blink to defend our territory," he added.
Responding to these remarks, Pompeo said the U.S. would "like a peaceful resolution." He explained: "While the foreign minister of Iran is threatening all-out war and to fight to the last American, we're here to build out a coalition aimed at achieving peace and a peaceful resolution to this. That's my mission set, what President Trump certainly wants me to work to achieve, and I hope that the Islamic Republic of Iran sees it the same way. There's no evidence of that from his statement, but I hope that that's the case."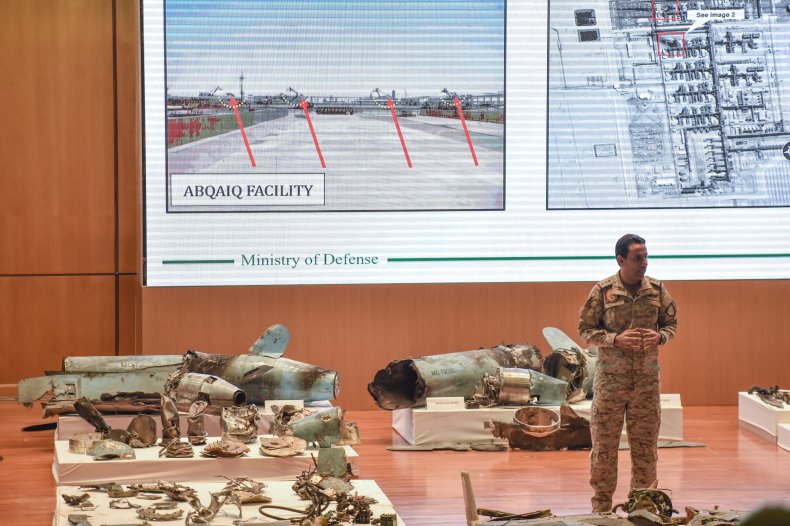 Tensions have mounted in the Persian Gulf region since Trump's decision last year to abandon the 2015 nuclear deal the U.S. forged with Iran, alongside China, the European Union, France, Germany, Russia and the United Kingdom. Trump defied these nations in walking away from the deal, accusing Tehran of using sanctions relief to expand its alleged backing for militant groups abroad and the development of its missile capabilities.
While the president appears to have retained his hardline approach against Iran even after the recent removal of hawkish White House national security adviser John Bolton, Trump has merely indicated the Islamic Republic's involvement, without directly blaming it. The Republican leader has, however, ordered a new wave of sanctions against Iran, already the subject of a strict, so-called "maximum pressure" campaign since the U.S. left the nuclear agreement.
Such economic restrictions have proven an obstacle for any chances of renewed U.S.-Iran negotiations. Officials in Tehran said no new talks could happen until sanctions were lifted and, while Trump has previously said he would talk without preconditions, he later rescinded this, as the State Department called on Iran to end its "malign behavior."
European powers have largely called for de-escalation even as U.S. sanctions blocked their ability to uphold their own nuclear deal commitments. China and Russia have mostly blamed the U.S. for the current crisis, while also condemning it and calling on the international community not to rush to conclusions.