State Department Calls Off Last Indoor Party of Holiday Season As Pompeo Quarantines
The Department of State has reportedly decided to cut short its scheduled series of holiday parties ahead of a final gathering, originally set to take place Wednesday evening, in light of Mike Pompeo's potential exposure to COVID-19.
Unnamed spokespersons from the federal bureau confirmed that staff received notice of the upcoming event's cancellation on Wednesday morning, according to the Washington Post and a handful of additional news outlets. The holiday event was scheduled to host nearly 200 attendees at the State Department, which proceeded with its plans to hold large indoor parties for diplomats and high-ranking personnel this week despite public health guidance.
Wednesday's event initially invited numerous foreign ambassadors and mission chiefs to celebrate the holiday season with Pompeo and department colleagues, the Post reported.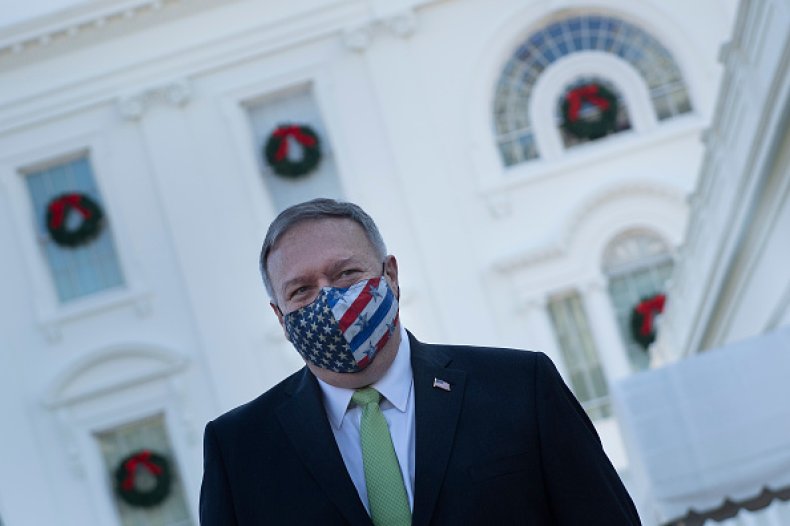 Pompeo, who has served as Secretary of State since 2018, entered quarantine Wednesday after he was exposed to someone infected with COVID-19. The State Department reportedly confirmed that Pompeo tested negative for the respiratory disease, but will be "closely monitored by the Department's medical team" in case his condition changes. The department declined to provide details about when, where or from whom Pompeo was exposed, according to the Post.
The State Department's intentions to host holiday gatherings indoors garnered widespread criticism, given that prevailing COVID-19 mitigation guidelines call for mask use and physical distancing in public settings. Additional guidance from the Centers for Disease Control and Prevention note that transmission risks increase indoors.
A previous Post report, published at the beginning of the month, cited comments from other unnamed State Department spokespersons who only confirmed that staff would be required to comply with those guidelines at a holiday party that took place on Tuesday. Turnout at the event was reportedly very low, with some estimates suggesting fewer than 70 of all 900 invitees actually attended.
This season's holiday gatherings came as the U.S. recorded its highest weekly death toll since the pandemic began early this year. The nation confirmed its largest daily increase in COVID-19 cases and deaths just five days ago, reporting more than 233,100 positive tests and 3,300 fatalities over the course of 24 hours. More than 16.9 million people have contracted COVID-19, and at least 306,671 have passed away, in the U.S. as of Wednesday, according to Johns Hopkins University's data. Meanwhile, hospitalizations have skyrocketed and available ICU beds across the country are filling up at worrying rates.
The State Department's scheduled holiday functions raised serious concerns as COVID-19 transmission continued to accelerate. Less than three months ago, the White House hosted a crowded reception to commemorate Amy Coney Barrett's Supreme Court nomination, where few attendees wore masks and photos showed numerous people seated shoulder to shoulder. The partially outdoor ceremony sparked an outbreak of virus cases among federal personnel, including Trump, the first lady, and several aides, and was termed a superspreader event in its aftermath.
Newsweek reached out to the State Department for comment.