State of Emergency Declared as Tropical Storm Emily Slams Florida
Though peak hurricane season hovers weeks away, the Atlantic Ocean already has plenty of storm activity. On Monday, the National Hurricane Center upgraded a swirling storm in the eastern Gulf of Mexico from a tropical depression to a tropical storm.
The drenching storm, named Emily, is bombarding Tampa Bay and will likely drop between two and four inches of rain throughout west Florida, according to the Center, which is part of the National Oceanic and Atmospheric Administration. Some isolated areas could expect as much as 10 inches, says Jeff Weber, a scientist with the University Corporation for Atmospheric Research in Boulder, Colorado. After dwelling over Florida for more than a day the storm is expected to return to the Atlantic Ocean and veer east, potentially presenting a danger to Bermuda but not to the eastern seaboard, Weber notes.
Governor Rick Scott declared a state of emergency in 31 counties in Florida in response to the storm. The order "gives the state the flexibility to work with local governments to ensure they have all the resources they may need," he said in a statement.
The storm arose quickly when dry air from the north mixed with moist oceanic air over the Gulf of Mexico, Weber says. The comparatively more dense dry air forced the wet air upward, generating a deep and rotating storm system. The speed took weather forecasters by surprise; this weekend NOAA predicted the system would not progress beyond a tropical depression, with wind speeds remaining at less than 39 mph. With a tropical storm, gusts may reach up to 73 mph.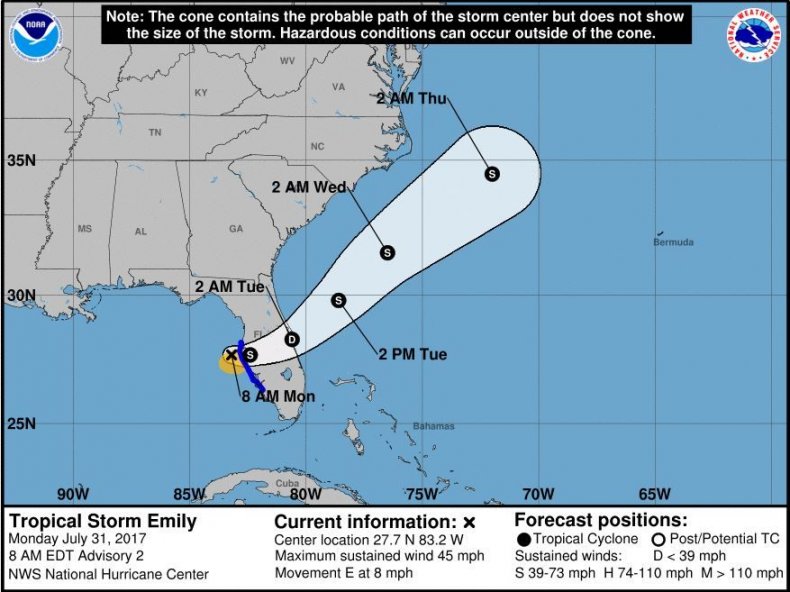 Emily is the fifth named storm of the season, following tropical storms Arlene, Bret, Cindy and Don—a "small" and "not particularly well-organized" system that definitely wasn't named after president. (Storms are named years in advance in an intentionally apolitical way by an international group of meteorologists.) The tally so far puts this hurricane season slightly above average. "Usually we have about two named storms and one hurricane by end of July," Weber says.
The peak of the hurricane season usually takes place in September. During the summer months, heat builds up in the ocean that eventually rises and powers tropical storms and hurricanes. Because Emily is already making landfall and therefore won't have the heat of the ocean to fuel it, the storm will likely not become more violent or reach hurricane status.
"It didn't have a long time to wind up over the ocean, so the winds won't intensify to hurricane strength," Weber says. It will, however, be a "big hit for Tampa Bay" and the surrounding area, where "flooding will be the biggest concern."