State Lawmakers, City Council Members Introduce Legislation to Ban Use of Tear Gas by Law Enforcement Following Protests
Several state lawmakers and city council members from across the U.S. have proposed legislation to ban the use of tear gas by law enforcement, following mass protests for George Floyd.
Despite being banned from international warfare, after being classified as a chemical weapon, tear gas has been used by law enforcement over the past few days, as protesters across the country continue to gather, demanding a stop to police brutality against black Americans.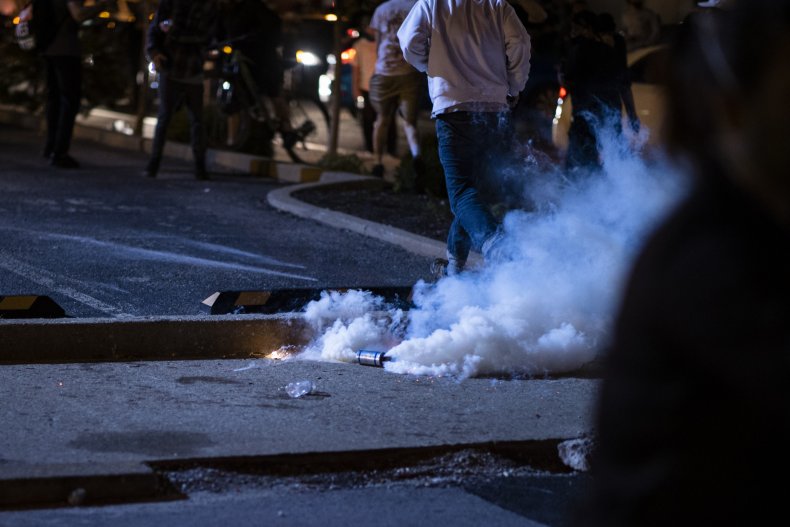 On Thursday, Washington, D.C., Council Member Brianne K. Nadeau wrote on Twitter that she was introducing legislation to ban the use of tear gas by district police.
"We have a responsibility to protect our residents from unnecessary and inhuman riot tactics from law enforcement officials while they are peacefully carrying out their First Amendment rights," Nadeau wrote in a statement. "We want to make it very clear that it is unacceptable to use tear gas or any chemical weapon that is banned in international warfare on our residents."
In her proposed legislation, Nadeau notes that, "while the District cannot make the same mandate of federal agencies, the bill directs the Mayor to communicate this policy to any agency operating in the District of Columbia."
Nadeau's proposed legislation comes shortly after President Donald Trump and his administration were accused of using tear gas against peaceful protesters outside of the White House. Trump and his administration have denied using tear gas and rubber bullets against protesters, but according to The Washington Post, the U.S. Park Police acknowledged using "pepper balls," and "smoke canisters."
In an email sent to Newsweek, Nadeau's communications director, Luz Eleane Martinez, wrote, "while the bill is in response to protecting peaceful protesters at First Amendment demonstrations, it is also an important step in demilitarizing police departments."
"To see tear gas, which is banned in international warfare, used on our residents is horrifying any time it happens. As local governments across the country commit to reforming police systems, we must examine the policies that have been used to justify violence against our residents," the email sent to Newsweek added.
Similar legislation has also been proposed or discussed by council members from Seattle and Portland, as well as a state representative from Massachusetts.
"I just announced that I'll bring legislation banning police use of chemical weapons (including teargas, Mace, pepper spray), rubber bullets/bean bags, water cannons, sonic/ultra-sonic weapons, and banning purchase of weapons, along with their use," Seattle City Council Member Kshama Sawant wrote on Twitter on Wednesday.
On Tuesday, Mike Connolly, a state representative for Massachusetts took to Twitter to push back on the use of tear gas amid the ongoing protests, adding that his office is currently working on legislation to ban its use.
"Tonight in Brockton, police fired several tear gas cannisters into a crowd of #BlackLivesMatter protestors. Tear gas is considered a chemical weapon and is not allowed on military battlefields," Connolly wrote. "My office is now working on legislation to ban its use against protesters, too."
While speaking to Boston Magazine, Connolly added that he expects to file legislation "in the coming days or weeks."
"In recent days we've all seen how the police have used tear gas against Black Lives Matter protestors across the country, including here in Massachusetts. Tear Gas is not allowed on the military battlefield, and it can increase the likelihood of COVID-19 transmission — so this week, I have been reaching out to advocates and colleagues to draft legislation to ban its use by the police in Massachusetts," Connolly told Newsweek via email. "We need to demilitarize police departments and prioritize deescalation techniques and ban the use of chemical agents of those who assemble to exercise their First Amendment rights."
Connolly added that "the response from my Cambridge and Somerville constituents has been overwhelmingly in support of this proposal."
In Portland, Oregon, City Council Commissioner Chloe Eudaly made similar comments during a virtual council meeting on Wednesday, calling the use of tear gas against protesters "sadistic" and calling for an end to its use.
"I went to bed in tears watching police fire gas canisters as they were rolling down streets into random crowds of protesters," Eudaly said. "The Geneva Convention banned the use of tear gas; I think we should too."
In addition to the different city council members and state lawmakers pushing for a ban of the use of tear gas, on Tuesday, nearly 1,300 medical and public health professionals signed a letter urging police to stop using tear gas and other "respiratory irritants," to contain protests, as they fear it could increase the risk of contracting the new coronavirus.
Newsweek reached out to Eudaly and Sawant for comment but did not receive a response in time for publication.
6/5/20, 11:40 a.m.: This story has been updated to include statements from Connolly and Nadeau.