State Named 'Worst for Women' in Study Confuses Senator
Oklahoma Republican Senator Jessica Garvin requested launching a legislative report after a national WalletHub study found her state to be the worst for women to live in, with Oklahoma ranking dead last in the review published in February.
The state was ranked last in "best states for women, prompting Garvin to say, "It was just kind of confusing, but also a little crushing and disheartening," according to KFOR, adding that there was work to be done to make Oklahoma among the top 10 states.
Women's economic and social well-being, healthcare and safety were among the indicators used in the rankings. Other metrics included poverty, life expectancy and voter turnout.
Alabama was ranked as the second-worst state for women, while Arkansas was third-worst. The top three best states for women were Massachusetts, Minnesota and New York, respectively.
Garvin further commented on the status of women in Oklahoma, tweeting on Thursday: "(What it's like being a legislator ... ) Some people: 'I wish someone would make OK a better state for women!' ... Same people when someone tries to figure out how to make OK a better state for women: 'What an idiot for doing research on how to make OK a better state for women!'"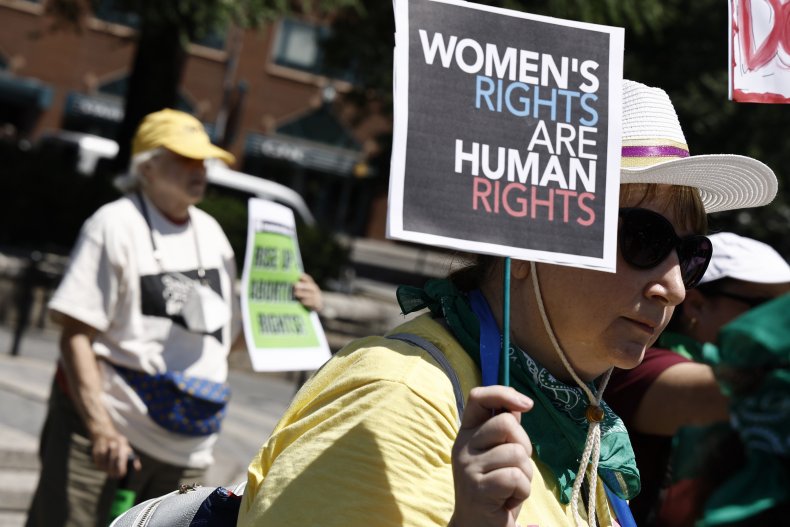 Garvin's study is expected to be released November 1, according to KFOR, covering the status of different women in the state.
"I want this to be something that includes women like me who are rural and young, and I want it to be a study that includes women from urban areas and older and senior adults, and younger children like my daughters," Garvin said.
No details were revealed about the specifics of Garvin's study, but Cindy Nguyen, director of policy and advocacy at ACLU of Oklahoma, told Newsweek on Friday that she hopes it would include healthcare providers and patients, domestic and sexual violence survivors and advocates, criminal legal reform experts, Black, Indigenous and people of color (BIPOC) community leaders, and transgender women and girls impacted by recent legislation.
The WalletHub study also found that Oklahoma was one of the six states with the lowest percentage of women who voted in the 2020 presidential election. The state also has the highest rate of women without health insurance.
Oklahoma has been ranked among the worst states for women because lawmakers choose not to invest in healthcare, education, childcare, or criminal legal reform, according to Nguyen.
"We rank 1st in female incarceration rates, 3rd in the number of women killed by men, and before there was an initiative petition to expand Medicaid, we had the second-highest uninsured rate in the nation," Nguyen said.
"Oklahoma lawmakers should focus on investing in public education, childcare, healthcare, housing, and criminal legal reform. When women have access to social safety nets, their health outcomes and economic security improve," Nguyen added.
Another study published in April by the Spears School of Business at Oklahoma State University (OSU), in collaboration with nonprofit United WE, showed that the gender pay gap in the state is worse than the national figures.
The university research concluded that Oklahoma women earned 74.5 cents for every dollar earned by a man between 2015 and 2019, compared to 80.8 cents per dollar for U.S. women. If the trend continues, Oklahoma women will not see equal pay until 2076.
Child care in Oklahoma is unaffordable for many families, as the average cost of child care in the state costs more than a year of in-state tuition at a four-year public college, according to the OSU research.
"In December of 2020 a lack of child care was the third-most reported reason for unemployment in our state for women," State Labor Commissioner Leslie Osborn told KFOR, adding that Garvin's study should look into resources for women who are seeking to launch their own businesses.
In May, the Oklahoma legislature passed a bill that bans abortions from the stage of "fertilization" and allows residents to sue those providing the procedure. The bill was passed before the U.S. Supreme Court overturned the 1973 landmark decision Roe v. Wade, which gave women the federal right to have abortions.
Newsweek has reached out to Senator Garvin's office and ACLU of Oklahoma for comment.
Update: 7/8/22; 5:37 p.m.: The story has been updated to include comments from Nguyen.