As numerous lawsuits, unsubstantiated claims of election fraud and hostility towards election workers and state officials continue to flood Georgia following President-elect Joe Biden's victory in the state, an Atlanta state senator is the latest target for threats made by far-right activists and supporters of President Donald Trump.
Following her participation in Thursday's State Senate hearings—in which Trump's attorney, Rudy Giuliani, repeated disproven conspiracy theories that the state's new voting system was designed to manipulate results for Biden—State Senator Elena Parent was notified that her home address and other personal information had been distributed online, according to the Atlanta Journal-Constitution.
A far-right internet messaging board also posted photos of Parent and misidentified her as an election worker, with comments calling for her to be killed. A thread asked users what the appropriate form of "punishment" should be for the Democratic senator, with the most common response being sexual violence against her and execution, the Journal-Constitution reports.
Parent later told Newsweek Saturday that the hostility and threats are an unfortunate result of the actions and comments from Trump.
"These sorts of threats are a direct result of the actions being taken by President Trump to overturn the will of the voters and to cause millions of Americans to lose faith in elections and other institutions which he has repeatedly attacked," she said. "The fact that it goes to depths like this instantaneously shows how critically important the moral character of the person occupying the White House is."
"[Trump] has encouraged an entirely different level of vitriol and hatred," Parent continued. "I was doing what I would do in any hearing, where I'm working on behalf of my constituents and asking questions on what's been presented to us which is obviously standard operating procedure. But because it's Trump and his fact-free fantasies, the minute you raise a question on that, you're treasonous, might be executed and everything else."
Parent said that she increased patrols out of the DeKalb police department around her home and is working with law enforcement and the lieutenant governor's office to secure further protection through the weekend and be aware of surroundings.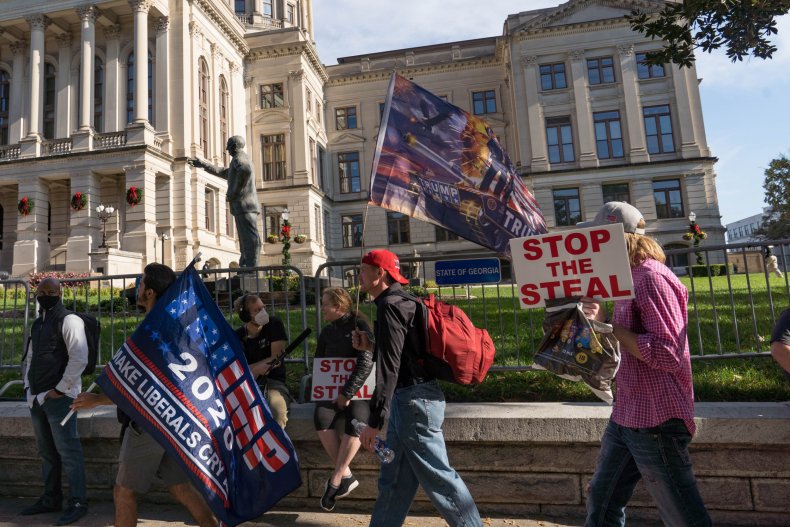 "I'm gonna be safe, but I'm not gonna be quiet," Parent added. "I'm not gonna be scared off over online chatter."
John Porter, chief of staff for Lieutenant Governor Geoff Duncan, told the Journal-Constitution that Duncan condemns the hateful threats made against Parent and others following the election.
"This type of rhetoric and these threats aren't helpful, they don't help us find answers and they only distract from the real work of pursuing and investigating the allegations of voter fraud," Porter said.
The threats against Parent are just some in a string of examples of death threats and harassment against election officials, workers and lawmakers in Georgia following Biden's win in the state. Georgia Secretary of State Brad Raffensperger and his wife have recently received such threats, The Washington Post reported.
Additionally, an election worker said that he went into hiding last month after a debunked video fueled false accusations of him destroying ballots in Fulton County and resulted in leaked personal information and threats. A young contractor for Dominion Voting Systems found a noose placed outside of his Georgia home with threats that he should be "hung for treason."
State election official Gabriel Sterling said in a Tuesday press conference that the fraud claims and threats have "gone too far."
"Someone is going to get hurt. Someone is going to get shot. Someone is going to get killed," Sterling told reporters. "And it's not right."
"Mr. President, you have not condemned these actions or this language. Senators, you have not condemned this language or these actions. This has to stop," Sterling continued. "If you're going to take a position of leadership, show some."
After state House leaders announced Friday that a hearing would take place next week over election security, State Representative Bee Nguyen, a Democrat, was told to increase personal security before the hearing.
"It shouldn't be that way," Nguyen told the Journal-Constitution. "We were elected to serve the people of Georgia. We should be able to do our jobs without having to think about security plans or worrying that they'll (publicly share) our home address like they did with Elena Parent."
As Georgia finalizes its tallies following a second recount to confirm the state's winner, Raffensperger—a Republican in charge of overseeing elections across Georgia and a frequent target for attacks from the president and his supporters— has repeatedly stated that there is no evidence of widespread election fraud in Georgia, despite consistent unsubstantiated claims by the Trump administration that fraud flipped the election for Biden.
Parent, who serves as the Democratic caucus chair, also expressed her contempt for Thursday's hearings and Giuliani's much-publicized appearance. She said that Republicans failed to notify Senate Democrats of the attorney's participation, calling that lack of courtesy "a disgrace" after the alarming attacks towards Raffensperger and other Georgia officials over false election fraud allegations. However, Parent noted that this is the standard treatment of the minority party.
"Our Republican colleagues did not give us the courtesy of a heads up that today we're inviting a national circus dog and pony show in," she said of Giuliani's appearance. "They were walking us right into it completely unprepared. Obviously they knew what was coming."
During the hearing, Parent tweeted: "The @GaSecofState's office just explained to Senators and the public how the election was run and that Biden won. Now we are being forced to listen to bonkers conspiracy theories out of Rudy Giuliani's team. What a disservice to the public!"
Meanwhile, Georgia Governor Brian Kemp continues to back Trump's efforts to overturn the state's election results in spite of the president's sharp attacks against him. Kemp told The Wall Street Journal on Friday that he will "continue to support those efforts because that's what the law says here in our state."
Updated 12/5/2020 4:31 p.m., ET, with comments from Parent.