States Ask High Court to Halt 'Race-Based Admissions Policy' at Top School
Virginia's attorney general on Tuesday joined those of 15 other states to urge the U.S. Supreme Court to stop the admissions process at Thomas Jefferson High School for Science and Technology, alleging the school's policy is discriminatory and illegal.
Attorney General Jason Miyares was joined by the other attorneys general, including those from Georgia, South Carolina and Texas, in filing an amicus brief against the Fairfax County School Board, alleging its "race-based admissions policy" is anti-Asian and unconstitutional. Miyares announced the move through a statement on Twitter as members of the grassroots group the Coalition for Thomas Jefferson High School simultaneously showed their support as they stood in front of the steps outside the Supreme Court holding signs and making brief statements.
Routinely rated among the best public high schools in the United States, the Virginia state-chartered magnet school has historically operated under a merit-based admissions policy. However, a new policy enacted by the school board eliminated standardized tests and set aside slots from the county's middle schools and incorporated "experience factors," like a prospective student's socioeconomic background.
"Right now, there are innocent Virginians unfairly treated and punished not for anything they've done, but because of who they are," said Miyares in the statement. "Thomas Jefferson High School's new admissions process is state sanctioned bigotry—it's wrong, and it's the exact opposite of equality. As Attorney General, I'll never stop fighting for the equal treatment and protection of all Virginians."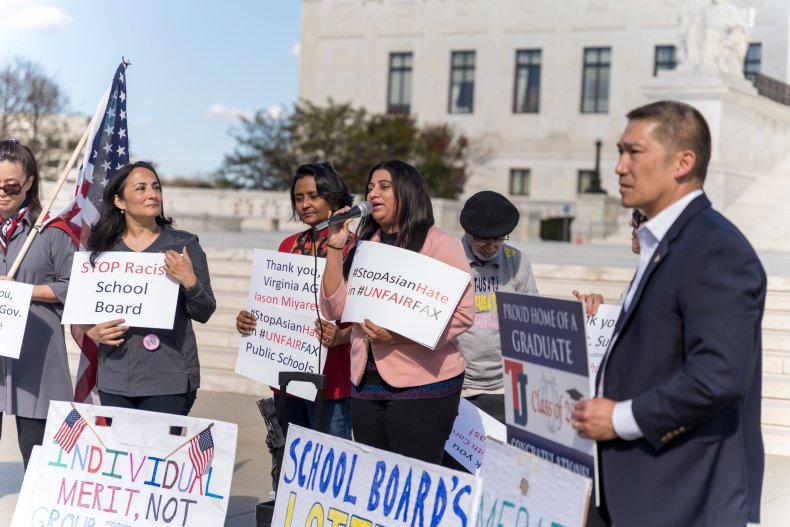 A similar sentiment to Miyares' was expressed by Hung Cao, who was among those holding signs in front of the Supreme Court, with various slogans including those that read "Individual Merit, Not Group Identity," "School Board's Lottery Fails TJ, Cancels Merit" and "Merit Over Ideology, No Lottery."
Cao, a refugee from Vietnam was in the first graduating class of Thomas Jefferson High in 1989. He went on to attend the U.S. Naval Academy and commenced training in the Navy's Special Operations unit before serving in Iraq and Afghanistan. He is currently running for Congress.
"We had one thing in common—excellence and our striving for excellence ... What you're doing here is not what I fought for, what I bled for—America is about equality, not equity," said Cao. "Equity is the same thing as communism ... "
Also in attendance Tuesday were well-known parent advocate and mother of a TJ alum Asra Nomani, parent Suparna Dutta and former TJ High School PTA President Harry Jackson.
Jackson opposed changes to the school's admissions policy, then faced libel and slander charges after claiming a proponent of those changes was engaging in "grooming behavior." Last Friday, a Fairfax County judge dismissed four counts of libel and slander with prejudice levied against him.
"What the pandemic revealed is that many parents have no clue what's going on under the covers in the schools ... " said Dutta. "The United States is a country where with your hard work you can make it—that's the American dream. But what we are being told now is it doesn't matter if you work hard but what matters is the identity group you belong to."
"That's not the country I want my children to be in," she added.
It was just last week that the coalition of community members, parents and alumni of the school filed an emergency request with the Supreme Court to vacate the Fourth Circuit's stay in its lawsuit challenging the school's admissions process. It was the U.S. Court of Appeals for the Fourth Circuit that granted a stay of the district court's decision, which would have allowed Thomas Jefferson's new admissions process to proceed. That's after the Fairfax County School District sought an appeal to the ruling against their new admissions policy.
Back in February was when U.S. District Judge Claude Hilton agreed with the coalition represented by Pacific Legal Foundation that the new admissions policy was anti-Asian and ordered a stop to the policy.
"We ask Chief Justice John Roberts to side with parents, American history and with those words above the doors of the Supreme Court," said Nomani on Tuesday. "Every child should have equal opportunity under the law."
Newsweek reached out to Fairfax County Public Schools for comment.