States Overwhelmed by COVID 'Ration' Healthcare, Cancer Patients Hit Worst
In a worrying sign of the escalating spread of the Delta variant of the coronavirus in regions with lower vaccine uptake, several states have started rationing health care.
Earlier this week, Idaho—where only around 40 percent of residents are fully vaccinated—announced it was expanding health care rationing across the state after a spike in COVID-19 patients requiring hospitalization exhausted resources.
Some hospital systems in Alaska and Montana have also enacted similar "crisis standards of care."
Other states could follow suit as they reach capacity. Alabama, Georgia, Tennessee, Mississippi, Louisiana, Kentucky, Texas and Arkansas all have at last 90 percent of their intensive care unit beds occupied, according to data from the Department of Health and Human Services.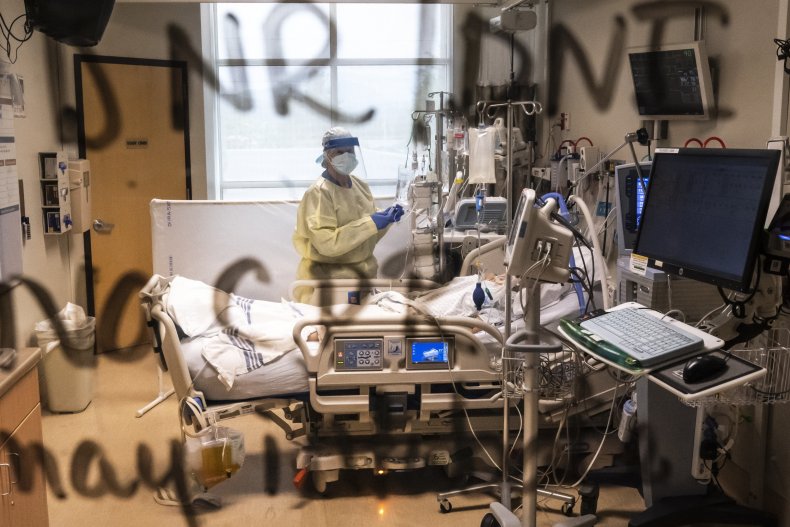 Some measures have already been taken during the pandemic to ease the burden on hospitals under strain, such as the postponement of elective surgeries.
But crisis standards of care mean resources that are limited, such as ICU beds and ventilators, are given to patients that have higher chances of survival.
According to the Associated Press, they generally use scoring systems to determine which patients are given the resources, and which are only treated with pain medication or other palliative care.
In both Idaho and Montana, a combination of factors are used to determine a patient's "priority score" and a lower score means they are more likely to survive and pushes them higher on the list for resources.
Both states score people based on saving the highest number of their "life-years," so those with cancer or other diseases that affect their life expectancy receive higher scores, according to the AP.
Idaho officials said crisis standards of care had been activated due to COVID-19 hospitalizations, largely made up of unvaccinated individuals, climbing to record levels and exhausting the supply of staff, available beds and necessary resources needed.
"Our hospitals and healthcare systems need our help," Dave Jeppesen, the director of the Idaho Department of Health and Welfare, said in a statement on Thursday.
"The best way to end crisis standards of care is for more people to get vaccinated. It dramatically reduces your chances of having to go to the hospital if you do get sick from COVID-19. In addition, please wear a mask indoors in public and outdoors when it's crowded to help slow the spread.
"The situation is dire—we don't have enough resources to adequately treat the patients in our hospitals, whether you are there for COVID-19 or a heart attack or because of a car accident."