These Are The 26 States Where Women Can't Sue If They Suffer Harm After Being Denied An Abortion
Most U.S. states ban women from suing health care providers if they are harmed after being denied an abortion due to conscience laws, a study has revealed.
Conscience law enables institutions and individuals to refuse to participate in abortions on moral or religious grounds. The research published in the journal JAMA showed half of states have no limitations on the rights of institutions to refuse to terminate pregnancies in such circumstances.
The study was prompted in part by recent lawsuits against Catholic hospitals that refused abortions to women having miscarriages, study author Professor Nadia N. Sawicki, Co-Director of the Beazley Institute for Health Law and Policy at Loyola University Chicago School of Law, told Newsweek.
As of December 2018, 46 states had one or more law protecting clinicians, institutions, individuals, and entities from the negative consequences of refusing to take part in the procedure when citing a conflict of conscience. These included employers, government entities or officials, and educational institutions.
A total of 37 states provided immunity from civil liability, and of those, 34 protected broad categories of individuals, such as all "persons," "health care providers," "staff," or "employees." In addition, 32 gave immunity to some health care facilities.
Only 13 states limited the right of refusal and or civil immunity in the case of an emergency; four in miscarriages; and three for ectopic pregnancy. This is where an egg is fertilized outside of the womb, meaning the fetus won't develop. It is not possible to save the pregnancy in such cases. In 26 states, there were no conditions on the rights of refusal.
The study showed eight states were duty-bound to tell the patients of the refusal; two to refer them to another service; and another two to provide information regarding access to other services. One state required objectors to make disclosures about informed consent, which is usually a "standard process," according to Sawicki.
The research team analyzed laws and regulations from a database on all 50 states and the District of of Columbia in effect as of December 17, 2018, that protect the right to refuse to participate in an abortion.
Sawicki said: "There are several reported cases of patients who have sought emergency treatment of miscarriage at Catholic hospitals, and who have been discharged without receiving appropriate information or medical treatment. Patients like these may suffer significant injuries—including hemorrhage, infection, loss of future fertility, or even death—but state conscience laws often prohibit them from recovering for their injuries in court."
A 2016 report by the American Civil Liberties Union (ACLU) detailed the experiences of patients who claimed their lives had been threatened by such legislation. In one example, a woman was forced to give birth to a baby that she claimed doctors knew wouldn't survive due to the institutions' religious policies.
The woman, Tamesha Means, was 18 weeks pregnant when her water broke. The pregnancy was therefore not viable and an abortion was the safest option. But due to the hospital's religious policies, she was instead sent home with painkillers, without being told "there was virtually no way she could give birth to a healthy baby," according to the ACLU. Means visited the hospital twice more in severe pain, but was only treated when she began to deliver. The baby died hours after being born.
In 2015, a court rejected Means' appeal in a lawsuit against the hospital, arguing she couldn't prove negligence, Reuters reported.
Sawicki said: "Most conversations about conscience laws focus on the impact these laws have on patients' access to health care—but I was motivated to do this research to show that these laws also have a significant impact on injured patients' access to the legal system."
The team only looked at laws that explicitly referenced abortion or other reproductive health services, she highlighted. The study therefore does not include states that have "universal" health care conscience laws that are applicable in all health care contexts, but that don't define "health care" by specifically referencing abortion or reproductive care (for example, Mississippi), she said.
"It is important to note that under basic medical malpractice law, a patient can only recover damages if she had an existing relationship with the physician, and the physician's conduct violated the medical standard of care," explained Sawicki.
"Not every conscience-driven refusal to treat will constitute medical malpractice—so some injured patients wouldn't be able to recover even in the absence of these laws. The concern here is really about health care providers who go against what other reasonable medical professionals would do, and who might be liable for malpractice is they weren't protected by their state's conscience law," she said.
Sawicki advised patients to learn as much as they can about their health care providers before seeking care.
"Ask your local hospital whether there are any health care services they refuse to provide on grounds of religion, conscience, or morality," she said. "Ask your primary care physician the same question. It is unfortunate that the burden is on patients to seek out this information—and this advice won't help patients who (for insurance or other reasons) have no choice of providers—but it's one proactive step patients can take to protect their interests."
Elizabeth Nash, senior state issues manager at the Guttmacher Institute, who did not work on the research, told Newsweek: "As we've been tracking for decades, nearly every state allows medical providers and institutions to refuse to provide care for patients seeking abortions. These laws are harmful to patients as they not only allow providers to deny care, but they also have few or no protections to ensure that patients can readily obtain care elsewhere.
"We must put patients first. States should adopt protections to ensure that patients who are refused care at a minimum get referrals and information so they can get the care they seek."
Earlier this month, a federal judge struck down an attempt by the Trump administration to extend conscience laws for health care workers refusing to participant in abortions, the Associated Press reported.
The research comes amid a backdrop of U.S. states passing anti-abortion bills that are regarded as an attempt to see the Supreme Court overturn Roe v. Wade. The landmark legal decision, made in 1973, enshrined the right to safe and legal access abortion in the U.S. Constitution. Deaths linked to the procedure almost totally stopped after its introduction.
This graphic, provided by Statista, shows the number of protections and restrictions on abortion put in place in the U.S. between 2001 and 2019.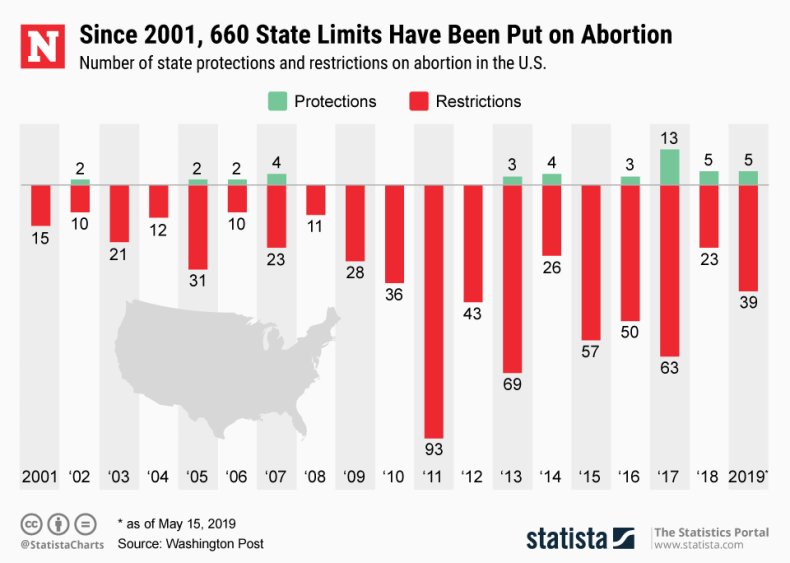 According to the latest U.S. Centers for Disease Control Data, the number of people have abortions was 857,000 in 2,000, dropping to 638,000 in 2015.
States with Immunity from Civil Liability for Refusal:
Alabama, Alaska, Arkansas, California, Delaware, Florida, Georgia, Hawaii, Idaho, Illinois, Iowa, Kansas, Kentucky, Louisiana, Maine, Maryland, Massachusetts, Michigan, Minnesota, Missouri, Montana, Nebraska, Nevada, New Jersey, New York, North Carolina, Ohio, Oklahoma, Oregon, Pennsylvania, Rhode Island, South Carolina, South Dakota, Utah, Virginia, Wisconsin, Wyoming.
States with No Limitations on Conscience Laws
Alaska, Arkansas, Connecticut, Delaware, Florida, Hawaii, Indiana, Kansas, Maine, Massachusetts, Michigan, Minnesota, Missouri, Montana, New Jersey New Mexico, North Carolina, North Dakota, Ohio, Rhode Island, South Dakota, Tennessee, Virginia, Washington, West Virginia, Wisconsin.
Refusal Rights Limited in Emergencies
Alabama, California, Idaho, Illinois, Iowa, Kentucky, Louisiana, Maryland, Nevada, Oklahoma, Pennsylvania, South Carolina, Texas.
Refusal Rights Limited in Cases of Miscarriage
California, Louisiana, Oklahoma, Pennsylvania.
This graphic, provided by Statista, shows the number of abortions sought in the U.S. between 1984 and 2015.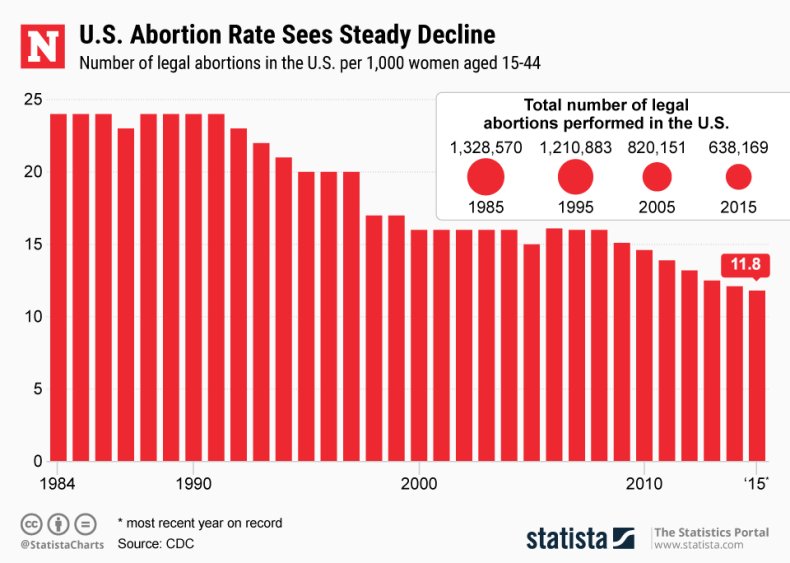 This article has been updated with graphs from Statista.