Statue of Benjamin Netanyahu Relieving Himself Mounted in Tel Aviv Days Before Elections
A statue of Israeli Prime Minister Benjamin Netanyahu squatting and relieving himself was mounted in Habima Square in Tel Aviv on Wednesday morning—just a week before the country's legislative election.
There was also a table set up with snacks near the statue, according to The Jerusalem Post. Municipal police have since removed the statue, noting that it was illegally erected without a permit and could pose a danger to those at the square.
The statue appeared days before Israel's election, in which Netanyahu is up against several challengers, including Netanyahu's former interior minister Gideon Starr, Netanyahu's former chief of staff Nafali Bennet, former journalist Yair Lapid and leader of the Blue and White party Benny Gantz.
On Tuesday, Israelis will head to the polls for the fourth time in two years after neither Netanyahu nor his opponents could win enough seats in Parliament to form a coalition government with a stable majority. The disagreement has also left the country without a national budget during the coronavirus pandemic.
Netanyahu is currently heading Israel's world-leading vaccination program, which has allowed its residents to return to some sense of normalcy quicker. According to OurWorldInData.com, Israel has vaccinated the largest percentage of its population. As of March 16, the country has administered 109.79 vaccine doses per 100 people.
But Netanyahu, who has been prime minister since 2009, is also standing trial on corruption charges. In February, he pleaded not guilty on the charges of bribery, fraud and breach of trust.
The indictment alleges that Netanyahu accepted large gifts from businessmen like Hollywood producer Aaron Milchan. Prosecutors say that in return, Netanyahu pressured tax exemption for expatriate Israelis like Milchan and lobbied with the American government to help Milchan renew his American visa.
Some in Israel have suggested that Netanyahu is seeking re-election to help fight his prosecution, while his supporters have rejected this idea.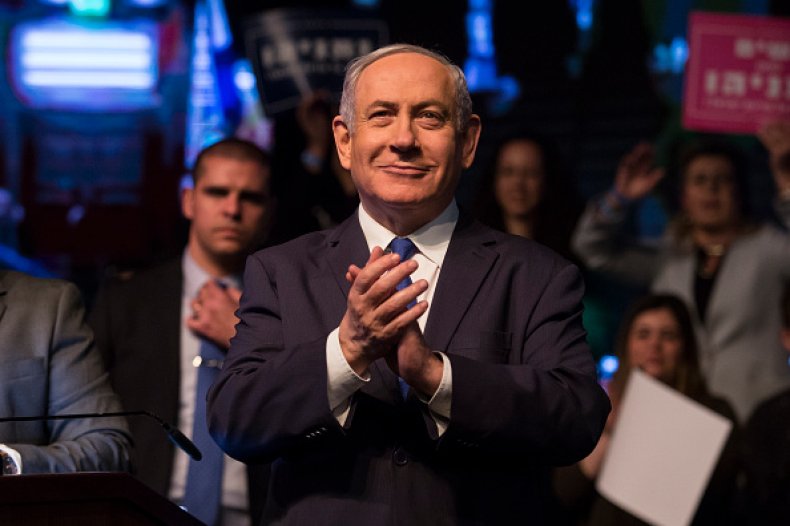 Disagreements between Netanyahu and Gantz came to a head in December after the two failed to agree on a state budget, which led the Parliament to dissolve. The two banded together last April, after the third election, to ensure the Israeli people that they would have a government to effectively lead the country during the pandemic.
Under the power-sharing agreement, Gantz would take over as prime minister of November of this year but the two rivals have continued to accuse one another of failing to operate in good faith
The artist behind the statue erected in Habima Square remains unknown. But similar instances, such as the mounting of a statue depicting an anti-Netanyahu protester outside the prime minister's residence in Jerusalem last December, have been designed and planned by Tel Aviv artist Itay Zalait.
Zalait also erected a golden statue of Netanyahu in Rabin Square in 2016.
Newsweek reached out to Netanyahu's office for comment but did not hear back before publication.