A statue of George Floyd was vandalized in Brooklyn, New York on Thursday, one day before the sentencing of Derek Chauvin.
The 6-foot statue was unveiled at 1545 Flatbush Ave. as part of the Juneteenth celebration over the weekend.
According to police, Floyd's face and the inscription were spraypainted black. The phrase "patriotfront.us" was sprayed in white on the side of the statue, an NYPD spokesperson told Newsweek. The graffiti is the web address for the white nationalist, white supremacist group Patriot Front.
Patriot Front was founded in 2017 by members who split from Vanguard America following the Unite the Right rally in Charlottesville, Virginia.
The police believe the vandalism occurred after 3 a.m. on Thursday, but the graffiti was not discovered until 7:20 a.m., police said.
The NYPD's Hate Crimes Task Force announced via Twitter they were investigating the defacement as a possible hate crime. The New York Daily News reported the NYPD's Racial and Ethically Motivated Extremism unit was also on the case.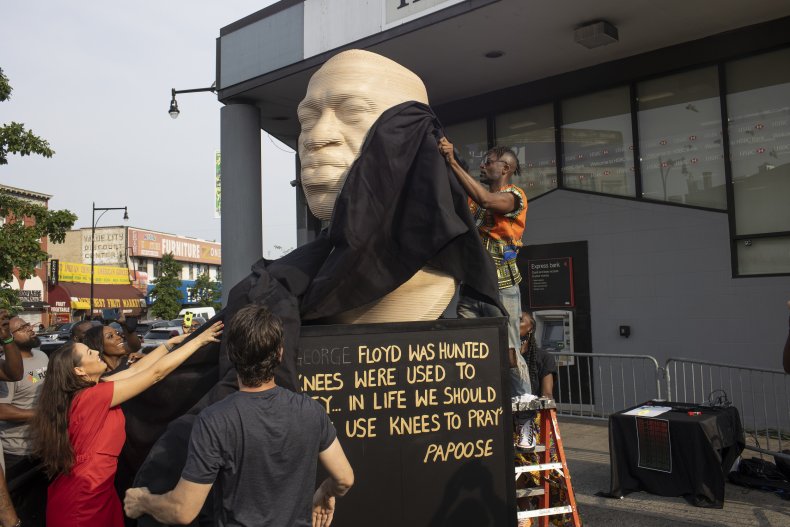 NYPD Chief of Department Rodney Harrison told The New York Post an "extensive video canvass" was being conducted as part of the investigation.
Derek Chauvin, the police officer convicted of murdering Floyd in May 2020 will be sentenced on Friday. Chauvin was found guilty on charges of unintentional second-degree murder, third-degree murder and second-degree manslaughter in April.
New York City Council member Farah Louis, who represents the Flatbush area, voiced her thoughts on Twitter about the graffiti.
"Today my office learned that the George Floyd sculpture at Flatbush Junction has been vandalized," Louis wrote. "This is a hate crime and totally unacceptable to the memory of Mr. Floyd and to the Black community as well as our efforts to achieve #racialjustice and equality in America."
Louis said her office will be working with Chris Carnabuci, the sculpture's artist, the We Are Floyd Foundation and ConfrontART to restore the statue. She invited the public to report any information on the vandalism.
New York City Mayor Bill DeBlasio also addressed the vandalism on Twitter and confirmed the statue was being fixed.
"Last night a far-right extremist group vandalized a statue of George Floyd in Brooklyn. A racist, loathsome, despicable act of hate. The City Cleanup Corps is repairing the statue right now and a hate crime investigation is underway. We will bring these cowards to justice," DeBlasio wrote.
The statue was to remain at the Flatbush Junction for two weeks before moving to Union Square in Manhattan, ABC7 reported.
The NYPD said there have been no arrests made and the investigation is ongoing.