Statue of Liberty Climber Says She Was Inspired By Michelle Obama Quote
The protestor who went viral after she climbed the Statue of Liberty on the Fourth of July said she was inspired by a Michelle Obama quote.
Therese Patricia Okoumou, 44, an immigrant from the Republic of the Congo, climbed to the base of the Statue of Liberty on Wednesday wearing a "Trump Care Makes Us Sick" t-shirt at around 3 p.m. Okoumou refused to get down until "all children are released," referring to the children who were separated from their immigrant parents at the border and are being held at detention centers, CNN reported.
She was arrested on Wednesday and charged with trespassing, interfering in an agency function and disorderly conduct. Outside of the Manhattan federal courthouse Thursday, Okoumou said she was inspired by a Michelle Obama.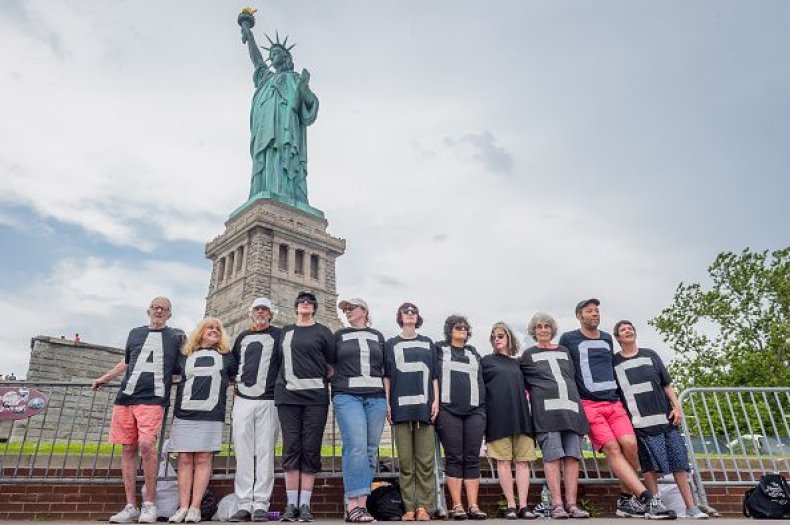 "Michelle Obama—our beloved First Lady that I care so much about—said, 'When they go low, we go high,' and I went as high as I could," Okoumou said, according to The New York Daily News.
She pleaded not guilty to the charges on Thursday and was released from custody without bail, The New York Daily News reported. Outside of the courthouse, Okoumou slammed President Donald Trump and his "zero-tolerance" immigration policy.
"Trump has wrecked this country apart. It is depressing, it is outrageous. I can say a lot of things about this monster, but I will stop at this: His draconian zero-tolerance policy on immigration has to go," Okoumou said. "In a democracy, we do not put children in cages. Period."
Okoumou, who lives in Staten Island, New York, and is an activist with the group Rise and Resist, did not tell her plans to the organizers or activists of the group who staged a peaceful protest in front of the statue on Wednesday, organizer Jay W. Walker told The New York Times.
"She's a free citizen in the world—it's a choice she made," Walker told the publication. "I think the choice she made is certainly bringing more attention to the overall protest. We don't condemn her for the choice she made, and we're going to do anything we can to support her."
Trump slammed Okoumou during a campaign rally in Montana on Thursday and called her a "clown" for her actions, TIME reported.
"You saw that clown yesterday on the Statue of Liberty?" Trump asked the crowd. "You see the guys that went up there? I wouldn't have done it. I would have said let's get some nets and wait 'til she comes down. Just get some nets. You see the bravery of them doing that? What a group."
A spokesperson for the U.S. Parks Police told The New York Daily News that seven people were detained from the protest on Wednesday and more than 4,000 people from the island where the statue resides.