Dog Hilariously Ruins Owner's Day With Surprise Vet Bill: 'Stay Toxic'
One dog owner's attempt at the "stay toxic" trend on TikTok has sparked a flurry of comments from fellow dog owners relating to the moment.
French bulldog Apollo's owner described him as "toxic" after being lumped with a vet bill after an emergency visit last week.
"Don't forget to surprise your human with an emergency vet bill today," she wrote on screen in a now viral video on the bluefrenchieapollo TikTok. "They need a reminder that you can ruin their day anytime you want."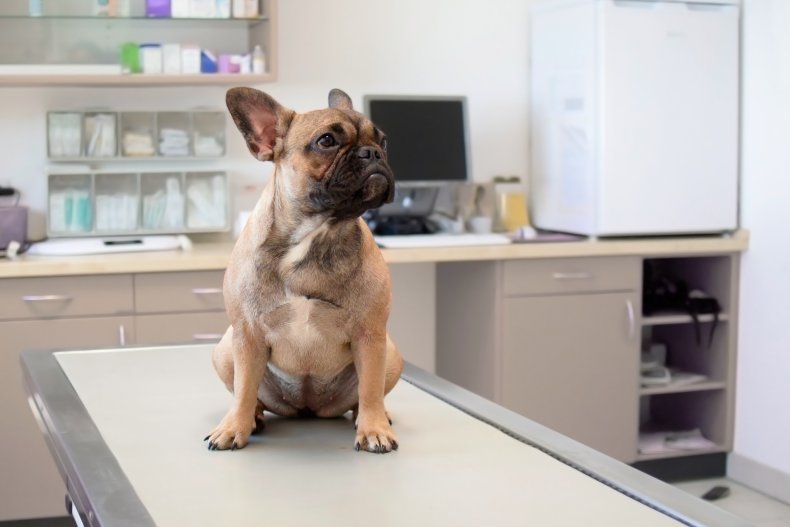 Apollo was sitting somewhat smug by his vet bill, marked as $221.17, after insurance covered the rest. "Stay toxic," Apollo's owner captioned the clip.
The video is part of a wider trend on the app that sees pet owners share their dogs' or cats' hilarious "toxic" habits, like pretending to be sick to get attention for instance.
With more than 800,000 views on this specific TikTok, Apollo's video not only entertained online but also left other owners sharing their own similar stories of their "toxic" dogs.
Vet bills are something that owners simply have to accept when taking care of their four-legged friends. On average, according to Newsweek's research into the topic, a routine vet visit will cost between $45 and $55, but emergency visits or injuries will cost far more.
According to Petplan pet insurance, the average cost of an emergency veterinary visit will be between $800 and $1,500.
If, like Apollo's owner, you've pre-planned with pet insurance, monthly payout in the U.S. will be on average $35 for dogs for a roughly $5,000 yearly coverage.
For "toxic" dogs like Apollo, who is a French bulldog, pet insurance is likely even more vital, as the breed is generally prone to higher health risks than others.
Studies have found that French bulldogs are 42 times more likely to suffer from narrower nostrils, around 32 times more at risk of brachycephalic obstructive airway syndrome, four times more likely to have ear discharge, and about 10 times more likely to have skin fold dermatitis and difficulty giving birth.
Apollo however appears to be healthy and thriving, regularly entertaining over 1.5 million followers on TikTok.
"I have six Boston Terriers, they know this rule," commented one fellow dog owner.
"This made me laugh and cry at the same time. Especially since I just took my frenchie to the emergency vet two days ago," added another.
Another user commented: "I went through this recently! The total was around $3300. But I don't care...I'd do anything for my pups."
Newsweek has contacted the original poster for comment.