Steelers Quarterback Dwayne Haskins Fatally Hit by Truck: Police
Pittsburgh Steelers quarterback Dwayne Haskins was killed after being hit by a truck on Saturday, according to the Florida Highway Patrol.
The 24-year-old athlete had been in Florida for training with other players, according to ESPN, which first reported on Haskins' passing. According to the South Florida Sun Sentinel, Florida Highway Patrol said the incident occurred on I-595 near Fort Lauderdale airport, and wrote in a statement that Haskins "was walking on a limited access facility Highway/expressway for unknown reasons."
"He was attempting to cross the westbound lanes of Interstate 595 when there was oncoming traffic. Unfortunately, he collided with an oncoming dump truck," Florida Highway Patrol stated.
Newsweek has reached out to the Steelers and Florida Highway Patrol for comment.
In a statement posted to Twitter on Saturday, Mike Tomlin, the team's head coach wrote: "I am devastated and at a loss for words with the unfortunate passing of Dwayne Haskins. He quickly became part of our Steelers family upon his arrival in Pittsburgh and was one of our hardest workers, both on the field and in our community."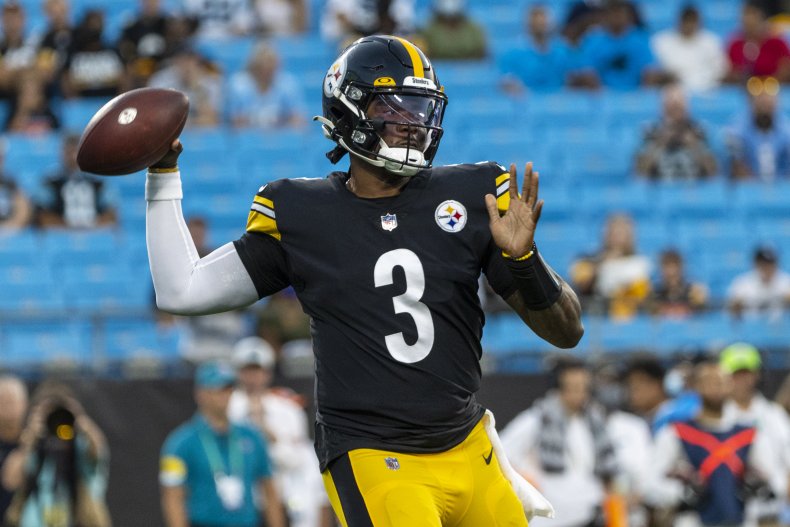 "Dwayne was a great teammate, but even more so a tremendous friend to so many. I am truly heartbroken. Our thoughts and prayers are with his wife, Kalabrya, and his entire family during this difficult time," he added.
Haskins signed with the Steelers last year, though he didn't see any playing time last season, according to the team's website. In March, the team announced he had signed with them once again. Haskins played two seasons with the Washington Commanders before being released by the team in 2020.
Before he played in the NFL, he played college football at Ohio State. "He finished his college career completing 413 of 590 passes (70%) for 5,396 yards, 54 touchdowns and nine interceptions. In 2018, he had 373 completions for 4,831 yards and 50 touchdowns and eight interceptions," the Steelers' website states.
Several tributes for Haskins were posted on social media Saturday.
"The NFL family mourns the tragic loss of Dwayne Haskins and we extend our deepest condolences to his family and loved ones," the NFL wrote on Twitter.
"He loved his family, he loved his teammates, he loved the game and he will be greatly missed. Prayers to the family of Dwayne Haskins," the NFL Players Association tweeted.
T.J. Watt, a linebacker for the Pittsburgh Steelers, wrote: "The world lost a great person today. When Dwayne first walked into the locker room I could tell he was an upbeat guy. He was always making people smile, never taking life for granted. His impact on me will last a forever."
Commanders head coach Ron Rivera said he was "absolutely heartbroken" to hear the news of his passing.
"Dwayne was a talented young man who had a long life ahead of him," Rivera stated. "I know I speak for the rest of our team in saying he will be sorely missed."
This story was updated with additional information.