When Will Steph Curry Return? Warriors Star Plans to Play Again This Season
Stephen Curry hopes to recover from his broken hand by early spring.
The three-time NBA champion fractured his left hand during the Golden State Warriors' 121-110 loss to the Phoenix Suns on October 30 but plans to return onto the court before the end of the season.
"I definitely expect to be ready to play," Curry told a press conference on Monday night, as per ESPN.
"I don't know when—at some point in early spring. Just a matter of the rehab process. I've never obviously broken anything and dealt with a hand injury like this. ... [But] I'm excited about the potential that the rest of the season isn't lost."
Before that, however, he will have to undergo a second procedure to remove the pins that were inserted in his hand when he underwent surgery on November 1.
"Part of the rehab is I have to get a second procedure done in the beginning of December, probably, and remove some of the pins they put in there.
"Hopefully when the new year hits, I'll be on the road and progress quickly in terms of things I can do on the court, in the weight room, all that type of stuff, and obviously be around the team as much as I can."
While Curry will have to be re-evaluated after his second procedure, his determination to be back on court this season will please Warriors executives.
Last week, Golden State dismissed a report from Ric Bucher of Bleacher Report, which suggested Curry would be out for the remainder of the season as the injury was worse than originally thought.
NBC Sports Bay Area's Logan Murdock, however, reported the Warriors refuted the report and insisted Curry would be evaluated as planned in February, and the timeline for his recovery had not changed.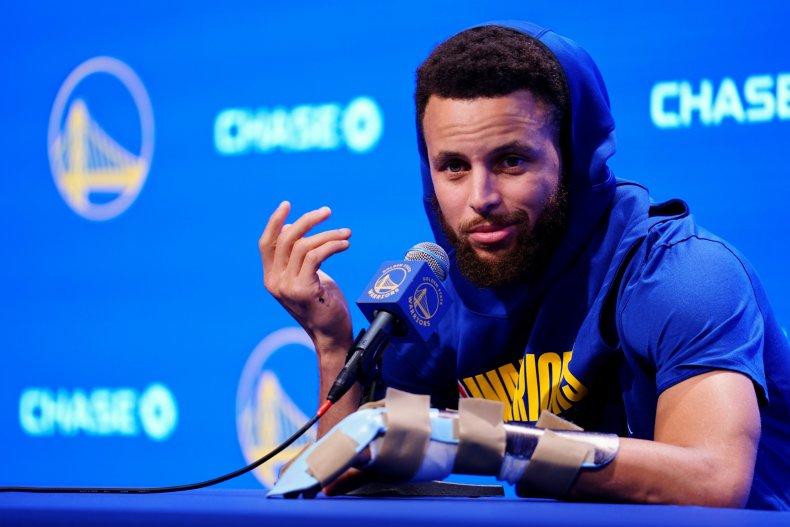 The two-time regular season MVP broke his hand when he fell on the floor after colliding with Suns center Aaron Baynes two weeks ago and he revealed he has suffered from nerve irritation following his injury.
"There's always potential for nerves to be irritated," he explained. "I had a little bit of that. That's kind of why it took so long for the real diagnosis because I had to do so many tests because that was one of the symptoms.
"Something to monitor as we go through the process."
Curry's injury has made an already difficult season even harder for the Warriors. The dominant force in the NBA over the last five years, Golden State lost Kevin Durant and Klay Thompson to season-ending injuries in the NBA Finals last year, when it was dethroned by the Toronto Raptors.
Durant has since signed for the Brooklyn Nets in free agency but won't play until next season as he continues to recover from a ruptured Achilles, while it's unclear whether Thompson will recover from his ACL tear in time to play this season.
Draymond Green, meanwhile, returned to action on Monday night after missing five straight games because of a torn ligament in his left index finger.
Green's return didn't go to plan, as he was ejected in the fourth quarter of Golden State's 122-108 home loss against the Utah Jazz, earning the unwanted accolade of becoming the first player to be ejected at the Chase Center—Golden State's shiny new home.
The loss to Utah left the Warriors rock bottom of the Western Conference with a 2-9 record.