NBA Finals 2019: How Long Is Klay Thompson out For? Warriors Star Suffers Torn ACL in Game 6
The NBA Finals ended on a sour note for the Golden State Warriors, who lost the title and saw Klay Thompson suffer a torn ACL on Thursday night.
The five-time All-Star suffered the injury with just over two minutes left in the third quarter of Game 6 against the Toronto Raptors. Thompson was fouled by Raptors guard Danny Green as he went up for a breakaway dunk and almost immediately clutched his knee in pain.
The Warriors confirmed the 29-year-old underwent an MRI scan after the game to confirm the extent of the injury, but did not offer a timeline for his recovery.
According to the U.S. National Library of Medicine, the prognosis depends on whether the tear is partial or complete and arthroscopic surgery may be required to reconstruct the torn ligament.
As one of the four ligaments in the knee that provides stabilization for the joint, ACLs are put under enormous stress in sports such as basketball and can take between six and nine months before the patient can return to normal activity.
After sustaining the injury, Thompson was helped off the court by Jordan Bell and Jonas Jerebko. However, he then returned onto the court to take the two free throws himself as he would not have been allowed back in the game had another player taken them instead.
The three-time NBA champion knocked down both free throws to give his team a momentarily 85-80 lead but then left the court for good.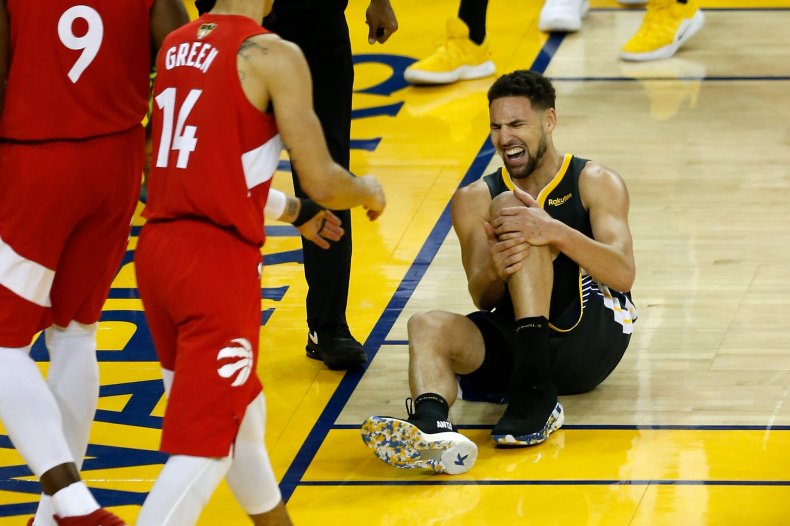 By the time he exited the game, Thompson had scored 30 points in 32 minutes on 8-for-12 shooting from the field and had added five rebounds.
His absence badly hurt the Warriors, who were outscored by seven after Thompson left the court and lost Game 6 114-110 as the Raptors clinched a first NBA title.
Thompson had missed Game 3 with a hamstring injury and his exit was a cruel blow for the Warriors, who had already lost Kevin Durant to an Achilles injury in Game 5.
Golden State briefly remained ahead after his exit but eventually ran out of weapons to fight the Raptors.
"When Klay goes down and is out for the game, it's just sort of a, 'You gotta be kidding me. This has to stop.'," Golden State head coach Steve Kerr told ESPN.
"But it's just—the way it's gone, I don't know if it's related to five straight seasons of playing 100-plus games and just all the wear and tear, but it's devastating."
While Durant has a player option for next season, Thompson is set to become an unrestricted free agent this summer and both injuries could have a significant impact on Golden State's strategy.