Stephanie From '90 Day Fiance' Was On Nickelodeon's 'All That' and Some Claim She's Hired By TLC
Stephanie Matto from 90 Day Fiancé: Before The 90 Days was apparently on Nickelodeon's All That. In addition to that being a blast from the past, some viewers think it solidifies their assumption that Stephanie is an actor hired by TLC, not Erika's true love.
The theory has been circling the internet since early days of the show. Lots of viewers were quick to assume Stephanie isn't actually gay, and that she came out on television for more YouTube views. There's nothing to support this claim: just viewer gossip. That hasn't stopped it from running rampant online each time Stephanie is seen on screen.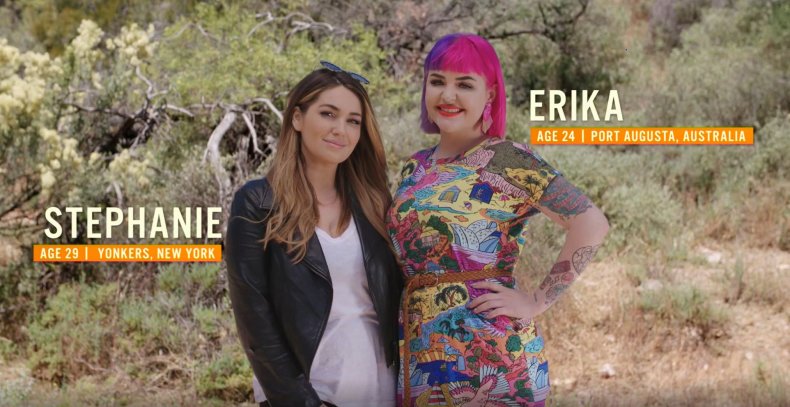 Part of the argument lies behind Stephanie's YouTube success. She runs a risque lifestyle vlog on her channel, which has 364,000 subscribers. Despite her sexualized image online (she has YouTube video titles like How I Got Rich Selling My Nudes), Stephanie quickly told Erika she's celibate and not ready to have any physical relations. This apparently even extends to kissing and hugging, as the pair show close to no affection on the show.
Newsweek subscription offers >
Fans assumed because of Stephanie's lack of willingness to be intimate with her girlfriend, she may just not be attracted to her.
So the full-circle claim, if the rumor squad is to be believed, points to TLC for casting someone with prior acting experience. If fans are questioning the validity based solely on Stephanie's All That acting, though, the argument may fall through.
According to the Internet Movie Database (IMDB), Stephanie was only on one episode of All That in 1994. The episode was titled Wakefield, and it's the only acting job she has listed. Yes, Stephanie does technically have acting experience and may have tried to break into Hollywood in the 90s, but her experience extends no further.
She's also not the only cast member this season who has dabbled in the acting world. Despite being formerly imprisoned for selling drugs, Geoffrey Pascal also has an IMDB page. His is much more impressive than Stephanie's.
Newsweek subscription offers >
Geoffrey has been in a list of true-crime series, like Snapped, which he's been seen in more than a handful of times between 2017 and 2020. He's also appeared in Fatal Attraction, Murder By Numbers, Homicide Hunters and Murder Chose Me. And, he has something in the works: a film called Marvelous in which he'll play a detective, according to his IMDB page.
If Stephanie and Geoffrey are really on screen for love, or to boost their acting resumes, is unknown. We'll have to wait until the end of the season to see if their relationships last, even though both seemingly split from their partners on Sunday night.
Stephanie From '90 Day Fiance' Was On Nickelodeon's 'All That' and Some Claim She's Hired By TLC | Culture